The RBNZ was late to the debt-to-income limit party which is why this tool won't be added to its macro-prudential toolkit anytime soon, Gareth Vaughan argues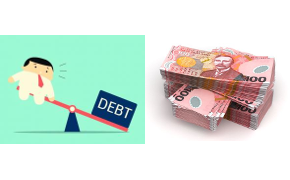 By Gareth Vaughan
Finance Minister Steven Joyce's Wednesday announcement that he's effectively kicking the Reserve Bank's plans for a debt-to-income (DTI) limiting home loan tool into touch until after September's election came as no surprise given the Government's public lack of enthusiasm for the concept.
Housing is set to be a key issue in the September 23 election. Thus the Government's move, requesting a cost-benefit analysis and public consultation before any decision is made on potentially adding a DTI tool to the Reserve Bank's macro-prudential policy toolbox, is clearly politically motivated. The potential for forlorn young couples on the 6pm TV news remonstrating with reporters about how they could be locked out of the housing market by a DTI tool must have been obvious to senior ministers and government spin doctors for some time.
But rather than blame the Government, the Reserve Bank's top brass should be looking in the mirror. Because they missed the chance to get a DTI tool in their macro-prudential toolbox from day one. A tool with the potential to be a game changer in the NZ housing market.
Back in 2013 when the Reserve Bank's macro-prudential toolkit was put together, via a Memorandum of Understanding (MoU) between Reserve Bank Governor Graeme Wheeler and then-Finance Minister Bill English, a DTI tool was left out. Although four tools were included, most notably the one being used that restricts high loan-to-value ratio residential mortgage lending, the Reserve Bank did not appear interested in a DTI tool.
Then, as house price growth took off anew last year, rather than turn to one of the three remaining tools in their kit, the Reserve Bank bosses decided that, after all, they'd really quite like a DTI tool instead.
Given a government that was never especially keen on the high LVR limits being implemented and a election likely to have housing as a key issue was looming, it was always going to be a challenge for the Reserve Bank to get a DTI tool rubber-stamped. And so it has proven.
'Not in scope'
In the 2013 MoU the best the Reserve Bank could muster in terms of DTI limits was a vague mention of a potential debt servicing tool at some unspecified time in the future. The central bank noted areas of regulation "not in scope" for the "base framework," but that "may form part of the bank's future work programme" included: "The case for incorporating debt-servicing capacity into the macro-prudential framework."
In a September 2014 submission to the Ministry of Business, Innovation & Employment on the Responsible Lending Code, the Reserve Bank talked down the concept of debt-to-income restrictions. A strict debt-to-income limit wasn't an efficient way for the Code to make sure lending was being done responsibly, the Reserve Bank argued, adding: "If the desire is to make the affordability test more explicit, then more explicit interest rate buffers would probably be a more efficient option for the Code." 
Clearly implementing a DTI tool doesn't come without its challenges. Bernard Hodgetts, the Reserve Bank's head of macro-financial stability, told me in a May 2015 interview the prudential regulator had been asking banks for "information on the debt to income characteristics of their mortgage lending." They were discovering there were challenges with making apples-for-apples comparisons across banks because, for example, banks were calculating the income going into their debt-to-income measures differently.
Hodgetts noted that a chart in the May 2015 Financial Stability Report estimated an Auckland debt-to-income ratio somewhere between 7% and 8% versus just 3% to 4% elsewhere in the country. "So they [debt-to-income ratios] certainly appear to be elevated in Auckland," he added. But Hodgetts said: "At this point we certainly have no plans for any debt-to-income type measures or anything of the sort."
'We like the Bank of England's proposed restrictions on high DTI mortgages better than NZ's LVR restrictions'
Hodgetts was speaking at a time when DTI macro-prudential tools were certainly in focus in an international central banking context. In 2014 the Bank of England introduced one and in 2015 the Central Bank of Ireland introduced one. On July 1, 2014 the New Zealand Institute of Economic Research issued a paper expressing a preference for the Bank of England's DTI tool over the Reserve Bank's LVR restrictions. The latter strengthens banks' mortgage portfolios, while the former addresses risks around whether borrowers can afford their repayments.
Here's a taste of what NZIER said:
"We like the Bank of England's proposed restrictions on high LTI [DTI] mortgages better than New Zealand's LVR restrictions." said Dr Kirdan Lees, Principal Economist at NZIER.

The Bank of England's approach to financial stability directly targets the risk of whether people can afford to pay back their mortgage, which the LVR restrictions only do indirectly, added Lees.

"Restrictions on high loan to income mortgages directly address the risk that the Bank of England is worried about: that very high household debt could cause a sharp economic correction in the future. High LVR mortgages only tell you that house purchases are made without much collateral. But LVR restrictions do not take into account households' long-term ability to service debt," said Lees.

He said the Bank of England has a policy solution for a well-defined problem being stopping soaring household debt that sits at the heart of financial stability risks.
Too late to the party
The Reserve Bank appeared to crank up its enthusiasm for a DTI tool in late 2015 and early 2016 as house prices in Auckland, and then elsewhere in the country, surged. New heights for New Zealand's debt-to-disposable-income ratio, hitting 165% and subsequently 167%, added fuel to the fire. But by the end of 2016, as the Auckland housing market showed signs of cooling, Wheeler was acknowledging the Reserve Bank wouldn't be using a DTI tool even if it had one.
That was after vested interests in the real estate industry came out strongly in opposition to a DTI tool. Bank bosses also expressed opposition, notably airing concerns about first home buyers being locked out of the housing market. BNZ CEO Anthony Healy did this. As did David McLean, his counterpart at Westpac. Incidentally Joyce's statement noted he's "particularly interested in what the impacts could be on first home buyers."
Westpac's McLean, meanwhile, had this to say when I asked him in November about the Bank of England's 4.5 times, and the Central Bank of Ireland's 3.5 times debt-to-income ratios:
You look at Auckland, the average house price now in Auckland is over $1 million and the average income's only just recently hit $100,000. So neither of those [British or Irish] numbers would work particularly well in Auckland. So I don't want to second guess how they [the Reserve Bank] do it.

But do they want to make the whole thing take a haircut straight away or do they want to just start at a level which stops it growing any further? My personal view with the housing market is people worry about the housing market going up and affordability is an issue. But it's worth remembering the opposite situation, which if house prices were tanking is actually far worse for the economy because it's destroying people's wealth and putting pressures on all sorts of parts of the economy.

So in some ways a rapidly rising housing market is what I'd call a fairly high quality problem because it's a sign that the economy's going well, people want to come here. So I think the best thing for the New Zealand housing market would be if the growth tailed off and it didn't increase for a long time, and economic growth was happening which would gradually improve affordability. I don't think the right answer is a big crash in house prices.
Note the British DTI applies to no more than 15% of the total number of new mortgage loans. And for Irish banks the DTI limit should not be exceeded by more than 20% of the euro value of all housing loans for primary dwelling (owner-occupier) homes during an annual period.
On the backburner
So a DTI tool is on the backburner. But it could have all been different if the Reserve Bank had pushed for its inclusion in its macro-prudential toolkit four years ago. Would the Government have kicked up a fuss in 2013 about including it as one of four or five tools the Reserve Bank might, potentially use one day? Probably not. But trying to add it to a toolbox with four other tools four years after the toolbox was established, during an election year, was always likely to prove a step too far.
*This article was first published in our email for paying subscribers early on Thursday morning. See here for more details and how to subscribe.