RBNZ warns in Financial Stability Report that housing imbalances remain; Wheeler says won't use Debt To Income multiple restriction 'at this time'; RBNZ notes rising use by banks of 'hot' overseas funds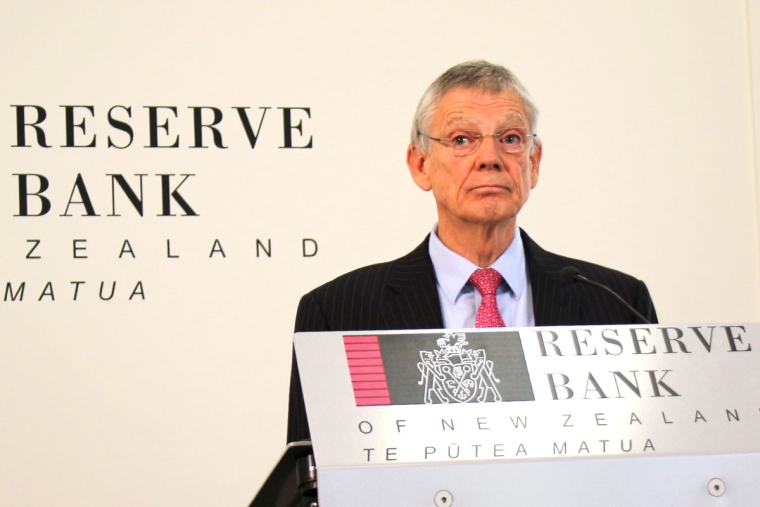 By Bernard Hickey
The Reserve Bank has repeated its warning that the financial system continued to face housing and dairy debt risks, although it remained highly profitable, sound and strong.
In releasing the Reserve Bank's half-yearly Financial Stability Report, Governor Graeme Wheeler said housing imbalances remained in the economy, even though house price inflation in Auckland had softened in recent months.
Wheeler confirmed he had asked Finance Minister Bill English to include a tool to limit Debt To Income multiples in the bank's Macro-Prudential tool kit, but that the bank would not use the tool "at this time."
"House price to income ratios in the (Auckland) region remain among the highest in the world and prices are continuing to rise rapidly in the rest of the country. There is a significant risk of further upward pressure on house prices so long as the imbalance between housing demand and supply remains," Wheeler said.
"The Reserve Bank has asked the Minister of Finance to agree to add a Debt to Income (DTI) tool to the Memorandum of Understanding on macro-prudential policy. While the Bank is not proposing use of such a tool at this time, financial stability risks can build up quickly and restrictions on high-DTI lending could be warranted if housing market imbalances were to deteriorate further," Wheeler said.
'LVRs working'
Elsewhere, Deputy Governor Grant Spencer said the Reserve Bank's new 40% deposit requirement for rental property investors from October 1 had increased the resilience of bank balance sheets to a housing market downturn.
"However, the share of bank mortgage lending to customers with high DTI ratios has been increasing and this could increase the rate of loan defaults during a housing downturn," Spencer said.
"The banking system has strong capital and funding buffers and profitability remains high. Despite being relatively concentrated, New Zealand's banking system also appears to be operating efficiently from an international perspective based on metrics such as the cost-to-income ratio and the spread between lending and deposit rates," he said.
"However the banking system's reliance on offshore wholesale funding is beginning to increase due to a widening gap between credit and deposit growth. Banks could become more susceptible to increased funding costs and reduced access to funding in the event of heightened financial market volatility."
Spencer noted the Insurance sector was well positioned to cope with claims from the 7.8 earthquake in Kaikoura on November 14.
DTIs to have speed limit approach
Later in the news conference, Wheeler and Spencer said any use of the DTI would follow the British example of having a speed limit and allowing a certain percentage of lending above a certain multiple.
He said the bank would look to use the DTI multiple if house price inflation picked up because of a rise in mortgage lending with high DTI multiples.
Asked what would change the Reserve Bank's mind about currently not using the DTI, Wheeler said: "I think what we'd need to see is that there's a resurgence in house price inflation, that it was picking up in Auckland and also picking up further nationally. And we'd want to be clear that it's credit related, with commitments expanding and continued increases in DTI."
Wheeler declined to say which DTI level the Reserve Bank would target, but noted the Bank of England used 4.5.
"If you look in the UK, for example, I think the ratio they have is 4.5 with a requirement that no more than 15% of lending take place above that DTI ratio. Now I am not giving any indication of our thinking in terms of a particular ratio, but we would probably be that sort of concept," he said.
(Updated with more detail on the DTI)