Looking at wholesale interest rates, there are signs that we may be at 'peak rate' about now. Savers should watch for signs that lower rate offers may be imminent. Borrowers may get some relief in early 2024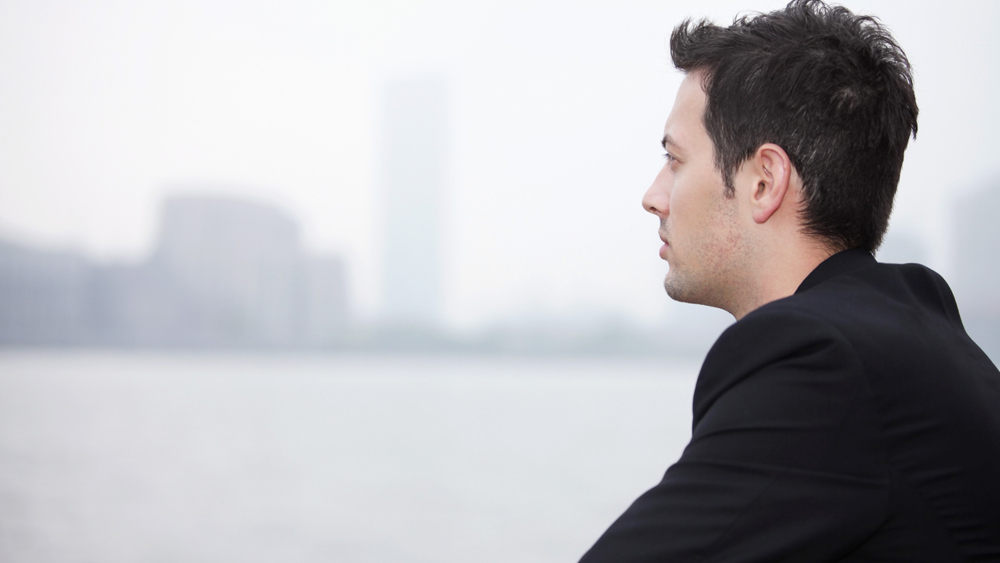 Regular readers will have noticed the sharp recent reductions in wholesale swap rates, especially for 1 and 2 year durations.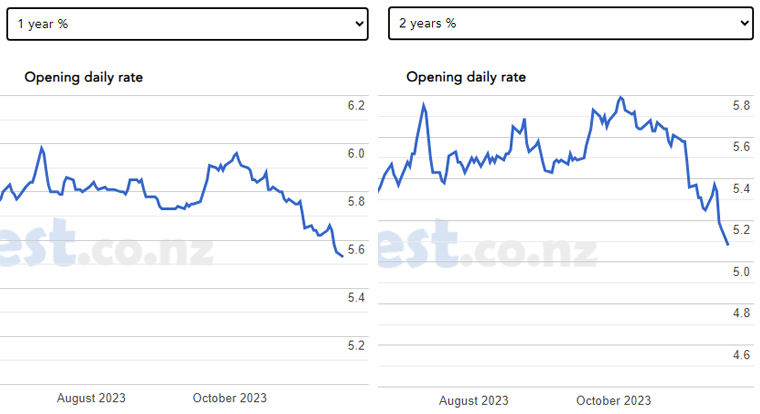 But neither home loan rates, nor term deposit rates, have moved in the same direction after the wholesale rates peaked in early October.
Swap rates and term deposit rates both have an influence on the mortgage interest rates offered. Customer deposits (which include much more than household term deposits) are the main funding source for home loans, and the wholesale markets also have a strong influence, especially in their role to hedge the 'borrow short, lend long' risks that banks face.
The dive in wholesale rates, driven by global forces especially out of the US where inflation's impact seems to have passed (and the US Fed is no longer under pressure to raise rate), has sharply raised the margins on home loan rates.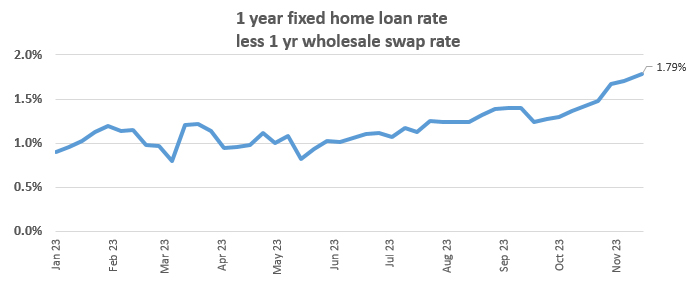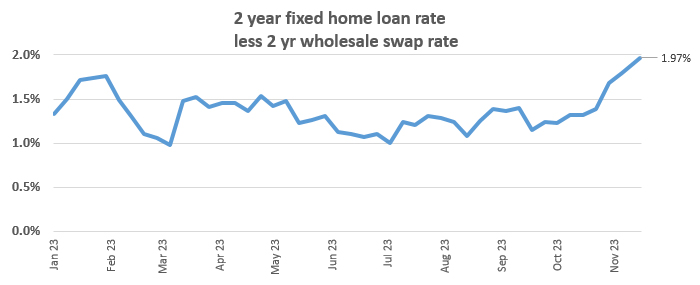 Margins to swap have risen to their highest in 2023, and may now be heading back over 2% and the sort of levels that were 'normal' from the GFC to the pandemic. We are possibly coming out of an unusual two year period of low margins to swap.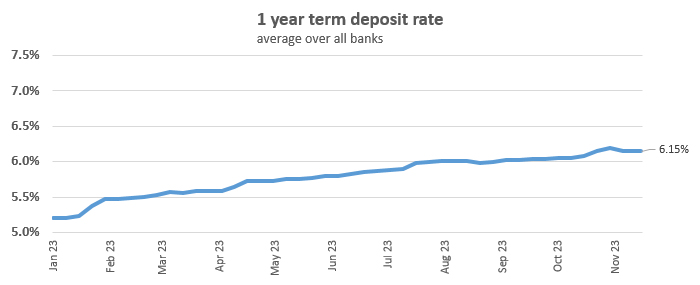 But holding mortgage rates up will be much higher term deposit rates, at levels we haven't seen since November 2008, 15 years ago. These currently have the dominant influence on home loan rates.
But if term deposit rates fall in line with recent global rate shifts, then some chunky opportunities for lower mortgage rate offers could open up.
Wholesale markets currently price in an OCR rate cut in the middle of 2024. Yes, a -25 bps cut. ANZ economists recently abandoned their view that the RBNZ has one more +25 bps rate hike in mind in early 2024 in the face of the money market realities.
Banks will be reluctant to give up the margin improvements. After all, the ASB parent company recently complained about the 'very low' mortgage margins in New Zealand. And the ANZ parent company skited about their dominant position saying they didn't have to offer 'best rates' because of this dominance.
However if lower global rates embed and are reflected here, one of the big banks is likely to move lower in their retail offers. We will probably see that first with shifts lower in term deposit rate offers. BNZ's current 6.25% one year term deposit 'special' (which expires on November 26) may well be the high point for a while from a main bank.
And if TD rates start dropping and stay lower while background benchmark rates also stay lower, then lower home loan rates are sure to follow. Certainly, there is no demand pressure in our housing markets to keep them up. And after all home loan lending is where the main demand pressure comes from in New Zealand and that pressure isn't building because the 2023 spring housing market is turning out to be something of a damp squib.