BNZ posts 10% rise in annual profit as income rises and bottom line gets boost from mark to market movements in offshore debt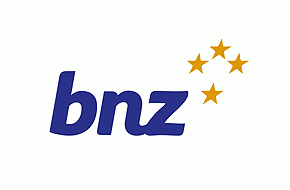 BNZ annual profit rose 10%, topping $1 billion, helped by rising income and favourable mark to market movements in offshore debt instruments held by the bank.
September year net profit after tax rose $92 million, or 10%, to $1.029 billion from $937 million last year. That's just below the bank's record annual profit of $1.038 billion in 2015.
Total operating income rose $241 million, or 10%, to $2.556 billion with net interest income rising $152 million, or 8.5%, to $1.946 billion. Operating expenses rose $113 million, or 12%, to $1.045 billion.
BNZ's credit impairment charge dropped $1 million to $82 million.
Meanwhile the bottom line was boosted by a $73 million increase in mark to market movements on offshore debt holdings to $191 million.
Over the course of the year loans and advances to customers increased $3.7 billion, or 5%, to $83.1 billion, and deposits and other borrowings rose $3.5 million, or 6%, to $63.4 billion.
Parent National Australia Bank (NAB) said its New Zealand unit produced a net interest margin of 2.27%, an increase of nine basis points year-on-year. The cost to income ratio rose 10 basis points to 39.2%.
'Positive changes'
CEO Angela Mentis says BNZ has been working closely with the Financial Markets Authority (FMA) and Reserve Bank (RBNZ) supporting their review of NZ banks' conduct and culture. A report from the FMA and RBNZ is due out on Monday.
"BNZ has already made positive changes as we identify opportunities to improve the way we work and quickly fix issues where they are identified. We have already removed sales targets for staff in key customer roles in branches and call centres, so our people can focus on delivering better results for customers," says Mentis.
Mentis also says BNZ aims to halve its products and simplify its fees over three years. And she says BNZ, which shut five branches during its September financial year, is set to commission its first mobile branch, which is due to be on the road in early 2019.
"The mobile branch is designed to provide our customers with the best of BNZ banking services at their local centre on a regular basis," says Mentis.
Meanwhile parent NAB posted a 14% drop in annual cash profit to A$5.702 billion. NAB's net interest margin was flat at 1.85%, and its return on equity dropped 230 basis points to 11.7%. The bank's paying unchanged annual dividends of A$1.98 per share, equivalent to 94% of annual cash profit.
(The tables & chart below come from NAB, firstly on the group's NZ market shares, secondly on its branches and ATMs in NZ, & thirdly on NZ credit impairments. Note, GLA stands for gross loans & advances).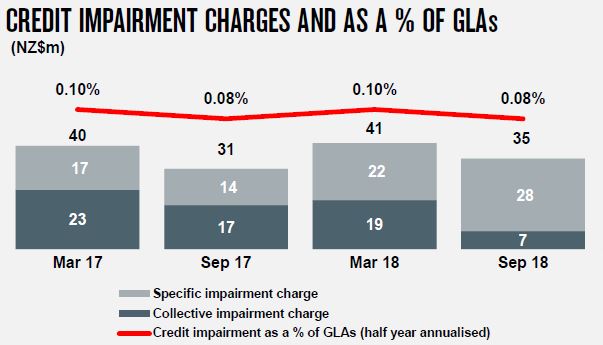 Here's BNZ's press release and here's NAB's release and here's NAB's investor presentation.