Heartland NZ announcement shows confidence holy grail of bank approval will be secured in November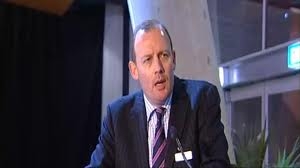 Heartland NZ appears confident of achieving its goal of securing Reserve Bank approval to become a registered bank in November.
The sharemarket listed building society issued an announcement saying the formal bank application process with the Reserve Bank is now underway and it expects a decision sometime in November this year. This follows Heartland NZ CEO Jeff Greenslade telling interest.co.nz in a Double Shot interview in late 2010 that Heartland would only formally apply for bank registration when it was confident its application would succeed.
In its NZX release Heartland NZ said certain necessary intermediate steps - including the provision of certain independent reports, and the formal written application to the Reserve Bank - have now been completed, with the Reserve Bank confirming the formal determination process was underway.
"During the formal determination process, the Reserve Bank will seek further information from Heartland, and examine Heartland in respect of each and every factor which must be taken into account in determining Heartland's suitability for registered bank status," Heartland NZ said.
"The time it will take to complete the formal determination process is uncertain. The Reserve Bank has advised that the formal determination process is currently proceeding at the pace customary for New Zealand incorporated applicants, which can take several months. Heartland expects that a decision will be available by a date in November of this year."
The Heartland plans were announced in June 2010 with the entity created in January 2011 through the merger of Marac Finance, CBS Canterbury and Southern Cross Building Society. Since then Heartland has added the good loans of specialist rural lender PGG Wrightson Finance.
'Explosive returns'
News of the formal bank registration process comes shortly after Pyne Gould Corporation (PGC), formerly Marac's parent, confirmed it had fully sold its stake in Heartland and with PGC managing director George Kerr no longer a significant Heartland shareholder.  Earlier this year Kerr was effectively the biggest Heartland shareholder with a near 13.3% stake. At the time he told interest.co.nz he wanted Heartland to achieve "explosive returns" over 20 years like Wells Fargo and Westpac had.
A positive answer from the Reserve Bank in November would mean it has effectively taken Heartland just under two years from its formation to become a bank. The independent report on the merits of the ultimately successful merger to create Heartland - by Cameron Partners and Northington Partners - suggested it could take up to two years to obtain banking registration, although there was a risk it could take even longer. The two firms did, however, suggest it was likely bank registration would ultimately be granted.
The Reserve Bank itself says the length of time it takes to process bank licence applications will vary, and the time taken with any specific application will depend on the complexity of the application. It also notes that unsuccessful applicants can reapply. See more on the process of applying to become a bank here.
In the Double Shot interview Greenslade said Heartland would be prepared to reapply if necessary.
"(But) our strategy is to apply when we have a high level of confidence that we will be successful," said Greenslade.
We look at peers in both Australia and New Zealand in terms of what the qualitative and quantitative measures that go into being a bank are like," he added in 2010. "So we know what we've got to do, we're working very hard to achieve those things. So we have a level of confidence that we will get there, we wouldn't be doing it if we didn't have that confidence."
The Heartland merger plans envisaged a sharemarket listed "Heartland Bank" that would aim to double its NZ$2.2 billion asset base within five years through growing lending to families, small business and the rural sector, through lending the latter working and seasonal capital. Greenslade has also told interest.co.nz he believes New Zealand is going through a process of shifting its credit emphasis away from property to the productive sector.
Meanwhile, Heartland says it'll release its financial results for the year to June 30, 2012 on Tuesday, August 28. As of December 31, 2011, Heartland had total assets of NZ$2.4 billion and total liabilities of NZ$2 billion, including NZ$1.6 billion of retail deposits.