Bank lobby group says NZ bank profits in the middle of the pack when compared with major listed companies
Bank lobby group the New Zealand Bankers' Association (NZBA) says bank profitability, based on return on equity (RoE) over the past five years, comes in mid-table when compared with bigger sharemarket listed companies.
The NZBA says it commissioned analysis from Massey University putting bank profitability in the context of other New Zealand businesses because it believes a lot of views on bank profitability are "overstated," NZBA chief executive Kirk Hope says.
The analysis shows retail banks' average RoE over the past five years in the middle of the pack compared with NZX listed companies with a minimum market capitalisation of NZ$100 million.
See table below and here's the NZBA's full press release. The NZBA move to compare bank RoEs with listed companies comes after the Australian Bankers' Association recently did the same thing.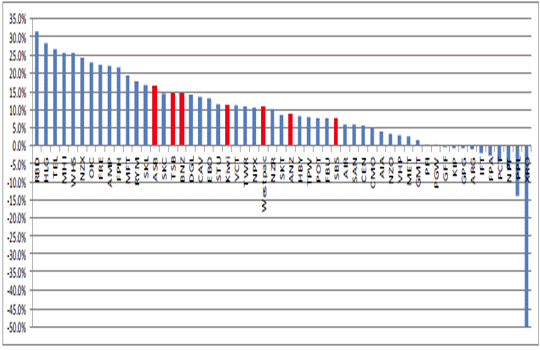 "Average bank returns on equity from 2008 to 2012 ranged from 7.5% to 16.3%, well below the top average return on equity of 31.7%," Hope says. "This analysis shows that banks fall in the middle of the range of profits compared to NZX listed businesses."
The Massey University study covers 55 companies including ANZ, ASB, BNZ, Westpac, Kiwibank, TSB Bank and SBS Bank. It has ASB as the highest placed bank at 14th with an RoE of 16.3%. Second of the banks is TSB at 16th with an RoE of 14.5%. BNZ is 17th with 14.3%. Kiwibank is 22nd, Westpac 26th, ANZ 29th, and SBS 34th.
First overall is Restaurant Brands with a five‐yearly average RoE of 31.7%. Second is Hallenstein Glasson Holdings at 28.5%, and third is Telecom at 26.8%.
Compared with their Australian parent groups, however, the big four New Zealand banks' average combined RoE for their last financial year came in 320 basis points higher at 18.9%.And earlier this year research from the Bank for International Settlements showed the Australian parents of New Zealand's big four - ANZ NZ, ASB, BNZ and Westpac NZ - were the developed world's most profitable as measured by pre-tax profit as a percentage of total assets. Analysis by interest.co.nz showed the New Zealand subsidiaries were more profitable than their Aussie parents with the average pre-tax profit as a percentage of total assets across New Zealand's big four 20 basis points higher at 1.39%.
The big four New Zealand banks have this year posted combined annual net profit after tax of NZ$3.2 billion, a rise of 12% with record profit from ANZ, ASB and Westpac. Kiwibank also posted record annual profit this year of NZ$79.1 million. See all our stories on bank profits here.