Australasia's big 4 banks expected to post combined 5% rise in half-year cash earnings to A$13.22 billion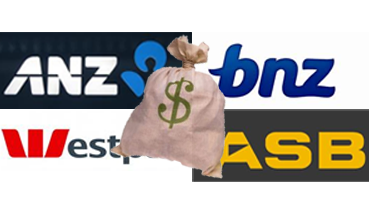 By Gareth Vaughan
Australasia's big four banks are expected to record a combined A$650 million, or 5%, rise in half-year profit to A$13.22 billion (about NZ$16 billion).
Three of the big four are due to report their interim financial results over the next couple of weeks. Commonwealth Bank of Australia (CBA), parent of ASB and Sovereign, has already posted a 6% rise in half-year cash earnings to A$3.78 billion.
According to Melbourne-based Citigroup banking analysts, the consensus of analysts' expectations for ANZ Banking Group's half-year cash profit is A$3.14 billion. ANZ is the parent of ANZ New Zealand. BNZ's parent National Australia Bank is expected to post cash profit of A$3.14 billion, and cash profit of A$3.41 billion is expected from Westpac Banking Corporation, owner of Westpac NZ.
That's a combined A$13.22 billion, up from A$12.57 billion in the first-half of their financial years last year.
Of ANZ, Citigroup's Craig Williams, Wes Nason and Andrew Minton say; "Look for net interest margin decay from institutional/Asia, Pacific, Europe and America (APEA) business and an increased emphasis toward returns rather than growth in the APEA franchise."
Of NAB they say; "Provisioning will remain a focus, despite domestic credit quality backdrop improving, as the UK economy continues to struggle and there remains ongoing remediation costs for payment protection insurance and interest rate swap issues."
And of Westpac Williams, Nason and Minton say; "Should enjoy favourable comparisons against weak previous comparable period. We do not anticipate capital returns at this stage beyond dividend reinvestment policy neutralisation and a A2¢ lift in the dividend."
Funding costs at 5-year low
In New Zealand the results come against a backdrop of banks' lowest funding costs in five years and the fastest housing loan growth in four years. Average bank funding costs fell to a five-year low in the December quarter of 3.80%, according to KPMG. And the Reserve Bank's latest sector credit data shows home loans grew 4.3% year-on-year in February, the highest rate of increase since December 2008. Agricultural lending rose 5.2%, business lending was up 2.5%, and consumer loans grew by 1.5%.
Of the New Zealand subsidiaries ASB reported a 2% fall in interim net profit after tax in February to NZ$365 million from its record half-year profit of NZ$372 million last year. However, ASB's half-year cash earnings rose NZ$24 million, or 7%, to NZ$348 million.
The other three big banks have all revealed first quarter profit figures via their general disclosure statements.
Big drop in ANZ NZ & BNZ first-quarter profit
ANZ NZ recorded a 29% fall in first quarter unaudited profit after income tax to NZ$296 million, largely driven by a NZ$120 million reversal in hedging activities and valuations on securities held by the bank. Westpac's unaudited December quarter profit after tax rose NZ$14 million, or 10%, to NZ$159 million. And BNZ's first quarter bottom line showed unaudited net profit down NZ$163 million, or 56%. The BNZ drop came after a NZ$213 million fall in gains less losses on financial instruments at fair value to a loss of NZ$74 million, which related to the bank's term wholesale funding.
KPMG figures show ANZ NZ's net interest margin down 12 basis points in the December quarter to 2.31%, BNZ's up two basis points to 2.34%, and Westpac NZ's up five basis points to 2.26%.
In the first-half of their financial years last year the big four New Zealand banks' combined cash earnings came in at NZ$1.705 billion, up NZ$392 million, or almost 30%, from NZ$1.313 billion in the first-half of their previous financial years.
Morningstar highlights investor appeal
Independent researcher Morningstar, meanwhile, says with strong demand for investments with secure income that pay relatively high returns, the big banks are proving popular.
"The major banks are in a sweet spot, paying fully franked dividends with grossed-up yields around 8% (after franking) - very attractive compared with declining term deposit rates and historically low fixed interest coupons," Morningstar's David Ellis says.
"Based on our forecasts we expect earnings to grow moderately with earnings per share likely to increase in the 4% to 6% per year range during the next five years. Combined with dividend yields in the 5% to 6% range (before franking) suggests medium term returns should be in the 10% per year range," says Ellis.
ANZ will report on April 30, Westpac on May 3, and NAB/BNZ on May 9. All three are reporting results for the six months to March 31. CBA and ASB, who reported in February, did so for the six months to December 31.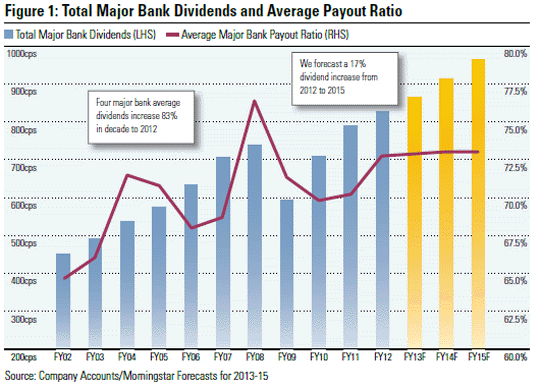 *Since last year ANZ has switched to reporting cash profit from reporting underlying profit, meaning any comparison isn't strictly apples with apples.
This article was first published in our email for paid subscribers. See here for more details and to subscribe.