Our big 4 banks appear to be the developed world's most profitable, based on their pre-tax profit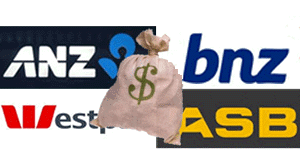 By Gareth Vaughan
New Zealand's big four banks still appear to be the developed world's most profitable, based on number crunching by interest.co.nz and an international bank profitability comparison done by the Bank for International Settlements (BIS).
Figures released by BIS, the central banks' bank, show Australia's big four banks - ANZ Banking Group, Commonwealth Bank of Australia, National Australia Bank and Westpac Banking Corporation - to be the most profitable in the developed world. As a percentage of total assets, pre-tax profit across the four comes in at 1.18% for 2012.  Second in the developed world is Canada at 1.07%.
"In Australia, Canada and Sweden, banks consolidated the gains made in previous years," BIS says.
Interest.co.nz calculations show pre-tax profit as a percentage of total assets across New Zealand's big four - ANZ, ASB, BNZ and Westpac - came in at 1.29% for the year to March 31, 2013, which whilst not a direct apples-for apples time comparison, incorporates their latest available figures.
The 1.29% is, however, down from 1.39% when we did the same calculation last year, when New Zealand's major banks also placed first.
Meanwhile, BIS has added Brazil, China, India and Russia to its chart (featured at the bottom of this story) this year and removed Austria and the Netherlands.  The inclusion of Brazil, China, India and Russia, where government-controlled banks are major players, pushes Australia down to fifth, or sixth when New Zealand's included, with Russia's major banks coming in first with pre-tax profit as a percentage of total assets of 2.39%. BIS says the Russian banks' profitability has improved mainly because of a sharp drop in loan loss provisions.
In terms of net interest margins, at 2.25%, the New Zealand banks also come in one place ahead of their Aussie parents' 1.82%. However, among developed countries Spain is higher at 2.36%, and Brazil tops overall at 4.42%. Last year the New Zealand banks recorded 2.37% versus their parents' 1.83%.
The most recent interim financial results reported by the big four show, combined, they recorded a $99 million, or 6%, rise in cash earnings to $1.804 billion. ASB and Westpac both recorded 7% rises, ANZ a 14% increase, and BNZ a rise of about 0.5%. Last year the four posted a combined $392 million, or almost 30%, rise in interim cash earnings.
BIS also includes figures for loan loss provisions and operating costs. For loan loss provisions, the New Zealand banks come out at 0.14%, low but behind Swiss banks' staggeringly low 0.01%, and fifth lowest overall ahead of the Australian banks' 0.21%.
In terms of operating costs as a percentage of total assets, the New Zealand big four come in sixth at 1.20%, slightly higher than their Aussie parents' 1.19%.
BIS last year put the Aussie banks' 2011 pre-tax profit as a percentage of total assets at 1.19%, which was up from 1.14% in 2010, and ahead of second placed Canada's 1.08%. In 2009 the Aussie banks were second most profitable at 0.93% behind Spain's 0.98%. They were also second, at 1.01% , in 2008, behind Spain's 1.07%.
Profitability of major banks1
As a percentage of total assets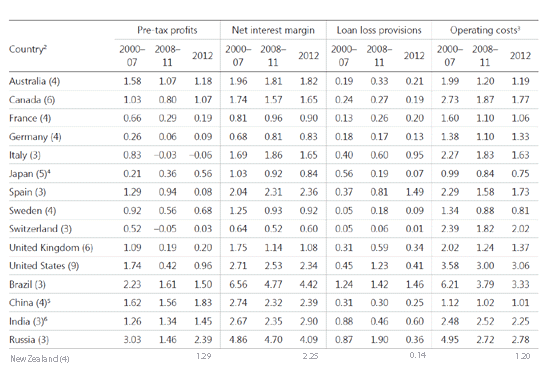 1 Values for multi-year periods are simple averages. Cross-country comparisons may be limited by differences in accounting standards.
2 In parentheses, number of banks included in 2012.
3 Includes personnel and other operating costs.
4 Excludes personnel costs; 2012 figures for one of the banks are estimated on the basis of half-year results.
5 Data start in 2007.
6 Data start in 2002.
Sources: Bankscope; BIS calculations, with NZ figures from interest.co.nz.
This article was first published in our email for paid subscribers. See here for more details and to subscribe.