Cheaper money will be here for a long time says Roger J Kerr. That means investment hurdle rates can be lower. Now is the time to take advantage he says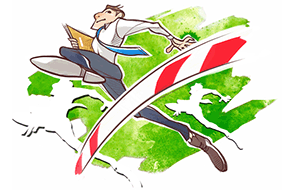 By Roger J Kerr
It is highly unusual in interest rate markets to have record low market rates occurring at the same time as record low (post GFC) credit spreads across the credit curve.
The normal situation is that credit spread are compressed to low levels when underlying interest rates are at a high point in the cycle as investors accept a lower credit margin to secure the overall high all-up return yield.
At the other end of the interest rate cycle when market rates are low, the credit spread that issuers are required to pay is pushed upwards as investors will not accept a return below a key big figure like 5% or 6%.
The situation today is not normal as the world is abnormally awash with QE cash looking for any kind of yield return.
That weight of investor money continues to push down both underlying interest rates as well as credit spreads.
It is hard to see this unusual phenomenon changing until we either have a credit risk event somewhere in the world and/or inflation increases sooner and in larger steps than what is currently anticipated.
Borrowers with substantial increases in debt levels forecast to occur over coming years must be taking advantage of these nirvana conditions of a completely flat yield and lower credit spreads.
It should not be too hard to get Boards of Directors to approve pre-hedging programs using a combination pre-funding debt issues, forward starting swaps and purchased swaptions (if there is some uncertainty on future debt amounts/timing).
New business investment in expansion projects or capital equipment should be easy to secure as the investment return has a much lower WACC* threshold to beat with the risk free interest rate so low.
It is therefore no coincidence that business investment has grown substantially in New Zealand over recent years i.e. one of the real benefits of a prolonged low interest rate environment.
With five to 10-year swap rates in the 3.6%-3.7% area, both wholesale and retail investors need to adjust their yield return requirements/expectations on corporate bond type fixed interest securities to anything above 5%, than the previous 6% benchmark.
While the local banks have been active issuers into the local debt market this year, the conditions seem very ripe for any BBB and above corporate issuer to join the new issuance party. 
---------
* WACC is the weighted average cost of capital
---
To subscribe to our free daily Currency Rate Sheet and News email, enter your email address here.
---
-----------------------------------------------------------
Roger J Kerr is a partner at PwC. He specialises in fixed interest securities and is a commentator on economics and markets. More commentary and useful information on fixed interest investing can be found at rogeradvice.com