NZIER Shadow Board calls for RBNZ to keep interest rates on hold but increases support for interest rate cut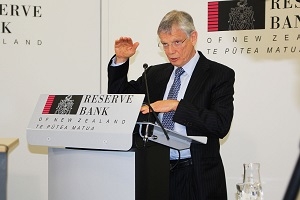 The New Zealand Institute of Economic Research's (NZIER) Monetary Policy Shadow Board is increasingly open to an interest rate cut.
The nine business leaders, economists and academics on the Board are calling for the Reserve Bank (RBNZ) to keep the Official Cash Rate (OCR) on hold at 2% when it's reviewed on Thursday. Yet their average recommended rate has fallen to 1.95%, from 2.08% last month.   
"We are seeing solid momentum in the New Zealand economy, driven by strong domestic demand. But continued weak inflation and a strengthening New Zealand dollar are unhelpful for the RBNZ in achieving its 2% mid-point inflation target," says NZIER Principal Economist Peter Wilson.
"The tension between weak inflation and rapid house price acceleration remains very taut, with the higher New Zealand dollar also adding to the RBNZ's dilemma. Nonetheless, the RBNZ's primary focus on inflation means further easing is likely."
Five of the Board members have revised their preferred rate levels down from August, while three have increased theirs and two have kept theirs the same.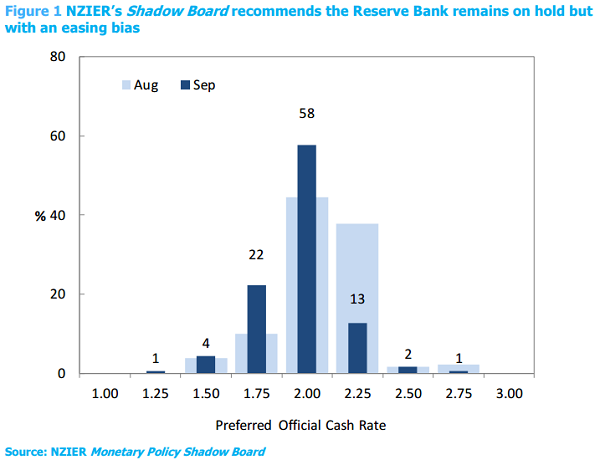 Kiwibank senior economist Zoe Wallis says: "Inflation remains conspicuous by its absence but growth is solid and expected to improve further. A higher NZD is creating further downward pressure on tradables inflation and risks sending inflation expectations lower still. A clear easing remains appropriate to combat weak inflation pressure, although there isn't a rush to ease in September."
MYOB executive director Scott Gardiner is on a similar page: "Whilst GDP figures will be expected to show good growth according to the latest MYOB Business Monitor many of regional businesses are still challenged by the effects of low commodity prices. So with cash low still the number one issue facing business, a reduction in rates would be welcome relief."
On the contrary, BNZ head of research Stephen Toplis says: "We think there is a 70% chance that rates should be at or above current levels. That said we stress that these assumptions are based on the core premise that New Zealand can cope with sub-target inflation for an extended period. This is probably not the view that the RBNZ holds."
MOTU professor Arthur Grimes would rather sit tight: "Inflation is low, house prices are rising fast, growth is robust, while international conditions vary from quite strong (US) to quite weak (Europe). Given these contrasting forces that are affecting current and future inflation, a wait-and-see approach to interest rate setting (with no bias for future changes) is warranted."
Victoria University of Wellington professor Viv Hall agrees: "CPI inflation remains low and stable within a 0-3% range. Further OCR cuts are unlikely to assist rapid achievement of the 2% PTA mid-point target, are likely at best to have only a temporary downwards effect on the exchange rate, and could provide a further boost to house price inflation which would outweigh modest dampening effects from enhanced macroprudential measures. So, no recommendation for an OCR change."
Westpac acting chief economist Michael Gordon has likewise maintained the same stance over the last month: "The latest developments - higher dairy prices and a higher NZ dollar - seem roughly balanced in their impact on the appropriate policy setting."
The Board's other members include Business New Zealand CEO Kirk Hope, New Zealand Steel and Tube CEO Dave Taylor, and University of Auckland professor Prasanna Gai.