One of the country's largest retailers has provided details of how much of the $6.6 billion Government wage subsidy it has received and where it has gone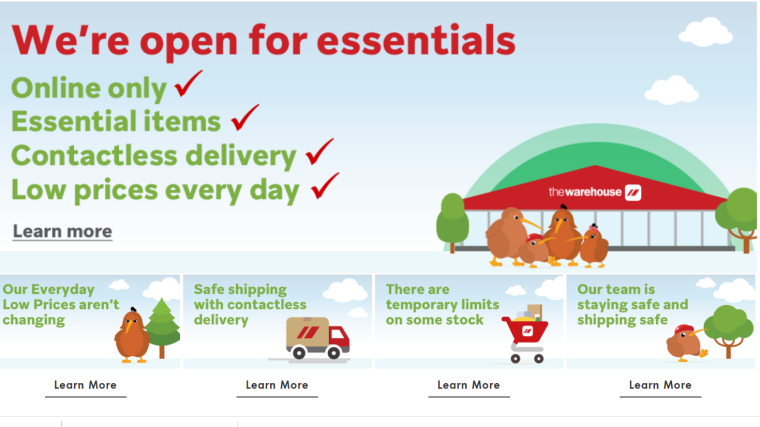 As we know, the Government this week outlined that to date it has paid out a massive $6.6 billion in wage subsidies for over 1 million Kiwis representing over 40% of the workforce.
That's a lot of money to a lot of people.
If like me you struggle to get the grey matter around such mind-boggling large numbers, you might find it informative to have a look at how such numbers are reflected within one business - albeit a fairly large one.
On Thursday The Warehouse Group provided a business update to the NZX. 
The company's retail outlets are closed but the group's brands are now operational in a limited capacity for essential items only (both online and available to be contacted over the phone) after agreement from the Ministry of Business, Innovation and Employment ("MBIE"). 
The company stated early on that it was intending to pay its 11,000 staff full wages during the four-week period of the lockdown.
Since then it has applied for the Government's wage subsidy scheme.
And the company says it has received $67.7 million in total to support its employees over a 12-week period.
"The split by brands is $52 million to the The Warehouse Limited (including Warehouse Stationery), $12.1 million to Noel Leeming, $3.2 million to Torpedo7 and $0.4 million to the TheMarket.com.
"The receipt of this funding is crucial to the Group maintaining its workforce while stores remain shut and the Group thanks the government for this support," the company said.
The company has been working with its existing banking institutions and said it has secured $150 million of additional banking facilities, extending the total debt facilities available to $330 million.
"These additional bank facilities are currently undrawn and would allow for the refinancing of the Group's NZX listed bond of $125 million that matures in June 2020."