BNZ announcement confirms regional HQ return for all 4 big banks to central Christchurch but not until 2016-17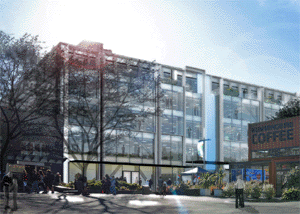 BNZ has become the last of the big four banks to confirm a new regional headquarters in the centre of Christchurch, but the timeframes for when about 950 staff from the four banks are expected to actually move in paints a stark picture of the slow recovery in the city's central business district following the tragic and devastating February 2011 earthquake.
BNZ yesterday announced it had agreed commercial terms to occupy premises in the Cashel Square development in the centre of the retail precinct. Developed by Lichfield Holdings Ltd, Cashel Square will be built to 100% of the new building standards, BNZ said. About 200 staff will work there with a BNZ Partners Business Centre on the building's top floor.
However, the target date for the completion of the development is not until December 2016, nearly six years after the worst of the spate of earthquakes that rocked Canterbury. The Cashel Square HQ is also a change from BNZ's immediate post quake plans for a Christchurch HQ, which involved a site at 772 Colombo Street.
BNZ's Christchurch announcement comes after ANZ said on June 25 about 200 of its staff will relocate to a new ANZ Centre at the corner of Cashel and Colombo Streets from early 2017.
 Last December ASB said its new regional centre named ASB House, located in Christchurch's Cathedral Square, would be built by early 2016, housing about 100 staff. That closely followed Westpac's announcement last November it would move about 450 staff into a new "state of the art" building in central Christchurch by mid-2016, which will be part of the new Central City Retail Precinct on the corner of Oxford Terrace and Cashel Mall. 
BNZ's announcement came the same day Canterbury Earthquake Recovery Minister Gerry Brownlee issued a press release saying the idea of  a donut effect in the Christchurch CBD, with new developments on the fringes but few buildings in the centre, was being rapidly dispelled. Brownlee said 1,100 government workers from 13 agencies would be returning to Christchurch's CBD by 2016, with all of them housed in three new privately owned commercial buildings.
 "This is in addition to 200 Inland Revenue staff already working in the Mid City Building above Ballantynes, and will soon be followed by another 400 Government staff moving into another new building in the city," Brownlee said.

Here's Brownlee's full statement.
 Below is what the new ANZ Centre is expected to look like.