Canterbury rebuild to stop buffering the economy as reconstruction reaches its peak; homes almost all rebuilt/repaired, non-residential reconstruction growth subdued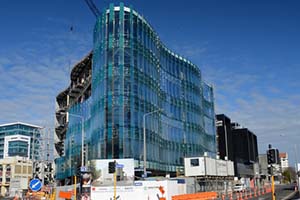 We are going to have to stop relying on the $35 billion Canterbury rebuild to prop up our economy, sooner than expected.
A Westpac report released today on how the rebuild is progressing reveals reconstruction spending has reached a peak, so isn't going to provide the same sort of boost to growth and employment as it has in recent years.
In fact, Westpac says the rebuild has peaked nine months earlier than previously forecasted.
"We expect that rebuild related construction activity will continue around the current strong levels over the next year or so, before it starts to gradually wind down from about mid-2016", says senior economist Satish Ranchhod.
"By that point, the majority of residential reconstruction and infrastructure repairs will be complete, and non-residential reconstruction will also be well advanced.
"That doesn't mean there will be absolutely no further increase in activity. In fact, we are continuing to see new residential and non-residential construction projects being announced.
"But the boost from this new spending will be much more modest than what we've seen over the past few years."
This means the rebuild won't add materially to economic growth over the remainder of this year or in 2016, and will detract materially from growth starting in 2017.
The Canterbury slowdown, coupled with yesterday's disastrous GlobalDairyTrade auction and release of softer than expected inflation figures, has prompted Westpac to revise its Official Cash Rate (OCR) expectations for the end of the year down to 2.0% (previously 2.5%).
It forecasts the Reserve Bank will reduce the OCR, which is at 3.25%, by 25 basis points when it's reviewed on Thursday. It expects the Governor to slash another 50bp in September, 25bp in October and 25bp in December.
Rebuild has "crowded out" other economic activity
Ranchhod explains, rebuild activity has boosted demand and employment in related industries around the country, including professional services such as architecture, and manufacturing.
He says an eventual slowdown in rebuild spending will pull down nationwide gross domestic product (GDP) growth.
"This is likely to pass through to softer employment and spending in the economy through the latter part of the decade", he says.
However Ranchhod can't pinpoint how strong or weak the economy would have been in recent years if it wasn't for the rebuild.
He says, "The increases in demand associated with the rebuild pulled in resources from other parts of the economy.
"This resulted in strong upwards pressure on costs in the housing and construction sector, including upwards pressure on wages. It also reduced the scope for interest rate cuts.
"In other words, the rebuild crowded out economic activity that would have otherwise occurred."
Focus shifting from residential to non-residential reconstruction
Westpac says reconstruction work is shifting from residential to non-residential projects.
It estimates 50% of residential reconstruction has been completed. Around 97% of jobs worth less than $100,000, made to the Earthquake Commission, have been completed. Around 3,400 over-cap repairs or rebuilds have been carried out by private insurers or homeowners.  
Ranchhod says a 20% decline in residential building consents issued in the early part of the year indicates residential reconstruction is starting to ease back.
"Such a softening in activity is consistent with our talks with builders in Canterbury that have highlighted waning demand for new subdivisions", he says.
However a pick-up in non-residential construction has offset this slow-down to some extent.
There's been a 20% increase in non-residential building activity and a 45% increase in building consent issuance over the past year.
Around $2.5 billion has been spent on infrastructure, with 75% of this work now complete. A further $8 billion has been spent on public and social assets such as education and health care facilities.
Ranchhod says "a large amount" of privately funded spending has also taken place on commercial construction.
While these non-residential projects initially took a while to get off the ground due to their size and complexity, he says construction activity will continue to increase for some time and that work will have a long tail.
Economy restrains non-residential construction activity – likely some projects will be cancelled
However, Ranchhod expects the amount of commercial reconstruction work will ultimately be at the lower end of announced estimates.
"This is because the economic incentives for new commercial construction have moderated over time. There has already been a large amount of commercial office space built in recent years, and many tenants are now locked into long-term leases.
"At the same time as supply has been increasing, construction costs have risen sharply, pushing up the nominal returns that new projects need to generate in order to deliver an adequate yield to investors.
"In light of these conditions, it is likely that some projects will not be economically viable at the current time.
"As a result, some projects will be delayed until economic conditions are more conducive, while some other projects are likely to be cancelled."