About 100 entities have either been removed from, or prevented from registering on, the Financial Service Providers Register by the Financial Markets Authority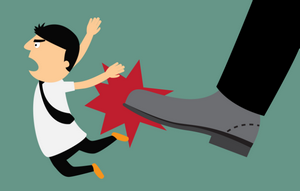 The Financial Markets Authority (FMA) has now booted a total of 52 companies off the Financial Service Providers Register (FSPR) and prevented about another four dozen from registering.
Whilst the Registrar of Companies (under the Ministry of Business, Innovation & Employment or MBIE umbrella) maintains the FSPR, the FMA assumed powers last year to direct the Registrar to remove companies from the FSPR when it believes a company is giving a false or misleading impression about the extent to which it's regulated in New Zealand.
Although the likes of NZ registered banks, non-bank deposit takers, authorised financial advisers, qualified financial entities and peer-to-peer lenders are registered on the FSPR, overseas entities with little or no presence in NZ are also able to register in what is effectively something akin to a telephone directory. They're then able to operate overseas calling themselves registered NZ financial service providers, thus gaining credibility and trading off NZ's good international reputation. Many, such as Euro Forex, have deliberately misled customers into believing they're fully fledged licensed and regulated NZ financial service providers when this isn't the case. 
An MBIE spokesman told interest.co.nz in May there were 3,472 companies registered as financial service providers and 8,508 individuals. MBIE is currently reviewing the FSPR noting other similar jurisdictions don't have problems with theirs to the extent NZ does, suggesting a possible move to a licensing regime.
In its annual enforcement and investigations report issued on Friday, the FMA said responding to misuse of the FSPR by offshore companies, and New Zealand based companies offering services outside the scope of their registration or authorisation, has been a significant challenge.
"This has been compounded by confusion about our responsibilities. Many of the FSPR issues raised with us have involved firms not licensed or otherwise regulated in New Zealand and therefore not subject to our oversight. Nevertheless, we have used considerable resources dealing with them, and responding to complaints and queries," the FMA said.
"Our main concern is companies registered on the FSPR that are not actually operating in New Zealand. We have seen instances where such companies promote their registration to investors as a form of purported validation of their services by us or other New Zealand regulatory agencies." 
The regulator went on to say; "We are also concerned that the purpose and function of the FSPR may be misunderstood. It is an administrative registration process that does not involve any regulatory approval. Registration on the FSPR does not mean the company is licensed or regulated by the FMA or any other government agency."
When moving to kick companies off the FSPR the FMA must follow a statutory process along natural justices principles. This allows firms to respond to the FMA's concerns and to submit reasons why they should be allowed to remain on the register.
Below is a list of the 52 entities the FMA has had removed from the FSPR to date. More than another 40 have either been prevented from registering, or withdrew their applications after the FMA became involved in assessing them. All up the FMA says it has effectively removed about 100 companies from the FSPR.
Here's the full list of the 52;
Allied Victory International Limited

CTFC Limited

Dynamic Capital Advisors Limited

Eastern Union Corporation Limited

Invest Foreign Exchange Limited

Tradesto Limited

Turbo Trading Limited

United Market Oracle Limited

Exo Group Limited

IKO Limited

Big Boss Financial Limited

Derbivi Limited

FGX Limited

House of Borse Limited

Trade24 Investments Limited

MyFX Markets Pty Limited

Global Prime Partners Ltd

Iron FX Global NZ

BFS Group Limited

Vitalmarkets Solutions Limited

Forex Trend Ltd

With You Limited

Miso Market Ltd

NZ Brokersclub Ltd

Vivier and Company Limited (which is appealing the FMA's decision).

Gage Capital Limited

Pegasus markets Ltd

Saudiquote Ltd

Simple Trading Corporation Ltd

Starfish Markets Limited

Integer Capital Markets Limited

GV Global Limited

FX Primus Limited / Strategic Markets Limited

Asia Finance Corporation Limited (which has featured in interest.co.nz stories & on the Naked Capitalism website).

Alpari NZ Limited

Belfor Capital Limited

CMS Ventures Ltd

3TG FX Financial Services Limted Partnership

Allozy Financial Group Limited

Apex Financial

Deal Matrix Limited

Diamond Group Trade Limited

Eagle Way Capital Limited

Excelsior Markets Ltd

FirstFX (NZ) Limited

xCFD Limited

Oasis Global FX Ltd

UWNZ Holding Ltd

Bewin Global Ltd

DVMAX International Group Ltd

IG Kiwi Ltd

IMS FX Group Ltd
Of the companies listed above 23 featured in our May story, and of them, 11 featured in this story last month.
UPDATE: This story has been updated with the list of deregistered companies reduced by three to 52. The original list supplied by the FMA included two companies it reviewed but has allowed to remain on the FSPR, and one company that is currently under review.  
*This article was first published in our email for paying subscribers. See here for more details and how to subscribe.