Company linked to Luigi Wewege appeals FMA decision to remove it from Financial Services Provider register; says use of Interest article showed FMA 'bias' and deprived firm of 'natural justice'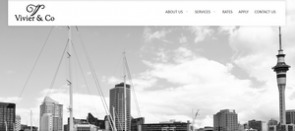 By Bernard Hickey
A New Zealand firm with links to a Irish company accused of being a sub-prime mortgage lender funded by tax fraud has appealed its removal from New Zealand's Financial Services Provider Register (FSPR).
Vivier and Company Ltd, which is led by former Auckland political operative Luigi Wewege, argued in the High Court in Wellington on Monday that the Financial Markets Authority (FMA) decision to remove Vivier from the FSPR was unfair and should be over-turned because it was based on an Interest article that unfairly influenced the decision.
The case is being closely watched because of Wewege's unusual profile and because this is the first test case of a challenge to a deregistration from the FSPR after the FMA's powers to remove companies were beefed up last year. The tougher rules followed concerns that overseas-based shell companies were joining the FSPR to advertise themselves overseas as 'regulated in New Zealand,' which is seen in global markets as well regulated and not corrupt, whereas a registration is a simple compliance measure without stringent oversight. The FMA has deregistered dozens of companies since then.
Vivier's lawyer, Andrew Riches, said the decision was based on an Interest.co.nz article on February 26 that he said was "derogatory and inflammatory," and demonstrated the FMA did not give Vivier a fair hearing. Riches argued before Justice Tim Brewer that international investors would lose confidence in New Zealand's financial system if the FMA made decisions based on "improper information and bias" in newspaper articles.
The FMA was sent a complaint on February 28 that referenced the February 26 article, which referred to a 30 minute Irish TV report entitled 'The loot and the loans' by journalist Conor Ryan of the RTÉ Investigations Unit. It claimed mortgages offered in Ireland by a sub-prime mortgage company were funded by the proceeds of one of Britain's largest ever tax frauds. Vivier and Wewege have said they will sue RTE for defamation, while RTE has said it may sue Vivier in return.
Riches said the FMA had investigated Vivier while armed with the article, but had not disclosed this to Vivier before removing its registration.
"This information should not have been taken into account and if it was it should have been disclosed," Riches told the court.
In response, Mary Scholtens QC, who was representing the FMA, said the decision to deregister Vivier was taken after a site visit by officials found Vivier was not providing financial services in New Zealand and was therefore not eligible to be on the register. Scholtens also argued the FMA official who made the decision had not referred to the article in his decision or used it.
Scholtens said Vivier had not demonstrated it was providing financial services in New Zealand. Riches argued the New Zealand-based directors were making decisions on financial services provided in other countries and funds were being paid into New Zealand bank accounts.
"If Vivier is carrying out financial services then it is entitled to be on the register, but it hasn't demonstrated that," Scholtens told the court.
Earlier Riches and Scholten argued for almost an hour over whether the source of the complaint should be identified. Justice Brewer ruled the identity of the complainant should not be disclosed after Scholten argued this confidentiality was needed to encourage informants to come forward to authorities.
Justice Brewer reserved his decision and suppressed information that would have identified the complainant.