What the government does not need to know about you if you're a non-resident trying to set up a NZ foreign trust or company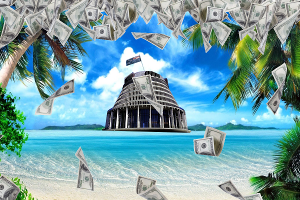 By Jenée Tibshraeny
All this talk about the Panama Papers begs the question, exactly how easy is it for a foreigner to capitalise on the loopholes in our trust and company set ups?
Whether it's for legitimate reasons, to avoid tax or to piggy back on brand 'New Zealand', there are a number of ways people, who would otherwise have nothing to do with New Zealand, are benefiting from our system.
The problem is we often get nothing in return and don't always know what they're doing. Given they're operating through New Zealand entities, this can also put the integrity of our reputation and financial markets at risk.  
Against this backdrop, the Government has ex-PwC chairman John Shewan reviewing foreign trust disclosure rules, and the Ministry of Business, Innovation & Employment is reviewing abuse of New Zealand's Financial Service Providers Register.
Here's an explainer around exactly how a non-resident may go about setting up two commonly used structures - New Zealand foreign trusts and companies.
Forming a New Zealand foreign trust
Why?
A New Zealand foreign trust is a trust with non-resident settlors (people or entities who put property into the trust), beneficiaries and assets.
The appeal is New Zealand foreign trusts don't have to pay tax here because all their income is earned by non-residents, and is earned offshore.
New Zealand is unique in that it taxes trusts based on where their settlors, rather than their trustees, live. So New Zealand foreign trusts can avoid paying tax by having a trustee based in New Zealand, and a settlor based in an overseas jurisdiction that doesn't require settlors to pay tax.
If a settlor becomes a New Zealand resident, or if a New Zealand resident makes a settlement on the trust, it will stop being a foreign trust.
How?
Step 1: Appoint a New Zealand trustee (known as a 'resident foreign trustee') to administer the trust's assets, operate the trust's foreign bank accounts, and report back to the trust's beneficiaries.
The trustee will generally be a New Zealand company so it has the protection of limited liability. 
The trustee is required under the Tax Administration Act 1994 to keep financial records that can determine the financial position of the foreign trust, and disclose these to the IRD if requested.
These requests may be made periodically in respect of foreign trusts that have Australian-resident settlors, and on a case-by-case basis if a valid request for information is received from another country New Zealand has a Double Tax Agreement with.
Furthermore, the resident foreign trustee's reporting obligations will depend on the jurisdiction the trust's been established in.
Step 2: The trustee is required to notify the IRD that it is a trustee of a foreign trust. This involves filling out a page-long IR607 form, which simply asks for the name of the trust and the name, address and phone number of the resident foreign trustee and their organisation. The form also asks the trustee to disclose whether the trust's settlor is an Australian resident.
The information on this form is essentially the only information the Government has about the trust.
 According to the IRD, there are 11,655 foreign trusts currently active. The number of new foreign trusts added to the IRD's register has grown every year since 2009. Reporting of this nature began in 2006.
Step 3: Due diligence. This is where the waters get murky and PwC Tax and Private Business Leader Geof Nightingale has some concerns.
Some trustees conduct their due diligence in accordance with the Anti-Money Laundering and Countering the Financing of Terrorism (AML/CFT) Act, while others believe they aren't required to do so.
The Act requires trustees to be very prescriptive in showing they know exactly where the assets or funds held by the trust come from and who they're transferred to. They have to verify the identities of those they're dealing with, have risk management plans and report suspicious transactions to the Department of Internal Affairs (DIA) for example.
"If they're applying that, and applying it properly, then most of the concern evaporates. But one of the things we don't know, is the extent to which foreign trustees are complying with AML legislation," Nightingale says.
The DIA supervises 109 trust and company service providers for compliance with the AML/CFT Act. However it doesn't specifically regulate accounting and law firms - many of which act as trustees for New Zealand foreign companies. The DIA also doesn't necessarily have oversight of trust and company service providers located overseas that set up New Zealand entities.
Furthermore, the AML/CFT Act guidelines set out that an entity incorporated or formed in New Zealand, which carries on financial activities wholly outside New Zealand, will not be a reporting entity under the AML/CFT Act.
New Zealand entities involved with Mossack Fonseca - the law firm at the heart of the Panama Papers saga - aren't supervised for AML/CFT Act compliance by the DIA.
The DIA has told interest.co.nz: "Both entities [Mossack Fonseca & Co (New Zealand) Ltd and Orion Trust] have their registered address at chartered accountants. Accountants are not captured under the AML/CFT Act, and we do not capture accountants as Trust and Company Service Providers (TCSP). It is only businesses that provide TCSP services as the only or principal part of their business that are captured under the AML/CFT Act."
Nightingale says: "The issue is whether or not being a foreign trustee is part of the normal duties of an accountant or lawyer and therefore exempt from AML, or whether it's not. I would argue it's not.
"That's the rub and that's why the Prime Minister came out and said the Government would accelerate the bringing of accountants and lawyers within the AML rules."
The timeline around this broadening of the AML/CFT Act, known as 'Phase 2', is still up in the air. However a Bill is expected to be introduced to Parliament later this year, which Justice Minister Amy Adams aims to have passed by July next year.
The only accountability New Zealand trustees of foreign trusts have is essentially to their industry peers, as they have to be members of an "approved organisation". These are the New Zealand Institute of Chartered Accountants, the New Zealand Law Society or the Society of Trust and Estate Practitioners.
"The thinking around that is that those approved organisations have their own ethical and disciplinary requirements of their members which act as a sort of light touch regulatory regime. But what we don't know is whether this has been an effective approach," Nightingale says.
Starting a company
Why?
A company makes your business a separate legal entity and provides you and other shareholders with limited liability for the debts of the company.
This legal arrangement can make the business more attractive to investors and appear more credible to clients, particularly if it's based in a seemingly politically and economically stable country such as New Zealand.
How?
Step 1: Reserve a company name. Log in to the Companies Office (CO) website and submit the proposed name for a fee of $10.22. The CO will process the application within two hours during normal business hours.
Step 2: Incorporate the company. You have 20 working days to do this from the time the name is reserved. Provide the CO with the following details through its website:
Company addresses: A registered office, an address for service and an address for communication. The first two have to be physical street addresses in New Zealand, not post office boxes.
Directors: The names, dates and places of birth and residential addresses of the directors. At least one of the directors has to live in New Zealand, or live in Australia and be a director of a company incorporated in Australia. 'Live in New Zealand' means spend at least 183 days here over a 12-month period.
Shareholders: The names and addresses of the shareholders and the number of shares held by them. Individuals, registered New Zealand entities and other entities can be shareholders - not trusts.
Step 3: Pay the application fee of $150 to incorporate the company.
Step 4: Get each of the directors and shareholders to sign consent forms, and fax or scan and email these to the CO.
Step 5: After incorporation, directors must: inform the CO if there are changes to the various details of the company or its directors, and file an annual return, which essentially provides updated company details. Very large companies, with a prescribed value of assets or revenue have to submit their financial statements. 
The company will need to get an IRD number if it trades or buys property in New Zealand. Otherwise there is no obligation for it to get an IRD number.
If a company that needs to get an IRD number is owned or controlled 25% or more by "offshore persons", then in most situations it will need to open a New Zealand bank account to get an IRD number.
To do this, the company's directors would have to verify their identities and addresses with the bank to meet its AML obligations.
Otherwise, any overseas shareholders and directors don't need IRD numbers themselves.
It's also worth noting that the CO can ask a director or shareholder it perceives to be higher risk to provide proof of identity or address, either before or after incorporation. Requesting this documentation is completely at the CO's discretion. It says it hardly ever makes these requests.