After a week of pressure over Panama Papers, Key says an independent expert will review NZ's overseas trust disclosure rules; Labour wants full inquiry; Peters wants full Commission; ICIJ sees more NZ names to come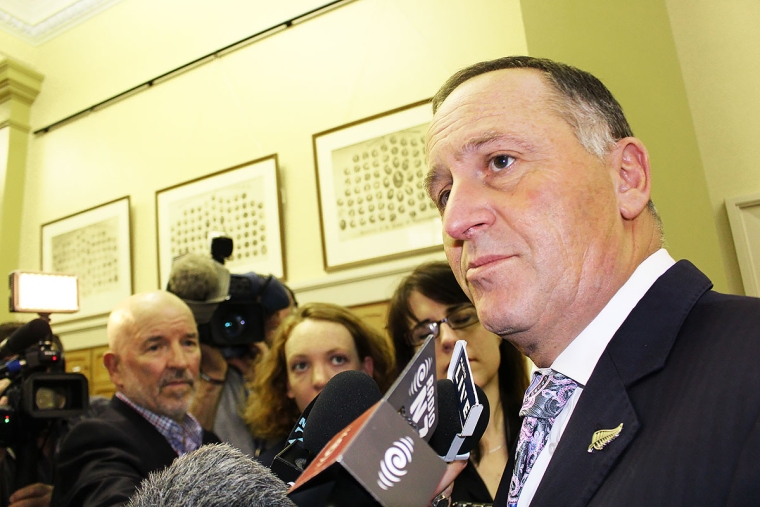 By Bernard Hickey
The Government has bowed to a week of demands for an inquiry into New Zealand's overseas trust disclosure rules in the wake of the Panama Papers.
Prime Minister John Key said in media interviews this morning he would take a proposal to cabinet for an independent expert to review New Zealand's overseas trust disclosure rules.
Later, Finance Minister Bill English and Revenue Minister Michael Woodhouse announced the Government had appointed former PwC Chairman John Shewan to conduct an independent review of disclosure rules by June 30.
"Ministers decided that in light of the 'Panama Papers' being released last week, it's worth looking at whether the disclosure rules are fit for purpose and whether there are practical improvements we can make," English said.
"Our rules require foreign trusts to be registered and to keep detailed financial and other records, which can be requested by Inland Revenue and passed on to tax authorities in other countries. In addition, we have a strong tax treaty network with the express purpose of discovering and preventing tax avoidance," he said.
"As we've said, we're open to considering changes to disclosure rules if that is warranted. So we've asked Mr Shewan to take a thorough and independent look at the current regime to check that it's fit for purpose."
Woodhouse repeated the Government's view that New Zealand was not a tax haven.
"Claims that New Zealand is a tax haven are wrong. We have a robust tax base and we're operating under stronger disclosure rules introduced by the previous Labour government in 2006," he said.
Woodhouse noted the OECD had called a special meeting to discuss the Panama Papers in Paris this week and an Inland Revenue representative would be sent to that meeting.
"We will certainly consider any issues raised there and we're prepared to look at changing the disclosure rules if Mr Shewan's review finds this is warranted," Woodhouse said.
Key folds after week of pressure
Earlier, Key flagged the review.
"It's highly likely the government will ask an expert in this area to undertake an independent review," he told Guyon Espiner on RNZ.
Key also announced the plans for the review on TV3 and NewstalkZB.
Key said he would not rule out changing the disclosure rules, although he again defended the rules.
"The advice that we have is that New Zealand's not a tax haven, it's compliant with OECD, in fact I think we're ranked in the top 20 of disclosure and good practice," he said.
"There can be negative reasons and we obviously need to make sure we have the proper processes and procedures to ensure we don't get those. But there are also very legitimate reasons and New Zealand is a very good place in terms of being open, transparent."
The OECD announced over the weekend that it would hold an emergency meeting on Wednesday to discuss the Panama Papers.
Key says didn't use trusts himself
Key also specifically denied having personally used tax shelters or overseas trusts in the past. He said he had had a superannuation fund in Singapore when he worked there and he said he would not be releasing his tax records, as David Cameron pledged to do over the weekend.
"We have very strong rules in New Zealand around pecuniary interest. I'm quite comfortable and very confident of my tax record," Key told Espiner.
"I use the best people. I don't use sheltering vehicles - I've never used those."
The back-down on the review followed a week of questioning in Parliament and calls by tax and other experts for tougher disclosure rules.
'NZ has very weak laws'
The pressure ramped up over the weekend as those who have seen the Panama Papers said there would be further revelations and that Mossack Fonsceca had advised its clients that New Zealand had weak disclosure rules.
Neil Chenoweth, who has been behind the International Consortium of Investigative Journalists (ICIJ) firewall containing the papers, reported in the Australian Financial Review in more detail on Sunday how political figures in Malta had used New Zealand trusts.
Chenoweth reported Mossack Fonseca's New Zealand staff provided advice they received from an executive at Nexus Trust that: "NZ has very weak laws in regard to due diligence; they only require utility bill and passport. Trust companies are not required to hold a licence."
He wrote there was no need to register who put assets into a foreign trust, known as the "settlor", and he reported that a Staples Rodway lawyer had written: "The New Zealand definition of 'beneficial owner' is different to that of many other jurisdictions, in that we do not require due diligence on the person/s who will benefit from the funds."
"In other words, you never have to explain who gets the money – and Mossack Fonseca never needed to know either," Chenoweth wrote.
More NZ names to come
Meanwhile, the Centre for Public Integrity's CEO Peter Bale told Lisa Owen on TV3's The Nation that he expected more detail about New Zealand names and the use of New Zealand vehicles would emerge in coming weeks.
The Centre for Public Integrity includes the International Consortium of Investigative Journalists (ICIJ), which has access to the 11.5 million documents leaked from Mossack Fonseca.
"You can be absolutely certain, I think, or as near to certain that there will be significant numbers of New Zealanders and of New Zealand entities, certainly New Zealand entities, within this data set," Bale said.
"Our hope is that, as with other large data sets that we've done, it will be made available in the next couple of months, publicly," he said.
Information sharing doesn't work
Tax Justice Network spokesman John Christensen told Corin Dann on Q+A that New Zealand's double taxation and information exchange agreements were "pretty useless."
"And we've seen that across the world. They're useless because they only work on the on-request model. That is if a tax authority elsewhere gets wind of the fact that someone might have a trust in New Zealand, then the courts might permit information exchange. That simply isn't good enough," Christensen said.
"We now need to move to a new era of automatic information exchange where the trustees of a trust based in New Zealand will automatically inform the tax authorities, who will pass that information on to the tax authorities in the third-party country," he said.
"I'm afraid the existing tax information exchange agreements are worthless."
'Full Inquiry or Commission needed'
Labour Leader Andrew Little called for a full Independent Inquiry into the details coming out of the Panama Papers.
"One tax expert isn't going to solve this, especially one appointed by a Prime Minister who doesn't think hiding their finances behind tax free funds is morally wrong," Little said.
"Labour has called for an inquiry as soon as the Panama Papers were released – New Zealanders don't want the global super-rich hiding their money here and not paying tax. A full inquiry must instead assure New Zealanders that everyone pays their fair share and that we are not part of an international tax evasion racket," he said.
Little said Key had been cagey about his own personal finances. "He must come clean if he has directly or indirectly benefited from funds in a tax haven. The last thing our international reputation needs is for rumours to swirl around our Prime Minister's tax affairs."
New Zealand First Leader Winston Peters called for a full Commission of Inquiry, adding he would have no confidence if it was led by the IRD's head of international strategy John Nash. Peters criticised Nash in this Parliamentary question on Thursday, shortly before being thrown out of Parliament for a second consecutive day.
Later, Peters criticised the appointment of Shewan, saying he was involved in a number of high profile cases, including disputes between Westpac NZ and the IRD and the Penny and Hooper case. He said Shewan had been advising the Government for years. 
"New Zealand First wants a proper inquiry with the full powers to obtain disclosure and by a body not contaminated by New Zealand establishment associations," Peters said.
Green Co-Leader James Shaw also called for a broader public inquiry, saying the limited review showed the Prime Minister was in damage control.
"While I welcome the Prime Minister's U-turn on New Zealand's foreign trusts, appointing a single tax expert is unlikely to lead to the kinds of reforms we need to protect our country's reputation," Shaw said.
"Appointing a single expert insider could result in a whitewash. Any inquiry into New Zealand's foreign trusts also needs expertise from the Inland Revenue Department (IRD), transparency and anti-corruption experts, international tax law experts, and an opportunity for public input," he said.
"Any inquiry without IRD input will be meaningless. IRD are at the heart of this issue, having direct oversight over foreign trusts and responsible for information sharing with overseas tax authorities. They first warned the Government about this issue back in 2013. Any inquiry without expert input from anti-corruption specialists will similarly be problematic, as a single tax expert will not be expert at protecting and restoring New Zealand's reputation overseas."
(Updated with comments from James Shaw, detail about review and its expert John Shewan, reaction from Peters)