NZ's problematic Financial Service Providers Register the subject of the fourth highest volume of annual queries received by the FMA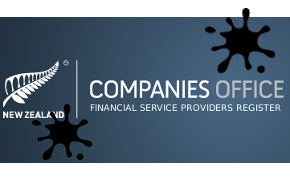 By Gareth Vaughan
The Financial Markets Authority (FMA) says it removed or dissuaded 66 overseas companies from registering on New Zealand's problematic Financial Service Providers Register (FSPR) in the year to June.
The FMA details this in its latest annual report.
"This year, 28 companies have been deregistered, and 14 have voluntarily deregistered. Another eight companies have been prevented from registering, and 16 applications have been voluntarily withdrawn or expired. Legislation relating to the FSPR is currently under review," the FMA says.
Although the FSPR is maintained by the Registrar of Companies, in 2014 the FMA was granted powers to deregister entities from the FSPR if it considers their registration creates a misleading impression about the extent that entity is regulated in NZ, or will damage the integrity or reputation of NZ's financial markets. In June the FMA provided interest.co.nz with a list of 64 entities it had got deregistered from the FSPR since obtaining that power. However, as reported in June, of those 64, 35 remain as NZ registered companies.
With one of the companies, Vivier and Company, the FMA had to go to the Court of Appeal before it could proceed with FSPR deregistration. FMA CEO Rob Everett told interest.co.nz in March that policing the FSPR wasn't a good use of FMA resources. And in another interview in July Everett questioned whether NZ even needs the FSPR.
In July Commerce and Consumer Affairs Minister Paul Goldsmith unveiled the Government's third attempt at cleaning up the stain on NZ's reputation caused by misuse of the FSPR as part of a broader government review of the Financial Advisers Act and the Financial Service Providers Act.
Currently a firm can register on the FSPR if it has a place of business in NZ, regardless of where in the world it provides financial services. The Ministry of Business, Innovation & Employment (MBIE) has pointed out firms misusing the FSPR often set up a superficial operation in NZ by leasing an office and employing a person to provide back-office services. These firms register to provide financial services that don't require licensing in NZ, such as foreign exchange services. And nor is there pre-vetting by a regulator. They don't offer financial services within NZ, but can use their NZ registration overseas to give a false impression that they are regulated in NZ and trade off the country's good reputation.
Dozens of overseas operating companies have deliberately misled customers into believing they're fully fledged "licensed" and "regulated" NZ financial service providers when this isn't the case. And overseas regulators have been confused by these NZ "registered" entities operating in their jurisdictions. These issues have been covered extensively by interest.co.nz with our stories here.
The latest round of government changes, following a review by MBIE, are that in order to register on the FSPR businesses must be;
 in the business of providing financial services, not just back-office administrative services, from a place of business in NZ, or
 in the business of providing financial services to New Zealanders, or
 otherwise required to be licensed under any other NZ legislation. 
In July Goldsmith said other complementary measures that could help address misuse of the FSPR were also on the table. These include more stringent requirements for those registering on the FSPR such as requiring applicants to provide information showing they are licensed and/or supervised in their home jurisdiction before they can register, and prohibiting firms from referring to their NZ registered status in any offshore advertising. MBIE will consider these measures and report back to Cabinet in September, Goldsmith said in July.
Asked recently where things were at with these "other complementary measures", a spokeswoman for Goldsmith said, "My officials are continuing to analyse complementary measures that could help address misuse of the FSPR. I will be publicly consulting on draft legislation, including any amendments resulting from the complementary measures, later this year."
Meanwhile, the FMA's annual report also reveals that the FSPR was the subject of the fourth highest volume of queries the financial markets regulator received during the June year. A total of 3,555 queries were received. (See chart below).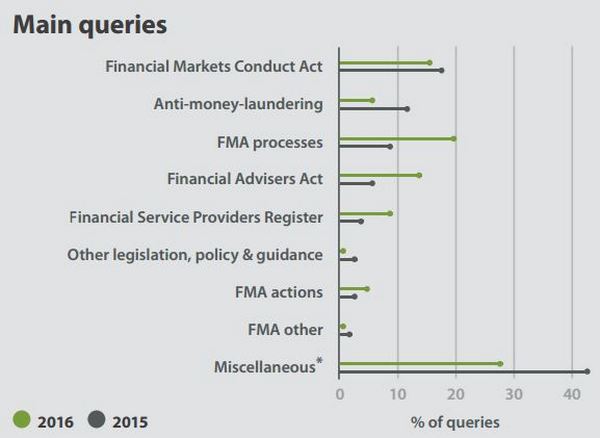 *This article was first published in our email for paying subscribers. See here for more details and how to subscribe.