Hurricanes sponsor and Wellington promoter Fullerton Markets quits the 'next financial hub of New Zealand'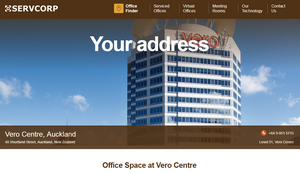 By Gareth Vaughan
Unlicensed forex and derivatives trader Fullerton Markets, which has made much of being based in Wellington, now has no office, director or staff based in the city.
According to Fullerton's chairman, the company now has just one NZ-based staff member who is a compliance manager, and it operates out of premises run by serviced and virtual office provider Servcorp in Auckland.
This is a company that in June 2016 told then-Finance Minister Bill English it had chosen Wellington as its Pacific support centre for research, training and client seminars, and was looking to "base its operations" in Wellington, with staff numbers set to grow to 50 over 18 months. Then in January last year Fullerton told English, by then Prime Minister, it was eyeing an Initial Public Offering as soon as this year.
The subject of a formal anti-money laundering warning from the Financial Markets Authority (FMA) late last year, Fullerton has also been the subject of several interest.co.nz stories over the past 14 months.
Registered as a New Zealand company in September 2015 and registered on NZ's Financial Service Providers Register in March 2016, Fullerton's Singapore-based CEO and shareholder Mario Singh said the decision had been taken to base Fullerton in Wellington "because of its exciting future as the next financial hub of New Zealand."
A series of Wellington centric sponsorships followed. These were headlined by becoming home jersey sponsor of the Hurricanes rugby team. Others include being a corporate partner of the Wellington Phoenix football team, and a sponsor of both the Wellington Gold Awards and the Wellingtonian of the Year Awards, or the Wellys.
Wellington accountant Paul Turner, who became a Fullerton director, provided Fullerton's address via his firm Turner Accounting Ltd at level 3, 88 The Terrace.
However, Turner has stepped down as a director and Fullerton's website now gives its address as level 31, the Vero Centre, Auckland. Servcorp. A call to an Auckland phone number on Fullerton's website was answered by a Servcorp representative on behalf of Fullerton.
Turner told interest.co.nz he has "for personal reasons" chosen to "cut my ties with Fullerton." Turner said he would continue to provide "some minor accounting assistance" to Fullerton. He also said Fullerton will no longer be using Turner Accounting's Wellington address.
Fullerton's remaining NZ-based director is the Christchurch-based Gerald Carter, its chairman. (Singh is also a director). Carter became a director in April last year.
'Fullerton is committed to being in New Zealand'
Carter told interest.co.nz that Turner's role had "always been to drive the establishment of the Fullerton office in Wellington which he has done superbly."
"Since our temporary withdrawal of our DIL [derivatives issuer's licence] application [to the FMA], it made sense to consolidate the local office with our compliance manager who lives in Auckland. Paul's desire has been to step down for personal reasons and this has coincided with the relocation," said Carter.
The compliance manager is Sagie Govender, who formerly worked for Strategi Ltd, and prior to that was employed as an adviser in the FMA's supervision team. Carter confirmed Fullerton currently has no other NZ staff, but is looking to appoint a NZ operations manager to replace Chanthrueen Sarigabani.
 A Malaysian national who was Wellington-based, Sarigabani was forced to leave NZ last September after his attempt to renew his NZ work visa was rejected by Immigration NZ. Then in November interest.co.nz revealed that Kiwi Global Trust Ltd, which acts as Fullerton's trustee, has laid a complaint with the NZ Police in relation to about $4 million that was transferred overseas from an ANZ NZ bank account.
Meanwhile, Carter said he has no direct background in forex or derivatives. He said he got involved with Fullerton via old friend Turner, and specialises in growing businesses.
"[Fullerton is] committed to being in New Zealand, we are jersey sponsor of the Hurricanes," Carter said. "But we've got to get some structures in place to reapply [for a derivatives issuer's licence]. The [FMA] warning was a generic warning, it wasn't anything specific. We submitted documentation [related to requirements under the Anti-Money Laundering and Countering Financing of Terrorism Act] to them again yesterday."
Carter wouldn't comment on Fullerton's trading volumes or who its clients are, other than saying they're all overseas. Fullerton's website says; "Fullerton Markets is proud to offer its list of products and services to its growing number of global clients. Spot forex and derivatives are available to all clients. Please note: Fullerton Markets currently do not offer services to New Zealand residents."
Hurricanes staying mum
After the FMA issued Fullerton's formal warning in November, a spokesman for the Hurricanes said the Hurricanes were reserving comment until they had more information and a better understanding of what the FMA release meant.
Asked in late January whether the Hurricanes were now in a position to comment further, and if so what they might have to say, the spokesman said; "The Hurricanes have spoken to Fullerton Markets and the Financial Markets Authority. We understand and respect the process the Financial Markets Authority are undertaking and have no further comment on the matter at this time."
Interest.co.nz has been told the Fullerton Markets sponsorship is worth about $300,000 a season to the Hurricanes, which announced a three year deal in July 2016.
The Hurricanes press release at that time quoted CEO Avan Lee saying; "Fullerton has built a great name in the trading industry and is clearly a company with high ambitions and high values. We like to think we share those traits at the Hurricanes and together hopefully both of us will be able to achieve our goals in the coming years."
Then in January 2017 Lee announced "it's great that Fullerton Markets will join Kia as a front of jersey sponsor for the next three seasons."
(The photos and captions below come from Hurricanes press releases).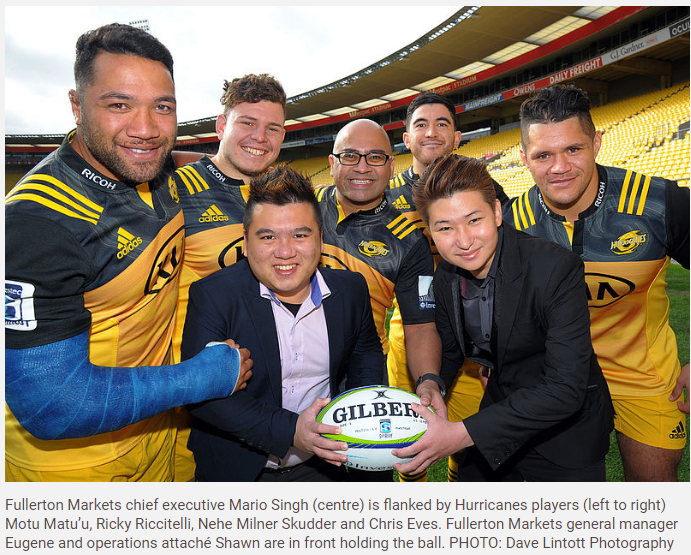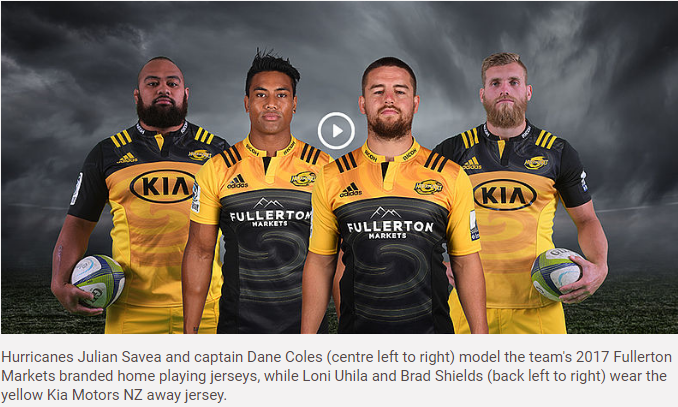 *This article was first published in our email for paying subscribers early on Friday morning. See here for more details and how to subscribe.