The CPTPP trade agreement will add between $1.2 billion and $4 billion to New Zealand economy, but comes with some weighty costs if it is signed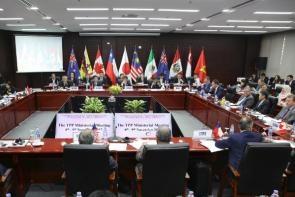 The new look Trans-Pacific Partnership will add up to $4 billion to New Zealand's economy (1% of GDP) once it is fully implemented.
The Government's 250-page National Interest Analysis (NIA) on the much-anticipated trade deal, released Wednesday morning, details the benefits and drawbacks the Comprehensive and Progressive Trans-Pacific Partnership (CPTPP) will bring to New Zealand. (The full text of the CPTPP is here).
Once the overall impact of the deal is fully realised, it will add between $1.2 billion and $4 billion to annual GDP growth – that's between 0.3% and 1% extra growth a year.
The estimates vary with different assumptions on how tariffs and non-tariff measures are addressed.
"The CPTTP would provide significant benefits for New Zealand goods exporters across a range of sectors," the analysis says.
Tariffs (taxes on imported products) would be eliminated from most of New Zealand's exports to all CPTPP countries within 16 years.   
The economies included in the trade deal account for 13.5% of world GDP – worth a total of US$10 trillion.
The big industry winners are dairy (expected to save $88.5 million in reduced tariffs) meat, including beef and lamb ($57 million), and Horticulture ($25 million).
Forestry, fisheries and wine will all save less than $10 million.
As New Zealand does not have free-trade deals with Mexico, Peru, Canada and Japan, CPTPP access into those markets is touted as a big win by the NIA report.
Some $5.5 billion of goods and services were exported to those four countries last year and New Zealand paid almost $300 million in import taxes to get the products to market.
New Zealand exporters to Japan, for example, will pay $200 million less in tariffs once the CPTPP is fully implemented.
The analysis suggests if New Zealand chooses not to sign the CPTPP, it would result in a $183 million decline in GDP as "New Zealand's place in regional supply chains would be eroded," and competitor countries exports would be cheaper.
Minister of Trade David Parker says the CPTPP is a "pretty big deal for New Zealand.
He says before the China free trade agreement, the estimated gains for New Zealander exporters was $115 million a year. That number turned out to be much higher.
Parker says the estimated gains for exports because of the CPTPP are $222 million a year.
The downsides
It's not all good news though – the NIA outlines some areas where New Zealand would be disadvantaged by entering the deal and generate potential costs.
These are the implications of the investor-state dispute settlement (ISDS) and changes to New Zealand's investment screening threshold for "significant business assets."
The NIA says the ISDS mechanism has the "reciprocal potential consequence of an increased exposure of the New Zealand Government to ISDS claims."
In other words, the ISDS mechanism heightens the risk of potentially preventing future Governments from making laws in areas of importance to New Zealand.  
However, the analysis suggests this is unlikely to happen – noting that ISDS clauses have been included in many other New Zealand free-trade agreements but have never been utilised.
There is also a separate legally binding letter between New Zealand and Australia that CPTPP's ISDS provisions will not apply between the two countries.
As Australia is responsible for 80% of the total foreign direct investment to New Zealand, ISDS claims would not be available to 80% of all CPTPP foreign direct investment into New Zealand.
Parker says there are "a number" of other side letters like this which are being worked through but won't say how many or with which countries.
That will, he says, all be revealed on March 8 when the deal is officially signed.
On the screening thresholds, the threshold above which a non-Government investor must get approval to invest in "significant business assets" in New Zealand would double from $100 million to $200 million for all investors from CPTPP countries.
This will require changes to the Overseas Investment Act.
National Party Trade spokesman Todd McClay says the CPTPP will deliver huge benefits to New Zealand, but the text shows there is actually few difference between the original TPP and the CPTPP.
"For example the market access provisions remain the same – in spite of Labour previously claiming they weren't good enough, the Government can still be sued by foreign corporations, the side letter we signed with Australia restricting that ability remains and the Treaty of Waitangi protections the National Party negotiated remain in place."
He says Labour and New Zealand First might have changed the name, but it's still the same deal."
The CPTPP includes many of the same elements that were negotiated as part of the TPP but with "slight differences," according to the NIA.
These differences include a suspension of 22 items, including areas to do with investment, pharmaceuticals and intellectual property.
A Ministry of Foreign Affairs (MFAT) analysis of the TPP – before the US pulled out – concluded the deal was in New Zealand's interests to sign, coming with an estimated economic benefit of $624 million from reduced tariffs and barriers.
A further $1.46 billion benefit would be achieved from the removal of non-tariff barriers, MFAT's analysis found.