Bridges says a capital gains tax would cause people to leave for Australia (where there is a capital gains tax); fails to answer questions about the fairness and effectiveness of the tax system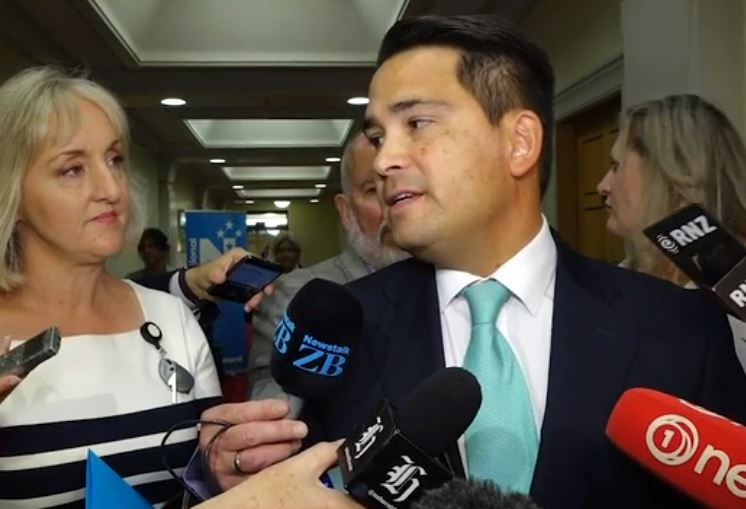 National Party Leader Simon Bridges has coined the possible introduction of a capital gains tax in New Zealand a "recipe for more people buggering off to Australia" – where there is a capital gains tax.
Bridges made this remark on his way to a Caucus meeting on Tuesday, ahead of the Tax Working Group on Thursday releasing its recommendations on how to reform the tax system.
He addressed media, ready to attack the notion of a capital gains tax, with National Finance Spokesperson Amy Adams by his side.
Bridges made the argument that not even the Tax Working Group was confident a capital gains tax would do much to improve housing affordability.
Its interim report released in September said: "The Group is of the view that the housing market impacts [of taxing capital income] are unlikely to be large, but it may be expected that rents will rise over time, and house prices will be lower, relative to the status quo.
"However, the Group's view is that tax has not played a large role in the current state of New Zealand's housing market, and will be unlikely to play a large role in fixing it."
The report also said: "The tax system is not responsible for constraints in the supply of housing, but it does influence demand for housing.
"Certain features of the tax system – such as the inconsistent treatment of capital income – have probably exacerbated the house price cycle in New Zealand, even if the tax system is not the primary cause of unaffordable housing."
Bridges also reiterated the National Party line that the taxes introduced by this government were crippling the economy.
However, he was unable to provide clear answers to two questions interest.co.nz put to him:
Putting a capital gains tax and the bright-line test aside, does he believe there is a role for tax to play in keeping house prices at a sustainable level?
Does he believe there is an even playing field when it comes to the way the returns from different assets are taxed in New Zealand?
The second question was asked with this graph in mind: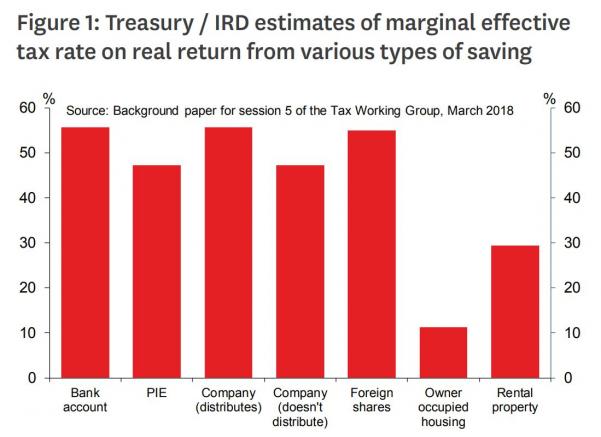 Here is a transcript of the exchange between Bridges and interest.co.nz's Jenée Tibshraeny:
JT: Do you think the incentives are balanced when it comes to tax - when it comes to investing in property versus other financial assets?
SB: Right now, we've got a government yesterday that tells us we have a multinationals tax. They're going to reel in more money from that. We know households are paying $50,000 each in tax and Michael Cullen, Jacinda Ardern, Grant Robertson are about to tell us we need yet another tax. What's the case for it? I don't see it?
JT: OK, but just answer the question. Is the playing field even between the different types of assets people can invest in?
SB: If you're getting at houses and what's going to happen there, the Tax Working Group itself has said it's not going to have much of an effect, so that argument doesn't hold water. I come back to it then - why on earth would you have a capital gains tax? I don't see anyone – not Jacinda Ardern, not Grant Robertson, actually not Sir Michael Cullen making strong arguments. I can give you plenty against it: We pay a lot of tax, they've piled on more, the disincentives on hardworking kiwis who play by the rules will be there. Why would we do this?
JT: Why would I invest in a business or buy shares if I can invest in property and the tax incentives are better that way?
SB: How about this – because we're going to see a capital gains tax on that business. Someone slogs their guts out for years on a retail business – maybe it's a clothes business. They're not making much cash at all. They're paying tax on the people they employ on the small profit that they make, and then they're going to get socked at the end with a 33% tax on that business, both as assets and any sale they might realise from selling it on to the next person. How is that fair after let's say 30 years working at it? This is a real disincentive to kiwis to get ahead, who've played by the rules. It's going to ruin the ability for people with farms, with SMEs, with nest-eggs to get ahead. Actually, you know what this is, it's a recipe for more people buggering off to Australia…
JT: I just want to get some clarity. Does our tax system treat different sorts of investors the same?
SB: Our tax system isn't perfect – no system is. But what the experts will tell you and have for a long time, is that it's broad-based, it covers the bases, and it does a good job for the most part. You can always find this, that and the other thing, that in theory could be the right thing to do – sure. But here, now in terms of a capital gains tax, not even the Tax Working Group thinks it will deal to some of the very real property issues we have as a nation…
JT: Putting capital gains tax aside, and also the bright-line test, do you believe there is a role for tax to play in keeping house prices at a sustainable level?
SB: I think there's a role for tax of course. We need taxes to pay for public services. And you could make your case for all matter of taxes. But ultimately here, you've got a government that's got a very well-worn, well-run tax system that pulls in some – what is it – $77 billion a year. They're doing a new one in multinationals – fair enough, although they don't seem to know the detail. Why on earth would you slug New Zealanders with another one? What's the purpose? They've already accepted it doesn't go towards what you're talking about. It's not going to have a material effect on properties, so what the hell is the point?
JT: Ok, you're not answering the question. Is there a role for tax to play, other than the bright-line test and capital gains tax [in keeping house prices at a sustainable level]?
SB: Look in theory, you can have a role for tax serving all sorts of purposes, but I come back to it, right here, right now in New Zealand, Sir Michael Cullen's Tax Working Group has made it abundantly clear throughout that document, it's not going to have a significant effect on those very issues you're raising.