Reserve Bank eyes economic effects of Rugby World Cup; 'High NZ$, international debt levels concerning, so let's hope more Aussies come'
A high New Zealand dollar against currencies other than the Aussie, and high levels of private debt in the developed world have the Reserve Bank wondering about the impact the Rugby World Cup will have on New Zealand's economy when we host it during September and October.
In a paper released on its website today, Reserve Bank economist Adam Richardson said the Reserve Bank's main interest in the event was how it affected domestic economic activity, capacity pressures and the national accounts.
"The tournament is expected to attract a total of 95,000 overseas visitors, with these visitors forecast to spend NZ$700 million in New Zealand. Domestic spending on the tournament is also likely to be significant, although some of this will be at the expense of spending on other items," Richardson said.
"If incomes increase as a result of the domestic and international spending in New Zealand, that would increase domestic spending even further over time," he said.
But there were concerns a high New Zealand currency against the majority of those from key tourist markets, and high levels of private sector debt across the developed world might mitigate some of the expected benefits from the event.
Attractive for Aussies to come
A competitive exchange rate versus the Australian dollar meant it was still attractive for Aussies to come across the ditch for the tournament, although our Tasman cousins usually did not stay as long as tourists from farther afield.
"The exchange rate is an important factor in this regard. At the time of the 2003 tournament, the Australian dollar was only about 10 percent above its long-term average on a trade-weighted basis and the overall international economic environment was reasonably good," Richardson said.
"New Zealand s situation now is rather different. The New Zealand dollar Trade Weighted Index is about 20 percent above its long-term average, and is particularly high relative to the South African rand, the British pound and the US dollar, having appreciated significantly against these currencies since 2003 (figure 5)," he said.
"All else equal, an elevated currency makes New Zealand more expensive as a destination, potentially discouraging some visitors. In addition, visitors may be working to a fixed budget in their home currency while travelling. An appreciation of the New Zealand dollar erodes the value of that fixed budget and will lower the total amount of spending in New Zealand dollar terms."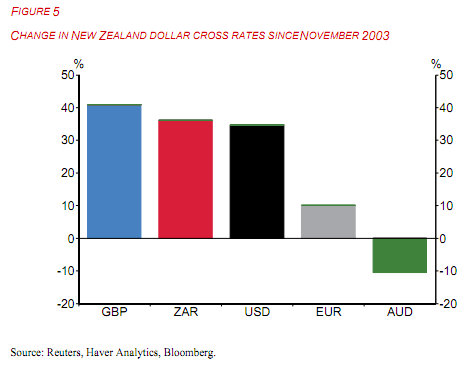 "Of course, the New Zealand dollar is relatively low against the high Australian dollar at the moment, a factor that may encourage a higher proportion of Australian visitors as well as a higher average spend. However, New Zealand must still compete as a destination for Australian tourists during the Rugby World Cup," Richardson said.
"Economic activity has increased in all the key Rugby World Cup tourist markets since 2003. However, household debt relative to income or GDP has also built up significantly since then (figure 6)," he said.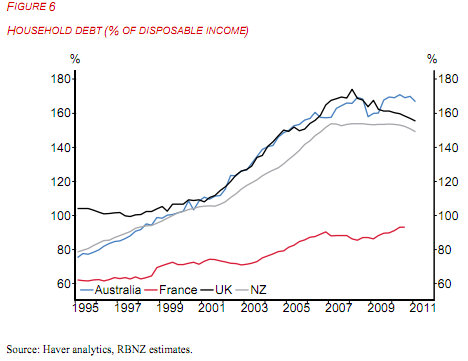 "In a number of countries, high debt levels are among factors that have acted as a constraint on growth in consumer spending, as the international recession has prompted a degree of household caution. Apart from South Africa, growth in per capita consumption has been limited in key markets since the 2003 tournament (figure 7). Overall, high household debt might negatively affect visitor spending during the tournament," Richardson said.