PM Key says NZ$ overvalued, "but we're considering what we can do to resist a rising exchange rate"; Welcomes yuan move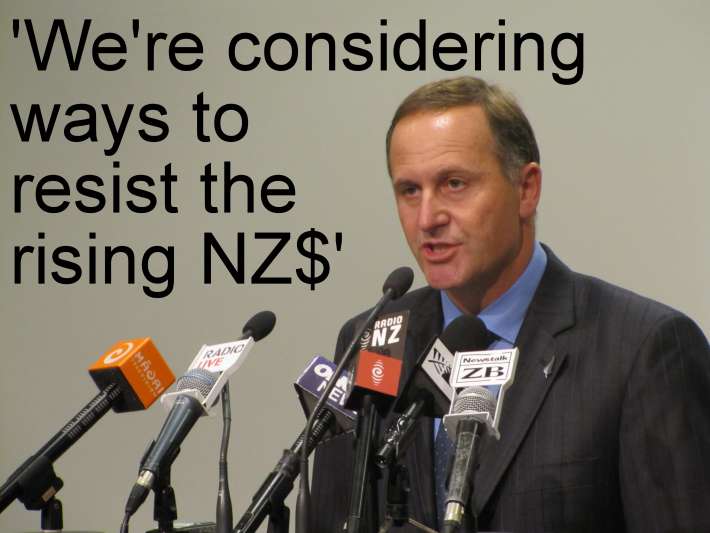 The government is considering what can be done to resist a rising New Zealand dollar, which is currently overvalued due to weakness in the American and European economies, Prime Minister John Key says.
Key is visiting Indonesia on a trade mission with almost 30 delegates representing Kiwi exporting companies. Dow Jones last night reported Key told the chair of the Indonesian National Economic Committee that the New Zealand dollar was overvalued.
"We still want the markets to normalise. We've been overvalued for a few days, but we're considering what we can do to resist a rising exchange rate," Dow Jones reported Key saying.
BNZ's currency team said the Prime Minister's comments looked to be nothing more than jaw-boning. They said the PM's comments knocked some steam out of the New Zealand dollar overnight.
"The high level of the currency is simply a reflection of the fact NZ economic growth is expected to outpace that of the UK, EU, US and Japan this year. This is something Key himself noted overnight," the BNZ currency team said.
Yuan move welcome
Meanwhile, Key welcomed the move yesterday by the Peoples' Bank of China to widen the yuan's trading band from 0.5% to 1% either side of a referenced exchange rate. The move would allow for more trading of the Chinese currency, and indicates increased willingness from Chinese authorities to allow the yuan to appreciate.
"We actually think it's in China's best interest for two reasons. One is that it will take off the pressure on Chinese inflation. And secondly, if it results ultimately in growth in U.S. exports, that will help bring back confidence among the middle class in the U.S," Key was reported as saying.
"Basically if you want to give the global economy [a boost], you need to get U.S. consumers buying again, and that will happen only if they feel they have greater job security," he said.
Key's comments follow New Zealand Finance Minister Bill English saying in Parliament Buildings yesterday that the Chinese move would be positive for New Zealand.
New Zealand was caught between the US taking actions to keep their currency low, which made New Zealand exports to the US less profitable, and the Chinese government also not allowing their currency to rise, which meant New Zealand could not be as competitive in China as it could be, English said.
"So if either of them change their policies to give more flexibility and allow their currencies to move in the way that we expect they will move, that will benefit New Zealand," he said.