US jobs growth and positive prior revisions push NZ$ lower; France gets its credit rating cut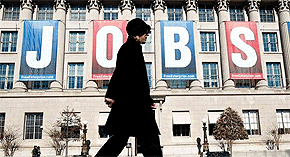 Today's US non-farm payrolls report was expected to show about 120,000 jobs created in October.
Instead, 204,000 jobs were added over the month, and revisions to prior months created another 60,000.
The US government shutdown clearly had less of an impact on the American labour market than many thought.
The US dollar rose on the news against most currencies, including the Kiwi dollar. It rose sharply agains the Yuan.
The American unemployment rate, however, edged up to 7.3% from September's nearly five-year low as federal workers were idled. Economists expect a reversal in coming months.
On the news, equity markets in New York rose about 1% even as investors braced for the possibility of less Fed stimulus.
Gold fell to its lowest level in a month.
US Government debt prices fell with the UST 10 yr benchmark bond yields climbing to 2.74%
Meanwhile, S&P has cut France's credit rating to AA from AA+ arguing that the French government's actions in areas like taxation and the labour market would probably not have much positive impact on the country's medium-term growth and that "high unemployment is weakening support for further significant fiscal and structural policy measures." 
New Zealand also has a AA credit rating from S&P.
Adding to the mix of key overnight news, China reported its exports and imports rose in October, the latest in a series of figures pointing to a recovery there.
Exports, a key driver of its growth, rose 5.6% from a year earlier, while imports jumped 7.6%.
This follows data released this month which showed that manufacturing activity in China grew at its fastest pace in 18 months in October.