Capital markets review recommends changes to KiwiSaver to help lift the level of kiwis' engagement with & interest in investment so more New Zealanders actively participate to create personal wealth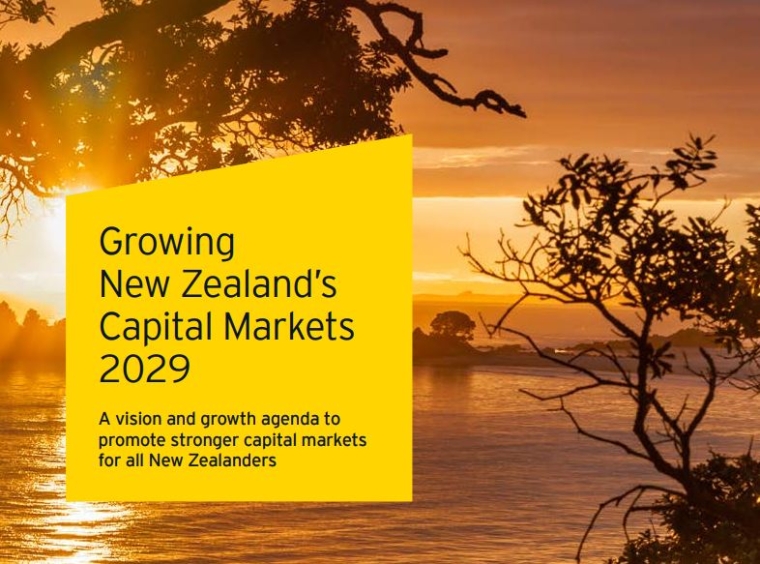 A report proposing ways to boost New Zealand's capital markets is suggesting KiwiSaver members be allowed to both self-direct and invest with multiple KiwiSaver providers.
The report produced by EY, from an industry-led working group initiated by share market operator NZX and the Financial Markets Authority, features 42 recommendations. Some of the other recommendations to catch the eye include:
- Review Crown contribution to capital markets which balances Crown control with the opportunity for broader ownership;
- Consider local government reform by central Government to ensure local councils assess all funding options for necessary infrastructure;
- Establish a centralised process for compliance on anti-money laundering which market participants can rely on across Australasian capital markets. And;
- Remove requirement to provide prospective financial information for first regulated offers.

But it's the KiwiSaver suggestions that are the cornerstone of the report.
"One of our objectives is to lift the level of engagement and interest New Zealanders have in the investment side of the capital markets so that more New Zealanders actively participate to create personal wealth. The changes we have recommended to KiwiSaver are largely focused on this objective," the report says. 
"Over time, KiwiSaver accounts will become the predominant pool of retirement savings. We believe our KiwiSaver recommendations will retain direct personal participation in the capital markets, open access to alternative investments and, more importantly, act as a catalyst for greater innovation from existing and new KiwiSaver providers. Incentives for KiwiSaver entrants to make an active choice on the type of KiwiSaver fund to join and our recommendations on financial literacy should promote better long-term outcomes for New Zealand."
The full suite of KiwiSaver-related recommendations are;
- Allow members to self-direct and invest with multiple providers;
- Mandate employers' contributions and a stepped contribution rate option for low income earners;
- Withdraw KiwiSaver default - provider status and replace with default funds. And;
- Reinstate a kickstart payment for members over 18 years old and link with an active choice on fund.
The report is entitled Growing New Zealand's Capital Markets 2029 A vision and growth agenda to promote stronger capital markets for all New Zealanders.
Capital Markets 2029 is chaired by ex-investment banker Martin Stearne, with assistance from EY as a professional consultant. Other steering committee members include company director Rob Campbell, Chapman Tripp lawyer Rachel Dunne, Ross George of private equity group Direct Capital, Westpac NZ CEO David McLean, Jarden's James Lee, Neil Paviour-Smith of Forsyth Barr, Mint Asset Management's Rebecca Thomas, NZ Super Fund CEO Matt Whineray, and Geoff Zame of Craigs Investment Partners.
The report says its recommendations are designed to improve capital markets in one or more of the following ways:
- Raise the level of individual participation and engagement in capital markets;
- Offer more choice of investment for individuals, both within KiwiSaver and more generally;
- Grow the base of companies that can access the public capital market, reduce the barriers to listing where possible and increase motivation for public companies to remain listed;
- Grow the private capital ecosystem in New Zealand;
- Use the capital markets to fund infrastructure in New Zealand. And;
- Create greater wealth for New Zealanders.
Commerce and Consumer Affairs Minister Kris Faafoi says the report highlights key areas of opportunity "to ensure New Zealand's capital markets continue to support sustainable economic growth."
"I expect this report will provide an important starting point for further discussions within industry to ensure our capital markets provide economic growth that supports the wellbeing of New Zealanders," Faafoi says. 
The new capital markets review comes a decade after the government initiated Capital Markets Taskforce led by the late investment banker Rob Cameron.
Below is more detail on KiwiSaver from the report.
Allow members to self-direct and invest with multiple providers

KiwiSaver members have little or no access to unlisted asset classes common in overseas retirement savings plans.

There is a significant mismatch between the liquidity of investments owned by members and the expected investment duration of KiwiSaver. Most providers have highly liquid portfolios (generally concentrated in cash, bonds and listed equities).

Only a handful of managers we spoke to have funds that invest in illiquid assets and such assets are a small portion of those funds. There is a need to maintain some liquidity because members can change providers with 20 days' notice, but the majority of members in growth funds are unlikely to gain access to private market assets under current settings and existing approaches by investment managers.

We recommend that all KiwiSaver members have the ability to invest with more than one KiwiSaver provider. This will allow for greater product innovation as well as competition amongst KiwiSaver providers under this proposal.

KiwiSaver members looking for a wider range of specialist investment options should have the ability to choose and allocate a certain contribution or balance to a second KiwiSaver provider who may offer greater access to a range of investments, including illiquid investments where liquidity risk would sit with the member rather than the provider for a fixed period of time. This gives investors greater flexibility and choice without having to switch all of their investment from one provider to another.

We also recommend a full, self-directed KiwiSaver option where members choose their own investments and registered providers hold the chosen investments in a custodian-type arrangement for each specific member. Under this model, the KiwiSaver member would bear the liquidity risk of their investments, rather than the provider, as is the case under the current model. We are aware of at least one fund where members can choose their underlying investments from a given list. However, in this case, liquidity risk still sits with the provider and the investment choices are generally liquid assets. Moving to a self-directed model would allow members to invest in less-liquid assets such as private equity and other funds. This gives members greater choice and control over their investments and creates a more diverse market. It also maintains direct retail investor participation in the market.

We are not suggesting that self-directed KiwiSaver investment will suit all members or that adoption will be significant. Even if only a small fraction of members moved to this model, it would increase diversity in New Zealand's capital markets and encourage further innovation from existing and new KiwiSaver providers in investing in unlisted and less-liquid assets.

We do not support a self-management option where members manage their own KiwiSaver funds outside a registered KiwiSaver provider. This option has led to worse outcomes in Australia, particularly for accounts with smaller balances.
You can see more on the viability of KiwiSaver members contributing to multiple schemes here, and KiwiSaver's infrastructure investment potential here.