Kiwibank's acquisition of Gareth Morgan Investments opens new growth path as residential mortgage lending growth slows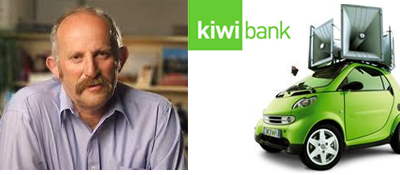 By Gareth Vaughan
Kiwibank's acquisition of fund manager Gareth Morgan Investments (GMI) shows the state owned bank is prepared to buy to continue growing as growth in its core business of residential mortgage lending slows.
Kiwibank yesterday bought the funds management business, which has NZ$1.5 billion of funds under management including NZ$650 million held on behalf of 57,000 KiwiSaver investors, for an undisclosed sum. Based on the industry valuation framework, including GMI's number of KiwiSaver investors and a price based on between 1.5% and 3% of the non-KiwiSaver funds under management, Kiwibank should have paid somewhere between NZ$15 million and NZ$30 million.
If there's an earn-out clause in the deal, meaning Morgan receives additional payments if GMI meets agreed future performance targets, the price would be higher. Kiwibank wouldn't comment on whether there's an earn-out arrangement nor on whether the price paid includes goodwill for the Gareth Morgan name. However, a Kiwibank spokesman did confirm the bank doesn't own the name Gareth Morgan.
Kiwibank CEO Paul Brock said the deal would be funded through "internal sources" and GMI would be a positive contributor to Kiwibank's earnings from day one. Standard & Poor's commented that the deal would have an insignificant impact on Kiwibank's capital position, suggesting newspaper speculation of the deal costing up to NZ$100 million is off the mark. Kiwibank has less than NZ$700 million in shareholder funds.
'Growth story'
The deal is "part of Kiwibank's growth story," Brock said as it "develops into new markets."
"We see significant opportunities in the KiwiSaver market," Brock added. "Treasury figures suggest the size of the market today is about NZ$9 billion and will get to about NZ$60 billion in 10-years time."

Added to Kiwibank's existing KiwiSaver funds under management, which stood at NZ$56.3 million at September 30, the bank now has more than NZ$700 million of KiwiSaver funds under management. Brock estimates that makes the bank the sixth biggest provider, but it's still well behind rival banks Westpac, ASB and ANZ who manage NZ$1.2 billion, NZ$2.2 billion and NZ$2.3 billion of KiwiSaver money, respectively.
Since launching in February 2002 Kiwibank has grown its lending - primarily through home loans - strongly, driven by offering competitive home loan rates. Its latest "special, limited time" offer is a 5.99% per annum four-year, fixed-term interest rate.
Lending slowdown
As of September 30 the bank had total loans of NZ$11.853 billion with NZ$10.948 billion of this being residential mortgage lending. However, Kiwibank's lending growth has slowed dramatically. In the year to June 2011 the bank grew lending by 10%, less than half the 23% growth recorded in the previous year. This is, however, faster growth than the overall market where the latest Reserve Bank sector credit data shows housing lending rose just 1.1% in the year to November to NZ$172.903 billion.
Announcing Kiwibank's annual results last August, Brock noted most of the new lending came from refinancing as it won customers from other banks rather than new loan activity per se. In the September quarter, the latest quarterly figures available from the banks, Kiwibank grew residential mortgage lending by NZ$318 million, second only to Westpac's NZ$335 million. However, that compares with growth of NZ$4.4 billion in the two years from June 2008 until June 2010 when the bank's residential mortgage growth outstripped its bigger, Australian owned rivals.
Other growth levers; Finance company & life insurance
So where else might Kiwibank look for growth? It launched a finance company, Kiwi Asset Finance in late 2010 and has tipped at least NZ$4 million into the business. Kiwi Asset Finance's loans start at NZ$20,000 for terms of six to 60 months for borrowers wanting to buy capital assets such as machine tools, earth moving equipment, commercial trucks and trailers, and motor vehicles.
Kiwibank also began a push into life insurance last year with Brock saying Kiwibank aimed to have the best value life insurance offer in the market. See more on Kiwi Insurance here. Both Brock and his predecessor Sam Knowles have regularly talked about increasing the bank's lending to the business sector.  So alongside funds management, that's at least four areas, aside from residential mortgage lending, where the bank is looking to grow. Possibly with the help of borrowings through its euro commercial paper programme.
It's worth noting that at 23.4 times, Kiwibank's leverage, the number of times its assets exceed shareholder funds, is easily the highest among the trading banks. So given its growth push, the bank will need more capital at some point. First NZ Capital analysts estimate at least NZ$200 million within four years.
This article was first published in our email for paid subscribers this morning. See here for more details and to subscribe.