State owned Kiwibank borrows NZ$927.3 million from European short-term 'hot money' market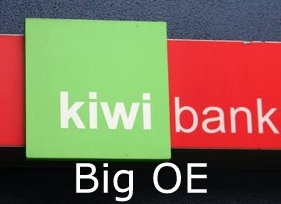 By Gareth Vaughan
Kiwibank borrowed NZ$927.275 million through a European commercial paper programme within about five months of establishing it, the bank's latest General Disclosure Statement (GDS) shows.
The state owned bank's GDS, for the nine months to March 31, lists the debt under a "short term paper" category not present in previous disclosure statements.
Paul Brock, Kiwibank's CEO, told interest.co.nz at the end of November last year the bank had established a European commercial paper programme within the last month as part of its drive to diversify funding sources. He declined to say how big the programme was.
"It's basically a programme that has been put in place so we can draw down what we need (when we need it) so I'm not going to go into specifics about what numbers," Brock said then. In a more recent interview, in March, Brock indicated Kiwibank had borrowed hundreds of millions of dollars in short-term loans through the programme.
Big, Aussie owned rivals competiting hard for retail money
Kiwibank's push into short-term, overseas lending comes at a time when its big Australian owned rivals are competing fiercely for domestic retail deposits in order to meet the Reserve Bank's Core Funding Ratio (CFR). In place since April 1 last year, the CFR sets out that banks must secure at least 65% of their funding from a combination of retail sources and wholesale sources - such as bonds  - with durations of more than 12 months. The CFR will be increased to 70% from July this year and then 75% from July next year.
This competition for retail money has hit the cost of funding for New Zealand owned institutions such as Kiwibank and TSB Bank. The latter posted a 22% fall in annual profit last week with CEO Kevin Murphy saying TSB's net interest margins dropped to 1.88% from 2.19% because of competition for retail deposits.
Kiwibank's GDS also shows the bank's profit collapsed to just NZ$814,000 in the March quarter from NZ$12.2 million in the same period of last year as impairment losses on loans ballooned in the wake of the February 22 Christchurch earthquake. There was also a NZ$266.6 million drop in the bank's deposits to NZ$10.8 billion, with a NZ$444.6 million drop in wholesale deposits offsetting a NZ$178 million rise in retail deposits.
Meanwhile, the GDS also has Kiwibank's mortgage book up NZ$244.713 million in the March quarter to NZ$10.325 billion. That puts it ahead of ASB's NZ$48 million growth and Westpac's NZ$170 million, but behind BNZ's NZ$311 million March quarter rise. ANZ is yet to release its March quarter New Zealand Branch GDS.
Total net loans and advances, (after a NZ$67.4 million allowance for impairments up almost NZ$22 million), rose NZ$251.3 million to NZ$11.2 billion, Kiwibank said. Total assets rose NZ$877.6 million to NZ$13.8 billion and total liabilities increased NZ$883.5 million to NZ$13.25 billion.
The GDS also showed a  rise in Kiwibank's assets past due by more than 90 days to NZ$38.7 million at March 31 from NZ$29.6 million at June 30 last year,  with impaired assets having more than doubled over the same time period to NZ$90.3 million from NZ$37.7 million.
This article was first published in our email for paid subscribers this morning. See here for more details and to subscribe.