National more popular than Labour in political poll despite support for Simon Bridges being rock-bottom; Outgoing Air NZ CEO Christopher Luxon deemed a preferred prime minister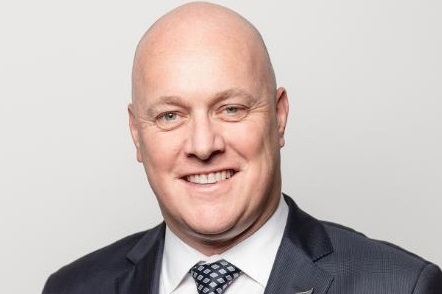 Simon Bridges is continuing to fail to win the public's confidence, despite National being the country's most popular political party, according to the latest One News Colmar Brunton poll.
While National MP Judith Collins remained neck-and-neck with Bridges in the preferred prime minister ranks, outgoing Air New Zealand chief executive Christopher Luxon made an appearance in the poll, conducted between July 20 and 24.
One percent of those surveyed named Luxon their preferred prime minister.
This was despite the open-ended survey question not providing names. Luxon will also remain with Air New Zealand until September 25, and while strongly hinting at it, has not officially announced he will run for National.
Support for Bridges was up 1% from the last poll conducted in early June, to 6%. Meanwhile support for Collins remained at 6%.
Prime Minister Jacinda Ardern's popularity fell 4% to 41%. Meanwhile support for Deputy Prime Minister Winston Peters as a preferred prime minister more than halved to 2%.
National came in ahead of Labour at 45% versus 43%.
Both parties scored an additional percentage point at the expense of New Zealand First, which was down 2% to 3%.
Support for the Green Party was stable at 6%.
Labour and the Greens would have enough seats to govern without New Zealand First.
Support from ACT wouldn't be enough to get National across the line.
The poll saw 1003 eligible voters surveyed via landline and mobile phone. The maximum sampling error is about ±3.1%-points at the 95% confidence level. 
Here is a summary of the results:
Preferred party:
National Party: 45% (+1%)
Labour Party: 43% (+1%)
Green Party: 6% (Steady)
New Zealand First: 3% (-2%)
Māori Party: 1% (+1%)
ACT: 1% (Steady)
New Conservative: 1% (Steady)
Don't know (11%) or refused to answer (3%).
Seats in Parliament:
National Party: 57
Labour Party: 55
Green Party: 7
ACT Party: 1 (assuming it wins one electorate seat)
TOTAL 120
Preferred prime minister:
Jacinda Ardern: 41% (-4%)
Judith Collins: 6% (Steady)
Simon Bridges: 6% (+1%)
Winston Peters: 2% (-3%)