Deputy Prime Minister Winston Peters says the Government is striving to address the quality of immigration, saying 'it's not whether it's too high it's whether you are getting the right people' that matters most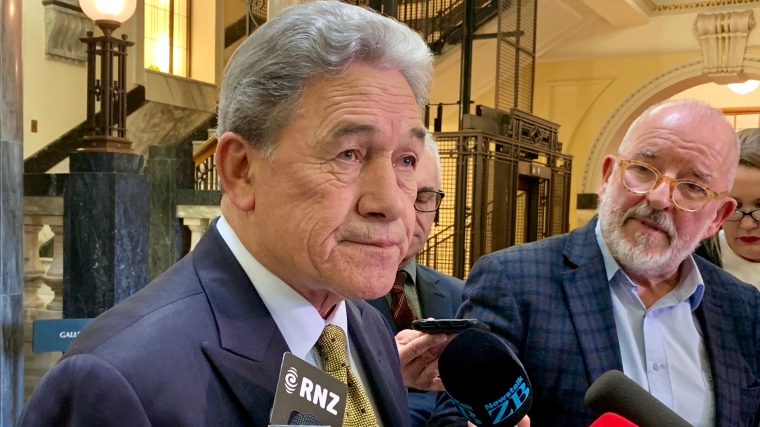 Deputy Prime Minister Winston Peters has criticised the quality of the data the Government receives on immigration when asked if the country's net migration was too high.
Peters said interpreting the data from Statistics NZ was difficult.
"We are looking at the stats where to be honest with you are not specific or granular as they should be and they are very difficult to interpret," Peters says. "But we are putting an enormous amount of work into ensuring what we are looking at is accurate and we do know for a fact what is going on.
He says the fact a New Zealander returning to the country after seven to 10 years overseas can be defined as an immigrant is problematic.
"I'm afraid to admit this to you, but when you're doing your best to get to the bottom of the reality of what's actually happening, it's rather a shock to suspect that the figures aren't accurate, and so we're putting an enormous amount of work into that, at the moment."
Peters made the comments at Monday's post-cabinet press briefing while Prime Minister Jacinda Ardern is currently in the United States.
Growing population and net migration
Figures released by Stats NZ last month estimated New Zealand had experienced a net population gain from migration of 49,427 in the 12 months to June. That was up 1.0%, or 509, from the net gain of 48,918 in the previous 12 months, but well below the gains of between 53,243 in the 12 months to June 2015 and 58,688 in the 12 months to June 2017, with a peak of 63,834 in the 12 months to June 2016.
While the figures from Census 2018, released on Monday, show a rapid growth in the country's population since 2013. New Zealand's resident population increased by 10.8% and is expected to hit five million by 2020.
The Government has been criticised for not fulfilling its 2017 campaign promises, something Peters is more than aware of.
"Well, the Government campaigned, in terms of Labour and New Zealand First, exactly on that—to improve the quality of immigration while slowing down its number. You know that OECD and other organisations were saying that the quality of our immigration was suspect, and we're seeking to address that."
Getting the settings right
But he says the issue isn't just about the numbers.
"The reality is that it's not whether it's too high [population], it is whether you are getting the right people, that is whether you are advancing the technical and skills base of your economy in a world where that is critical, it's not just hands anymore. Or you are just taking a person that would not subscribe or benefit the economy that other smart economies have focused on. In short they organise immigration to suit their economy not the converse."
But a spokesperson for Stats NZ says it produces high quality migration data that aligns with international best practice.
"The measurement of migration is defined statistically in terms of time spent in/out of New Zealand, not in terms of legal definitions. The migration measure is a direct input into estimates of New Zealand's resident population."
They say it is important to recognise that migrants include New Zealand citizens and New Zealand-born people.
"Population statistics, including population estimates based on census data, account for migrants arriving and departing to indicate the number of people living in New Zealand. If a New Zealand citizen has been living out of the country for more than 12 months, if and when they return to New Zealand to live, they are classed as a migrant arrival.
"However, each month, we clearly show the numbers of New Zealand citizens leaving the country long term (for more than 12 months), and returning after being away long term (more than 12 months)."
They say migration statistics are published by country of last residence (arrivals), country of citizenship, age-sex, visa type (arrivals), and New Zealand place of residence (e.g. regional council and territorial authority area).
"The adoption in January 2019 of an outcomes-based measure of international migration, instead of relying on the stated intentions of travellers when they cross the border, has further improved migration statistics. The outcomes-based measure has an objective and transparent basis to classifying travellers as short-term or long-term (i.e. migrants).
"MBIE regularly publishes additional data relating to migrants, including visa applications and approvals, and estimates of the population in New Zealand on different visa types."
Briefing paper highlights concerns
A recently released report by the Ministry of Business Innovation and Enterprise (MBIE) to incoming Associate Minister of Immigration Poto Williams highlighted some of the concerns about New Zealand's immigration settings and policies. It was presented to Williams in July and states:
"Right now we are experiencing unprecedented threats to the integrity of the immigration system. These include migrant exploitation, people trafficking, sophisticated fraud and increasing allegations of non-compliance. In addition, strong and sustained economic growth coupled with low unemployment has driven significant demand for migrant workers at all skill levels, and in particular in sectors and regions where migrants are vulnerable to exploitation."
It highlighted the role immigration plays in contributing to the economy through filling skills shortages, encouraging investment, supporting innovation and growing export markets. And the report says it has also contributed to the country's strong GDP growth in recent years through population growth.
"It is important to balance these objectives with other portfolio objectives. For example, immigration can have impacts on infrastructure and housing that need to be well managed. In addition, it is also important to ensure that labour market settings facilitate a growing, more knowledge intensive and productive economy, which workers benefit from through rising wages."
It says while immigration provides employers with access to foreign workers to supplement New Zealand's existing labour market, it shouldn't be used to supplant local workers or drive down wages.