Closing the Ports of Auckland and moving its operations to Whangarei would cost $10.3 billion according to EY report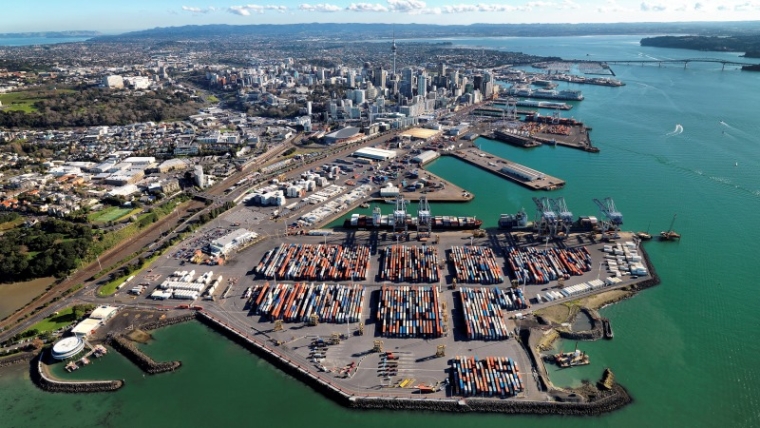 Shutting down the Ports of Auckland to shift its operations to Northport near Whangarei would cost $10.3 billion according to a report by EY.
The Government established the Upper North Island Supply Chain Strategy working group last year to look at the development and delivery of freight and logistics in the Upper North Island. It has also been tasked with investigating the feasibility of relocating the Ports of Auckland to Northport near Whangarei.
The working group's second interim report, which was presented to the Government in August, was released on Thursday and recommends the managed closure of the Ports of Auckland and shifting its operations to Northport.
It says this would provide the greatest level of benefit to the upper North Island and New Zealand. According to Associate Transport Minister Shane Jones the working group is expected to provide its final report to the Government in the next four to six weeks. It will include recommendations on infrastructure investment, as well as outline future challenges and key steps that will need to be taken over the next five years and beyond to implement the plan.
Economic analysis
An accompanying report by EY titled: Economic Analysis of Upper North Island Supply Chain Scenarios states:
"Auckland would benefit from a relocation of its Port freight facilities in a number of ways. Auckland Council and ratepayers would be financially better off if the Port site was redeveloped. Presently, Ports of Auckland Limited (POAL) delivers a dividend to the Auckland Council of around $50 million per annum. An alternative land use for the port site has the potential to generate rates and leasehold income in excess of the current POAL dividend."
But it wouldn't be cheap. The report estimates it would cost $10.3 billion to shut the Ports of Auckland and relocate its operations to Northland as recommended by the working group.
"The absence of rail network is one of the biggest challenges which, if addressed, will have material impact on the development of Northport and Northland region as well as helping maintain other transport infrastructure, especially roads.
"The Northland region does have an existing rail network (the North Auckland Line — NAL); however, it has been under maintained, and has seen no significant investment in the last 50 years. Consequently, the line is no longer fit for purpose and cannot meet modern requirements for transportation of freight and passengers. Restricted tunnel heights prevent Northland exporters from utilising rail to move modern high-cube containers to and from Auckland."
An upgrade would require the upgrade of the whole line between Auckland and Whangarei, as well as the construction of a 20km spur, or secondary line, to Northport at Marsden Point.
"Furthermore, lack of maintenance and the ageing of structures and tracks has forced speed reductions. Additionally, older, less reliable trains and equipment have to be used on the line due to weight restrictions, further lengthening transport timeframes and increasing inefficiencies.
"Northport is now one of the only ports in New Zealand without a rail connection. These conditions and restrictions have necessitated the transference of over a million tonnes of freight to road transport per annum. Rail is currently an infeasible option for businesses to move freight in or out of Northland.
"Investment and renewal of the North Auckland Line (NAL) (which is currently being subjected to a separate MoT business case) and Northport connective link has the potential to substantially alter freight flows within the UNI, support a portion of the trade from international markets to and from Auckland, and bolster the nation's international trade growth."
Greater economic development 
But it says relocating the port to Northport could be a catalyst for greater economic development in Northland, "delivering direct and indirect benefits to the local area, industries and communities".
"Available industrial land near the new Northport site could be used to develop industrial parks and production facilities, stimulating additional economic growth in the local area."
While an upgraded rail network would give local businesses within the Northland region better access to regional, inter-regional, and international markets.
"An improved rail line could bring cruise ship passengers docked in Auckland further north, improving their experience and brining money to Northland. Investment in Northland infrastructure would have a positive cultural impact as this will support Māori enterprises across forestry, agriculture and fishing sectors, as well health and community services."
Auckland's investment
Auckland Mayor Phil Goff says the working group will need a strong business case and the necessary funding to proceed with any plans to shift the Ports of Auckland's operations to Northland.
The Ports of Auckland is 100% owned by Auckland Council and last year paid a dividend of $51.1 million. The returns are projected to decrease markedly over the next couple of years as the port automates its operations. But last year it spent $60 million on three cranes from China as part of its capital investment programme.  
"Like most Aucklanders I am in favour of moving the port, but we won't simply give away our assets built up by ratepayers over generations," Goff says. "Aucklanders have invested $600 million in the port and we aren't going to give it away for nothing. They are talking about taking away the value of our port company, but what are they going to give us in compensation?
"They need to make a case that Northport is the right choice," Goff says. "Relocation needs to stack up economically and protect the interests of Aucklanders. It will also need to be undertaken with industry support and without imposing additional economic and environmental costs on Auckland businesses and consumers from freight being moved over much longer distances." 
National's response
National Party transport spokesperson Chris Bishop says it has an open mind about shifting Auckland's port long-term, but is sceptical about the process underpinning the latest reports.
"This looks like a political play by Infrastructure Minister Shane Jones to succeed in the north, and the worry is that this process is heading towards a pre-determined outcome. These decisions need to be based on sound economic analysis of what is best for the economic future of the upper North Island, not what best suits NZ First's needs.
"There should be a proper process in place for these decisions to be made through the new Infrastructure Commission. I also wonder if the left hand is talking to the right hand. If you're going to divert shipping, freight and logistics to Northland then a four-lane motorway between Whangarei and Auckland will be needed to unlock Northland's economic potential."
Politics aside, a lot more work will be need to be done before any managed closure of the Ports of Auckland goes ahead and its operations are shifted to Northport.
In 2016 the Auckland Council formed a working group to look at the long term options for the Ports of Auckland. The resulting Port Future Study said that the port would face problems in the future due to its location. The report identified two potential locations for a new port at either the Manukau Harbour, or the Firth of Thames, which it said should be investigated.