Auckland Mayor Phil Goff will have his work cut out as his second term kicks off with plenty on the agenda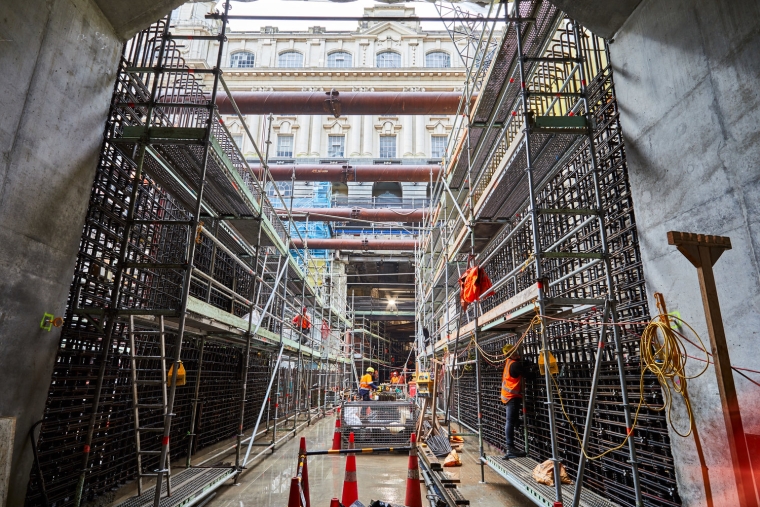 As the Auckland Council gets set to start a new term with its first meeting on Friday, Mayor Phil Goff has some major challenges ahead as he looks to make a mark in his second term as the leader of the Super City.
He won the latest local body elections with a resounding 48% of the vote, more than twice the number of votes his nearest challenger John Tamihere got. But now he's got a mandate Goff has a number of major issues he will have to tackle over the next three years.
Council debt
When Goff was elected in 2016 he vowed to rein in the Super City's debt levels and introduced a net-debt-to-revenue ratio of less than 265%. And despite what critics might say the Auckland Council has managed to maintain a credit rating of AA with S&P Global Ratings and Aa2 with Moody's over the last three years. 
The council's latest annual report was released in September and showed its net debt sitting at $8.7 billion with a net debt-to-revenue ratio of 247%, after a $445 million increase in the 2018/2019 year. Auckland Council chief financial officer Matthew Walker was optimistic despite the sheer scale of the figures.
"In terms of our actual debt for the year we've come in below the settings that we put in place for the Long Term Plan (LTP)," Walker said. "The real challenge is to make sure that the profile of that debt is in line with growth and revenue and the population base of the city. And we're comfortable that that is in balance and we're not concerned about council debt at the current levels we have."
But Walker admitted it remained a balancing act for the council which is trying to maintain a net-debt-to- revenue ratio of less than 265%, while supporting a growing city.
Goff said the annual report showed the council was responding to strong population growth and increased demand for the infrastructure and services Auckland needs. He referred to the transport infrastructure projects now underway, including the $1.4 billion Eastern Busway, the $60 million Puhinui Station Interchange and the $4.4 billion City Rail Link (CRL), as signs the council was working to tackle traffic congestion and get more people onto public transport.
In his second term Goff will have to continue to balance the city's need for new infrastructure, with keeping the credit rating agencies happy.
Auckland light rail project
Another major infrastructure project that will be on Goff's agenda this term is the Auckland light rail project. He says with the continued growth of the city and plans to build thousands of new homes in areas such as Mount Roskill, Onehunga and Mangere, the city desperately needs a rapid transit system, as the bus services in those areas have already reached capacity. 
Despite the fact Goff has said the Government has agreed to fund the light rail project, there will no doubt be some indirect costs involved, whether it's through Auckland Transport (AT) subsidising fares, or the city's residents paying more for tickets.
During the 2017 election campaign Transport Minister Phil Twyford said if Labour was elected he would deliver light rail from the CBD to West Auckland and to the Auckland International Airport within a decade, with longer term plans to extend the network to the North Shore. Twyford has since announced he is expecting to receive two competing bids from NZTA and NZ Infra and expects to make a decision on which proposal gets the green light early next year, even though no construction will happen before 2021.
NZ Infra is a joint venture between the NZ Super Fund and Canada's Caisse de depot et placement du Quebec (CDPQ) and wants to fund, design, build and operate an Auckland light rail network as part of what it called a Public-Public Partnership (PPP). It approached the Government with an unsolicited proposal for the project in May last year. But in August Goff told interest.co.nz that Public-Private Partnerships (PPP) aren't a silver bullet solution.
"PPPs keep the initial capital costs off the council's books, or off the central Government's books. But it's like hire purchase, you can afford it now but you pay for it for much longer. So it's not a magic fix."
Goff says if the project isn't funded by the NZTA and the Government it will end costing more in the long run. But whatever option Twyford decides to go with Goff says he expects the Government to consult with the council and Aucklanders before the project proceeds.
Review of CCOs
During the recent election Goff campaigned on holding an independent review of Auckland's Council Controlled Organisations (CCOs) which he wants to have up and running before Christmas.
Goff says he wants to finalise the review by mid-2020 and if it requires central Government to pass legislation he will take it up with them. He says he wants to see greater accountability from the CCOs to the Governing Body.
"We've seen the recent example with Panuku where they had a performance bonus scheme which we knew nothing about," Goff says. "While at the moment AT has statutory independence in terms of its decision making, even though we set its budget."
In 2010 Auckland's seven direct and city councils and the Auckland Regional Council (ARC) were merged to create the Auckland Council. And CCOs were established as part of the amalgamation process to handle the delivery of services. Under the existing structure, 75% of Auckland's services are now controlled by five CCOs. They are Auckland Transport (AT), Panuku Development Auckland, Watercare, Auckland Tourism, Events and Economic Development (ATEED) and Regional Facilities Auckland (RFA).
Climate change
While the council's ongoing work on climate change and how it will affect the city remains a major issue going forward. The council released its Draft Auckland Climate Action Framework in June this year, the first step towards creating a final plan which will identify the major issues the city is facing and is expected to be signed off by the council early next year.
It will include more detailed costings and timeframes on how it plans to address the impact of climate change and who is going to fund it and when. The framework is designed to address both the rising emissions in the region and the impacts of climate change and is consistent with the Paris Agreement's goal of limiting the rise of global temperatures to a maximum of 1.5°C. 
Local Government New Zealand (LGNZ) released a report in January which looked at the cost to councils from rising sea levels and said up to $14 billion of local government infrastructure around the country was at risk. The report called on central government to urgently develop policies to help minimise the impact of climate change on New Zealand communities. It highlighted the problem councils will face paying for climate change adaption and in a city the size of Auckland the costs could be massive. 
Kainga Ora
While the creation of new Crown entity Kainga Ora and its yet to be defined role in development and planning in the city could become an issue for Goff. And it has already caused concern amongst council planning staff.
Kainga Ora is a new Crown entity created through the merger of Housing New Zealand Corporation (HNZC), HLC (Homes Land Community) and the Ministry for Housing and Urban Development's KiwiBuild Unit. It will be able to undertake the development of public, market and affordable housing, as well as homes for first home buyers. It will also be able to carry out development and renewal of urban environments, which could include commercial, industrial or community property and infrastructure.
The Auckland Council outlined its concerns with the Government's plans to create the new housing and urban development authority in a submission on the Kainga Ora - Homes and Communities Bill in June. It said it could end up paying for increased infrastructure costs created by the agency, while its planning could be overridden. And it didn't like the idea of "managing and maintaining infrastructure after Kainga Ora-Homes and Communities exits a development project".
Super City's 10th anniversary  
And if you thought Goff has enough on his plate, next year will also mark the 10th anniversary of the creation of the Super City.
While he can't be blamed for the Super City amalgamation it will come under the microscope in 2020 and there won't be a shortage of critics who feel it hasn't lived up to expectations.
Over the next three years Goff will seek to continue to address the various growth pressures the city is facing while maintaining the Super City's credit rating and funding its insatiable appetite for much needed infrastructure.