Green Party officially withdraws support for set point debt targets, saying they've 'limited the Government's scope for change'; Party's new policy says 'current approach to fiscal management embeds neoliberalism'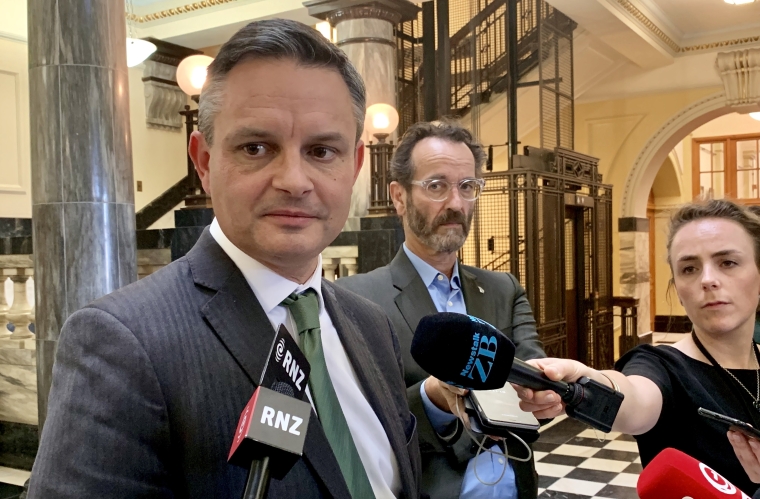 The Green Party is officially ditching its support for the Government's target to reduce net Crown debt to 20% of gross domestic product (GDP) by 2022.
The party had supported Labour's Budget Responsibility Rules (which include the debt target) going into the 2017 election.
However, after months of consultation with its members, some of whom are strongly opposed to the target, co-leader James Shaw has confirmed the party has decided to withdraw its support.
He said the "arbitrary" debt and spending targets "are not appropriate and have limited the Government's scope for change".
"In light of what we know now about the infrastructure deficit, but also because of the changing economic conditions and opportunities, we require a new approach."
Shaw, who's also Associate Finance Minister, in late November told interest.co.nz he disagreed with using a debt target as a starting point when considering government spending. His view was that the initial focus should be on the outcomes a government wants to achieve. He therefore doesn't want to put a number to a target.
He also pointed to the complexities around a target, saying part of the issue is capacity.   
"You could dump a whole lot more money into the economy, but all you'd get would be inflation because we couldn't get the money out the door fast enough," he said.
"If you are going to spend that additional money, you've got to have a credible pathway that releases it in a way that construction companies and so on can absorb."
Isn't Robertson ditching the target too?
The Green Party's announcement comes ahead of Finance Minister Grant Robertson on Wednesday being expected to unveil a "significant" infrastructure package when he releases his Budget Policy Statement with Treasury's Half Year Fiscal and Economic Update.
Robertson's Budget Responsibility Rules say the Government will reduce net Crown debt to 20% of GDP within five years of taking office.
He in May announced that from 2021/22, the target will be changed to a range between 15% and 25%.
However, further to his November 30 announcement that the Government is going to bring forward infrastructure projects, Robertson said it is moving to "the range".
Interest.co.nz's interpretation of the matter is that having already met the 20% target, Robertson is moving to the new looser target early.
'Unlimited material growth is impossible'
Coming back to the Green Party, its announcement regarding debt comes as it adds a "fiscal policy" component to its economic policy.
Its policy document says government spending should be "sufficient to ensure ongoing wellbeing for all and the health of our environment".
The party says spending is "currently insufficient".
"The current approach to fiscal management embeds neoliberalism in both legislation and in the way the national accounts are prepared and so, for example, leans towards austerity measures in response to economic crisis.
"The Green Party will promote a broader and more balanced approach to fiscal policy in line with both the overall principles of this Policy, and the recognition that unlimited material growth is impossible.
"The purpose of fiscal policy should be to ensure ongoing wellbeing for all and the health of our environment."
The Green Party wants to reform the Public Finance Act by replacing the emphasis on controlling specific measurements with a broader view based on the role it sees fiscal policy playing.
Debt debate should consider private debt as well
It also wants the Act to be amended to reframe the approach to debt to focus on both private and public debt.
When asked in November whether he believed public perception around the Green Party's capability to be a prudent manager of the country's finances had improved, making it easier for the party to walk away from the Government's prudent debt target, Shaw said: "I know from the research we've done that people see us now as a trusted partner in government and that is obviously different to the perception they had of us in opposition.
"I think that's because we've shown we can get the work done and we're a pretty reliable coalition partner."
The Green Party's fiscal strategy:
1. Incorporates the need to transition to a circular economy which does not rely on unlimited growth

2. Ensures government expenditure is sufficient to maintain and enhance the wellbeing of our people, our planet and our economy

3. Considers the capacity of the economy, such as the availability of raw materials and skills, when making decisions on expenditure, revenue and investment

4. Maintains macroeconomic stability, including full employment and controlled inflation

5. Uses the full range of tools available to finance government expenditure, and chooses the mix between them on the basis of their effects on broader goals.

6. Recognises the multiple roles of the tax system as set out in the Taxation section of this Policy

7. Recognises fiscal, social and environmental costs of both government action and inaction

8. Strengthens the resilience of our nation to sudden shocks and systemic ecological and social crises, including natural disasters.