Winston Peters distances himself from the NZ First Foundation, saying he doesn't expect the Serious Fraud Office to want to speak to him about donations; Simon Bridges doesn't rule out working with NZ First beyond this election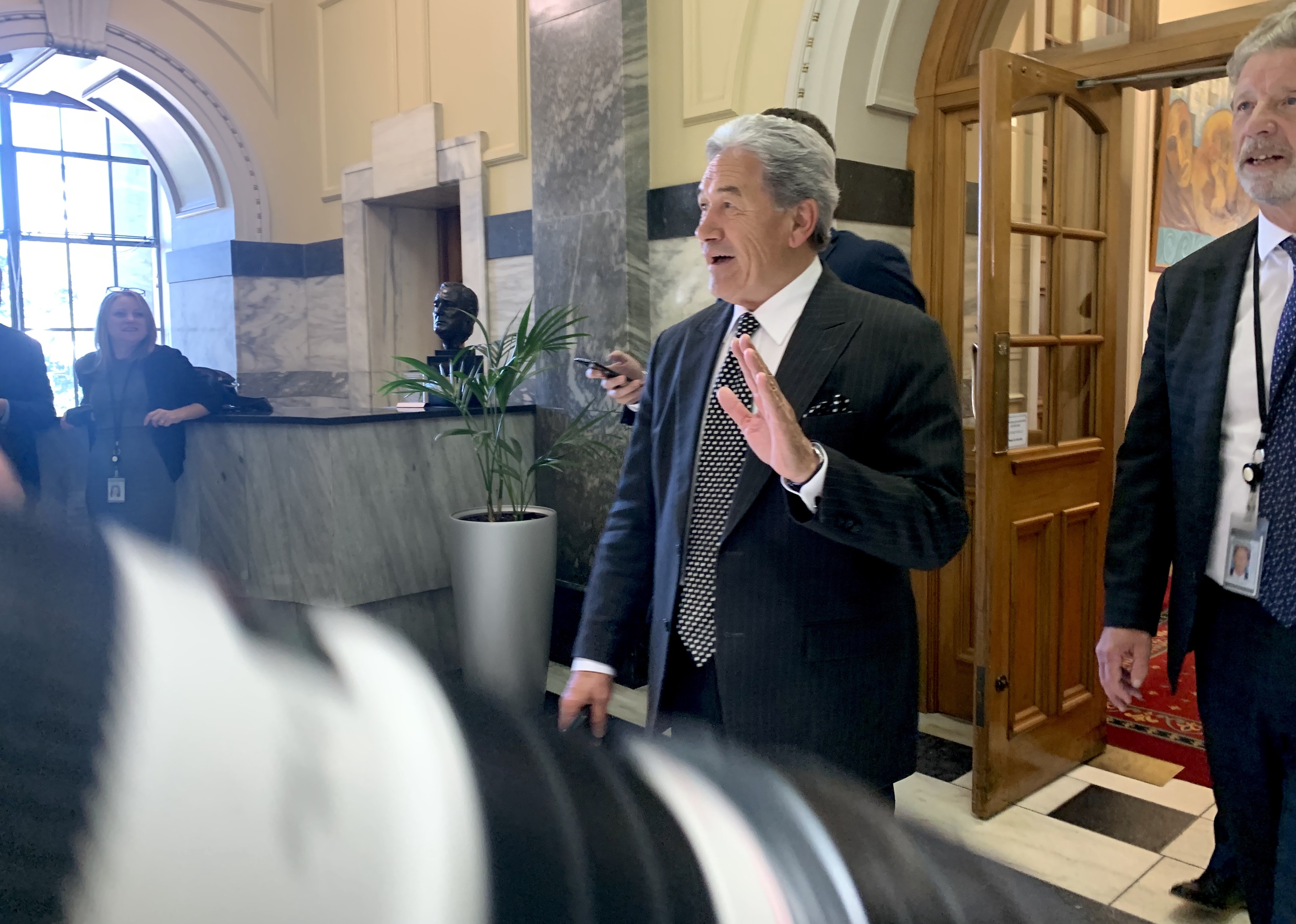 New Zealand First leader, Winston Peters, is again distancing himself from the New Zealand First Foundation, as it faces a possible investigation by the Serious Fraud Office (SFO).
Peters on Tuesday said: "We're going to wait and cooperate with the Serious Fraud Office and provide all the information. And until that report is in, I've got exactly nothing more to say, but one thing one: I'm not subject to any investigation here. And nor in a sense is New Zealand First…
"I don't expect that anyone at the SFO is going to be talking to Winston Peters. Guess why? I was not involved in any way, shape or form."
The Electoral Commission on Monday issued a statement saying it believed donations made to the New Zealand First Foundation should've been treated as party donations and weren't disclosed as required under the Electoral Act.
It referred the matter to the Police, which said it planned to pass it on to the SFO.
Stuff, in a November report, claimed almost half a million dollars in donations had been "hidden" in what it described as a "slush fund" controlled by Peters' lawyer and New Zealand's First's judicial officer, Brian Henry, and New Zealand First's founding president and political lobbyist, Doug Woolerton.
Asked about the New Zealand First Foundation at the time, Peters distanced himself, saying: "I look after the political wing of the New Zealand First Party. That's an administrative matter. You can ask somebody else."
Peters on Tuesday wouldn't say whether he would or wouldn't stand down from his ministerial portfolios if the SFO launched an investigation.
He batted away assertions he admitted wrongdoing when he on Monday announced the party's donations arrangements would be reviewed.
Bridges directs attack at Ardern
Meanwhile National leader Simon Bridges, whose party is also caught up in a donations investigation by the SFO, used the situation to attack the credibility of the government.
Bridges picked up on the fact Prime Minister Jacinda Ardern on Monday wouldn't provide a yes/no answer when asked whether she trusted Peters. Rather she said: "I have an excellent working relationship with him…"
"I think it's an extraordinary situation where the prime minister won't, can't, doesn't say that she trusts her deputy prime minister," Bridges said.
However, about 30 minutes before he made this comment, Ardern backtracked and said she did in fact trust Peters.
"I do. I work with him every day," she said.
"I couldn't operate this government without a trusting relationship with Winston Peters, and that is at the core of why we've been able to run that strong, stable government."
Ardern stuck to her position that she wouldn't pass judgement on New Zealand First until the SFO reported back its findings.  
Bridges refrained from calling for Peters to be stood down, saying this was a matter for Ardern. 
He repeated the line he's been using since announcing National won't work with New Zealand First after the September election: "I can't trust New Zealand First and New Zealanders can't either."
Bridges keeps door open for NZ First partnership in future 
However, Bridges wouldn't go so far as to ruling out working with New Zealand First if National formed a government in future (after this election).
He said it was important for the SFO to release its decision on the New Zealand First Foundation before the election.
The SFO last month filed criminal charges against four people over donations paid into a National Party electorate bank account.
The investigation came after former National Party MP Jami-Lee Ross accused Bridges of asking him to collect a $100,000 donation from businessman, Yikun Zhang, and then split it up into smaller amounts to hide it. 
Bridges said neither him nor the National Party had been charged.