A day on the campaign trail: Jacinda Ardern sees silver lining of regional house price growth; Judith Collins rubbishes underwriting property development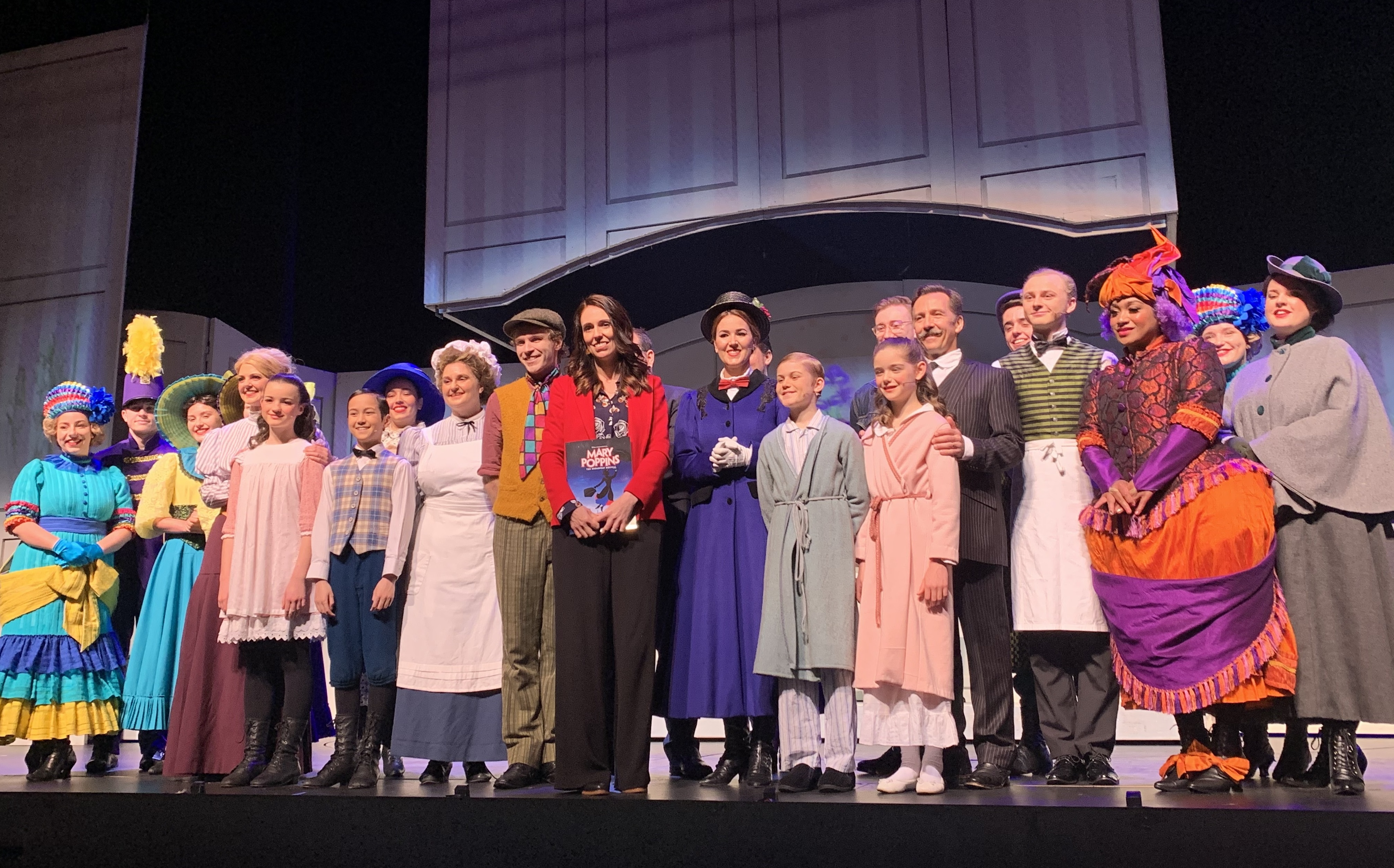 By ​Jenée Tibshraeny
Jacinda Ardern and Judith Collins dished up quality political satire content on Thursday.
Ardern met the cast and crew of the musical stage show, Mary Poppins, while Collins visited the offices of a company owned by the 'Chow Brothers' - famous for making fortunes from the sex entertainment industry, hotels and property developments.
The contrast between the two settings couldn't have been starker, and played into the stereotypes of the two women vying to be Prime Minister.
But, after Ardern - who was recently dubbed a "socialist" in a British political satire that depicted her as Mary Poppins - smiled for photos on stage, she defended rising house prices in the regions.
And, after the suited folks at Stonewood Homes shook hands with Collins, a procurement director told interest.co.nz he supported a key Labour housing policy - a government underwrite aimed at helping developers secure finance.
The series of events showed the lines between the two parties and their supporters aren't as clear cut as the presidential-style campaign might lead one to believe.  
Taxpayers underwriting property developers a 'slippery slope'
Asked by interest.co.nz whether she would push ahead with Coalition Government plans to underwrite developers, Collins rubbished the policy but didn't categorically commit to scrapping it.
The housing agency, Kāinga Ora, is in the process of writing criteria for a Crown underwrite to help developers secure finance at a time banks are tightening their lending, because they're worried about the economic outlook. If an underwritten house doesn't sell, the Government will buy it at a below-market price - as it does with houses that meet the KiwiBuild criteria.  
Collins said she would have to look at whether the Crown providing this type of security was "feasible".
"Because it's a bit like KiwiBuild, but another version of it," she said.
"When the taxpayer starts underwriting property developers, this is a very slippery slope…
"In many ways, it's better to simply contract for certain work to be done…
"I'd just be very wary about underwriting property developers. Over the years, some have been very capable and some have gone in and out of business."
Pushed on how she would help developers secure finance in this difficult Covid environment, Collins was dismissive of the problem: "I'm not sure why that should be any different now.
"I think it's really important - having been involved in property over the years - to never let a government seriously think it knows how to underwrite."
However, securing finance is proving problematic.
A net 34% of businesses surveyed as a part of ANZ's October Business Outlook Survey had a negative view on the ease of securing credit, according to preliminary results.
Developers would 'absolutely' take up an underwrite
Stonewood Homes procurement director, Karl Gill, told interest.co.nz banks' risk appetites were noticeably different now compared to pre-Covid.
He said he "absolutely" would take up the offer of a government underwrite "because that gives us the security and flexibility".
"The reality is Kāinga Ora and the developers would never actually want to access the underwrite, because the opportunity to sell to the market for the intended purpose makes more sense," Gill said.
Welcoming Collins to Stonewood's offices, Gill wasn't completely supportive of Labour's housing policies.
He said the price caps, and thus level of underwrite, on KiwiBuild homes (which Stonewood is building) needed to increase in line with the market.
He also supported National's approach towards reforming the Resource Management Act, and expressed concern over the Government involvement in Ihumātao, saying it put a question mark over the sanctity of contract in other situations involving Special Housing Areas.
House price growth in the regions a sign of economic growth
Turning to Ardern, her comments on the housing market weren't as "socialist" as her Mary Poppins caricature would suggest.
Asked whether Labour would reconsider introducing further measures to restrict housing demand, given prices are sky-rocketing more than perhaps expected when Labour was writing the policies it would take to the election, Ardern interjected and said: "It's important to look at what the data is telling us.
"Because interestingly, some of the more recent numbers tell us that in the cities - yes, some growth. But not nearly to the extent that we're seeing in some regional areas.
"Now some of that is because we have growth in those regions. That's exactly what we wanted to drive. We wanted those regional areas to see the benefits of primary sector growth, of exporters doing well, of Provincial Growth Fund investment.
"What we need to do now is make sure that in our demand-side and supply-side work, we're doing enough in the regions.
"There are some areas for instance where we don't have good public housing… we need to make sure we're using our tools in the areas where we're seeing high growth."
While Ardern didn't hint at going further to limit demand, she pointed out National wanted to reverse what the Coalition Government had done, including extending the bright-line test from two to five years and ring-fencing rental losses.
Indeed, Collins didn't show interest in curbing demand, saying she supported the Reserve Bank's decision to remove loan-to-value ratio (LVR) restrictions on bank lending against property.