Grant Robertson delivers a 'peak Labour Party' Budget, committing to spending more than expected, including on benefit increases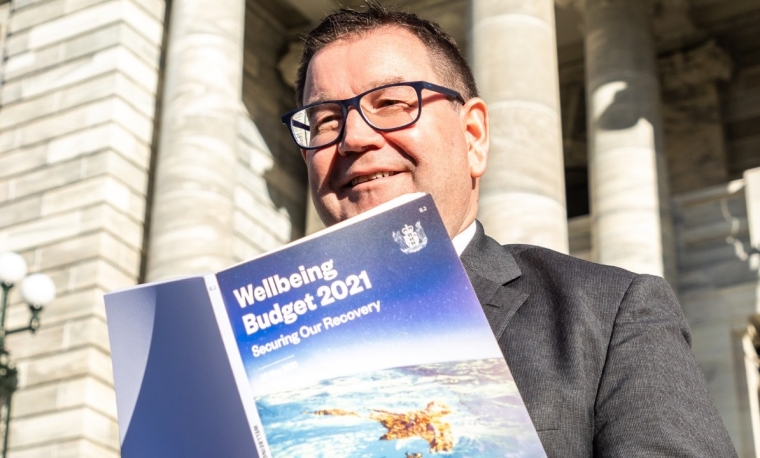 Budget 2021 is seeing Finance Minister Grant Robertson move to the left of the centre ground he had been hugging.
Having tempered Labour Party supporters' expectations around being "transformational" with talk of "balance" and "prudence", Robertson has committed to spending a decent amount more than planned in December.
Benefits will go up and Robertson has confirmed a Social Unemployment Insurance scheme will be set up to ensure people who lose their jobs temporarily receive more support than they would going into the regular welfare system.
Robertson claims to be "undoing some of the damage done" in Ruth Richardson's 'Mother of All Budgets', delivered 30 years ago. 
Health remains a focus.
However, businesses haven't received much support, with the National Party criticising the "Securing Our Recovery" Budget for not focussing enough on productivity and economic growth. 
Forecast debt issuance revised down less than expected
Robertson allocated $3.8 billion towards new operational expenditure (day-to-day expenditure on things like public sector wages and welfare) in Budget 2021 - a significant increase from the $2.6b pencilled in, in the Budget Policy Statement released in February.
He allocated $2.7b to new operational expenditure in Budgets 2022, 2023 and 2024 - amounts on par with February plans.
As for capital expenditure (IE on rail, school buildings and infrastructure), $8.1b has been allocated over four years - an increase from the $7.8b stated in February.
Robertson also dug into the $62b COVID-19 Response and Recovery Fund created last year. He allocated $3.8b towards the already-announce Housing Acceleration Fund, among other initiatives, leaving $5.1b in the fund.
Because the New Zealand economy is pulling through the COVID-19 pandemic better than expected, The Treasury forecasts it will issue less debt than projected when it released its Half Year Economic and Fiscal Update (HYEFU) in December.
However, The Treasury doesn't forecast cutbacks as large as expected by bond traders.
Treasury forecasts issuing $30b of New Zealand Government Bonds (NZGB) in the year to June 2022 - the same as forecast in December. But then it only plans to cut back issuance by $5b in 2023 and 2024 to $25b each year. NZGB issuance is forecast to remain at $25b in 2024.
To put these numbers in context, Treasury in 2019 forecast issuing $8b of NZGB in 2022. 
Deficit expected to narrow to $2.3b by 2024
But because the Government's tax take is above, and expenditure below forecast, net core Crown debt as a percentage of gross domestic product (GDP) is forecast to fall from levels projected at the HYEFU in December.
Net core Crown debt is expected to climb to 34% of GDP in 2021 and peak at 48% in 2023.
The Reserve Bank's Funding for Lending Programme has had a material effect on this figure. Removing the programme (effectively aimed at reducing interest rates), sees net core Crown debt peak at 41% of GDP in 2024.
Robertson said it wouldn't make sense for him to create debt targets in this uncertain environment, as he did pre-COVID-19.
Bringing this all together, New Zealand's Budget deficit is forecast to sit at $15.1b in 2021, rise to $18.4b in 2022, and then start falling to $2.3b in 2024.
So, the country's books will remain in the red across the forecast period - as expected. Click on the magnifying glass to zoom in on the chart.
House price growth to plummet
The Treasury expects the Government's recent housing policy tax changes (extension of the bright-line test and removal of interest deductibility) to contribute to annual house price growth falling from 17.3% in the June 2021 quarter to 0.9% by June 2022.
"As borders reopen, higher population growth and continued low interest rates are expected to result in a gradual increase in house prices inflation, reaching 2.5% in the June 2025 quarter," The Treasury said.
It said slower house price growth will dampen the economic recovery, "prolonging the period of monetary policy support needed to raise inflation and employment to target".
Key initiatives in the Budget
All main benefits will increase by $20 per adult, per week, as of July 1, 2021.
As of April 1, 2022, main benefits will be raised again to meet levels recommended by the Welfare Expert Advisory Group in 2019.
People with children will get an additional top-up of $15 per adult, per week.
The Student Allowance and Student Loan for living costs will increase by $25 per person, per week.
Income thresholds for Childcare Assistance will be adjusted every year in line with average wage growth. These thresholds were frozen in 2010. The change will mean people on slightly higher incomes will be able to qualify for assistance.
Social Unemployment Insurance
Robertson affirmed his commitment to creating an ACC-like scheme to support people who lose their jobs.
"We're looking at a scheme that could provide those who lose their jobs with around 80% of their income, with minimum and maximum caps," Robertson said.
The public will be consulted on the design of a scheme later this year. It isn't expected to become operative for a few years.
The large allocations include:
$810m for KiwiRail to buy new locomotives and wagons and complete upgrades to mechanical facilities, as well as invest in maintenance.
$761m of capital for education, including $634m for school property.
$700m for District Health Boards to invest in new assets.
$300m of additional capital for New Zealand Green Investment Finance to continue to invest in climate change mitigation.
Robertson said he intended to start recycling revenue from the Emissions Trading Scheme for climate initiatives, rather than putting these funds back in the Government's main kitty.
This is forecast to see up to an additional $3b of funding over five years ring-fenced for climate-related expenditure.   
The tourism sector will receive $200m from the COVID-19 Response and Recovery Fund. 
$44m has been allocated to a 'Small Business Digital Training, Advisory and Support Programme'.