Latest ANZ Business Outlook Survey shows businesses see inflation rising well above the Reserve Bank's targeted 2% in the next 12 months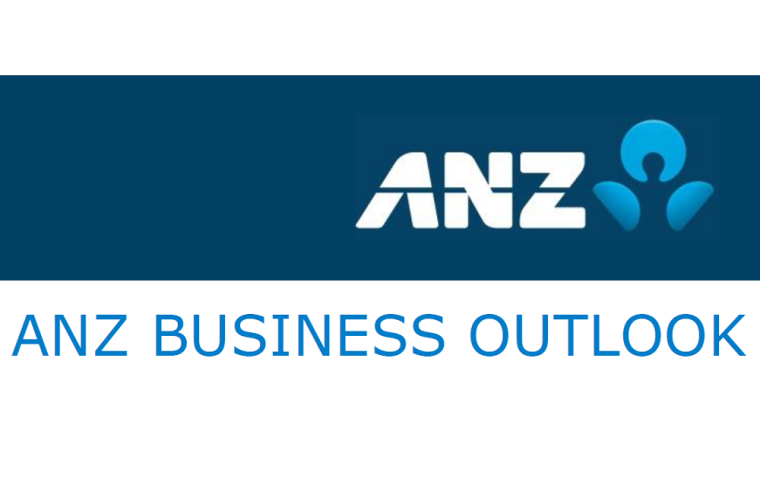 Businesses are now seeing future inflation rising well above the Reserve Bank's explicitly targeted 2% level, according to results from the latest ANZ Business Outlook Survey.
"Inflation expectations at 2.41% (2.53% in the late-month sample) can no longer be said to be 'close to' the RBNZ's target range midpoint of 2%," ANZ chief economist Sharon Zollner said.
Firms surveyed are continuing to report intense cost pressures.
The net percentage of businesses expecting higher costs rose 5 points in the latest survey to a net 86.2%. A net 62.8% of respondents intend to raise their prices, up 6 points.
"Expected costs hit the maximum possible 100% for agriculture, and are in the 90s for manufacturing and construction," Zollner said.
"The risks around upcoming CPI [Consumers Price Index] outturns are all to the upside, and the RBNZ needs to get a wriggle on regarding raising the Official Cash Rate." she said.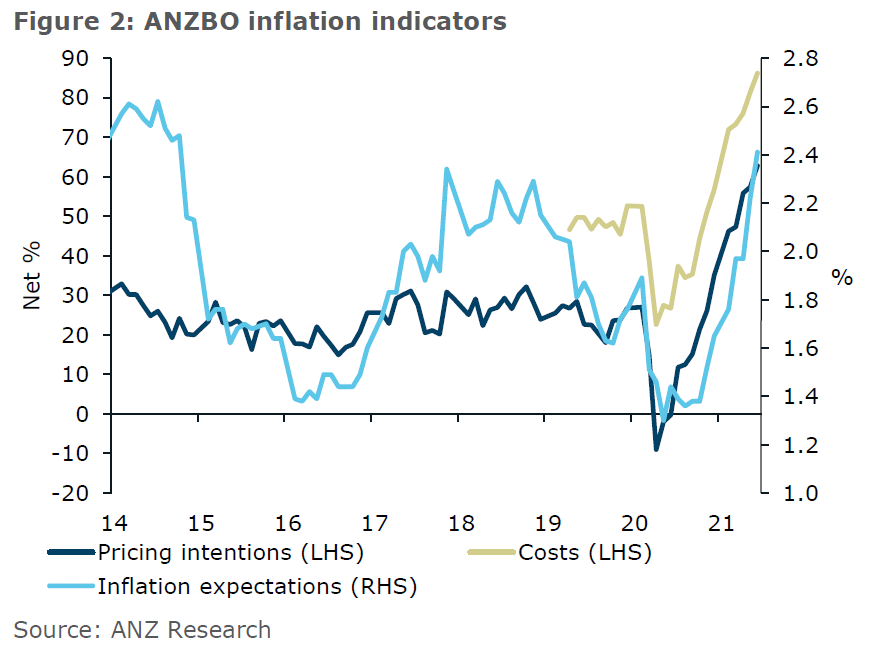 In its May Monetary Policy Statement the Reserve Bank forecast that it may have to raise the OCR (currently at just 0.25%) from the second half of 2022 onwards. 
But as economic data has subsequently kept coming in much stronger than expected, then so economists and the markets have been anticipating the need for an earlier start to interest rate hikes.
"With firms keen to invest and employ, and both cost-push and demand-pull factors suggesting strong inflation ahead, it's past time to unwind the emergency OCR stimulus," Zollner said.
"We are forecasting the RBNZ to raise the OCR in February next year, but odds are rising that we'll see hikes this year."
In terms of other results in the latest survey, compared to May, headline business confidence eased 3 points while firms' own activity rose 5 points to +32%.
"Broader activity indicators were little changed compared to the preliminary read [of the survey results released on June 9]. Now that the data has settled down we will return to monthly releases," Zollner said.
Turning to the detail, compared to the month of May as highlighted by the ANZ economists:
Business confidence was down 3 points to net -0.6%.
Firms' own activity outlook rose 5 points to 31.6%.
Investment intentions rose 7 points to 25.5%.
Employment intentions eased 1 point to 19.7%.
Capacity utilisation rose 4 points to 23.9%.
Inflation pressures continue to lift. Cost expectations rose 5 points to net 86.2%. A net 62.8% of respondents intend to raise their prices, up 6 points. General inflation expectations rose 19bp to 2.41%.
Profit expectations rose 2 points to 5.8%.
Export intentions rose 1 point to +13.4%.
A net 40.2% of firms expect credit to be harder to get, down 2 points.
Residential construction intentions rose 19 points to 40%. Commercial construction intentions rose 31 points to net 38.5%.
Freight disruptions remain problematic.
"Every third month we ask about firms' largest problems, and about what's driving their investment intentions. Finding skilled labour ranks very highly economy-wide and has been a steadily increasing problem for firms, as are non-wage costs. High rates of pay are also creeping upwards as an issue," Zollner said.
"For those planning to invest more, the decision is increasingly being driven by skilled labour shortages and labour costs, but the domestic and global economic outlooks remain key. For those intending to invest less (far fewer firms), the domestic and global economic outlooks are becoming less important as skilled labour shortages and labour costs take over.
"The New Zealand economy is stretched, and firms are clearly facing enormous cost pressures. Increasingly, they are planning on raising their prices in response, with little fear evident that demand will collapse as a result. Shortages of labour are driving investment decisions to a greater extent, but it's confidence in the economic outlook that will always be key here."