A shrinking economy, with falling productivity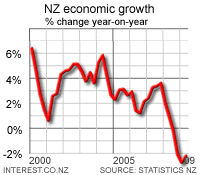 The economy shrank for the third straight quarter according to data released for September 2008, extending New Zealand's first recession in ten years. This data increases the chance the RBNZ will cut the OCR to below its current 5% when it next reviews the official rate on January 29, 2009. Statistics NZ said that GDP fell 0.4% on a seasonally adjusted basis in the three months to September from the June quarter. This is on top of the 0.2% fall in the second quarter, and a 0.3% fall in the March quarter. The September shrinkage was slightly less than expectations, and the currency changed little on the announcement, keeping its recent gains against the US dollar of recent days.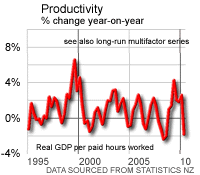 Unemployment is still relatively low, and although there is widespread expectation that it will rise significantly, it is doing so from a very low base. In the September quarter, hours worked grew 1.4% compared with the same quarter a year earlier. Consequently, the broad measure of productivity fell to its lowest rate since we have been monitoring this quarterly metric, starting in 2002. In the September quarter, we worked more hours, but produced less. This is a major problem. Productivity normally improves in a recession. But it seems this time, employers are holding on to workers even while output is falling. The data released today is for the September quarter, and before the economy was hit by the collapse of the commodities bubble. The December quarter GDP data may make grim reading, but we won't see that until March 27, 2009. Without a pick-up in exports, and a sustained recovery in the economies of our trading partners, New Zealand looks headed for a tough start to 2009. Because there has been relatively little adjustment yet to the 'new' shrinking economy, the correction, when it comes, may be more severe than many are prepared for. Buckle up.