Housing consents at 2-year high but still well below 2007 peak (Update 1)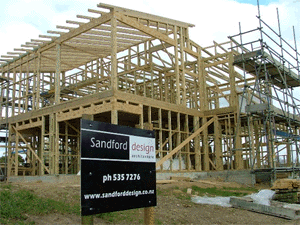 Housing consents at 2-year high but still well below 2007 peak.
Building consents issued for new houses excluding apartments rose a seasonally adjusted 15.5% in April, Statistics New Zealand said, to reach a two-year high.
Statistics New Zealand said 1,309 new housing units were issued in April, excluding apartments, with consents issued for 91 new apartments. This rise follows an 8.6% fall in March.
When apartments are included, the number of new housing units authorised rose 8.5%, following a 0.1% March rise.
For the year to April the value of consents issued for residential buildings rose by NZ$198 million or 4%. The value for non-residential buildings fell, however, by NZ$487 million or 11%.
Statistics New Zealand said although the trend for new housing consents excluding apartments has risen since March 2009, it is still 29% down on the peak scaled in June 2007.
ASB economist Jane Turner said the data confirmed residential construction was set for a gradual recovery over the year. 
"However, as the fundamentals for housing demand are set to weaken over the second half of 2010, we expect that this recovery is likely to remain fairly subdued," Turner said. 
"The slowing pace of net migration, as departures to Australia rise, will reduce support for the housing market over the next 18 months.  In addition, interest rates are set to increase as the Reserve Bank begins to withdraw monetary policy stimulus in coming months."