Number of ASB customers on floating mortgages doubles in two years to reach half its total mortgage book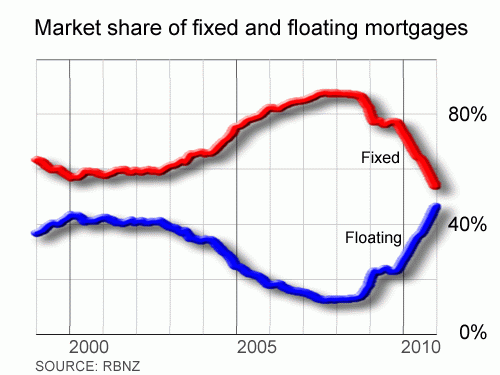 By Gareth Vaughan
About half of ASB's NZ$37.5 billion worth of home loans are now on floating interest rates, a huge increase from just a quarter two years ago.
ASB's acting CEO Ian Park told interest.co.nz this big switch, with customers' moving from fixed rate mortgages, was helping drive up margins. In its interim results announcement yesterday ASB said its net interest margin rose 0.4% to 2% at December 31 from 1.6% at December 31, 2009.
"Having a very large housing book, and a lot of that was on fixed, we may well be picking that (margins) up as people move from fixed to floating," Park said.
He said ASB's fixed to floating split was now about 50-50 and had probably moved from about 75% fixed and 25% floating over the past 12-24 months. ASB has the country's second biggest mortgage book behind only ANZ's, which stood at about NZ$54.7 billion as of September 30 last year.
The latest Reserve Bank data shows that as of December NZ$89.6 billion worth of total industry wide mortgages were on fixed terms and NZ$77 billion worth were floating. That means 53.8% were fixed and 46.2% floating, both the highest percentage and highest dollar amount floating since Reserve Bank records began in June 1998.
"As interest rates are low on the floating side people are taking the advantage, as well as more flexibility with the floating rate, to repay debt," Park added.
ASB currently advertises floating mortgages at 6.25%, one-year rates at 6.45% and two-year rates at 6.60%. Floating, or variable rate, mortgages are typically a higher margin product for the banks than fixed term mortgages. See all bank mortgage rates here.
This trend towards floating rates also strengthens the Reserve Bank's monetary policy power as changes to the Official Cash Rate hit mortgage holders on floating rates in the pocket quicker than those on fixed rates.
Businesses switching to floating rates too
ASB said the same fixed to floating switch was also helping lift its business lending margins. The higher margins came despite ASB's housing market share dropping to 22.4% at December 31 from 23% at December 31 2009 and 22.8% at June 30 last year.
Meanwhile, the bank's mortgage book dropped in value by NZ$270 million in the six months to December. ASB's share of the business lending market was also down, to 9.2% at December 31 from 9.4% at June 30.
The bank's total assets stood at NZ$65.85 billion at December 31, up slightly from NZ$65.81 billion at June 30. Park said although ASB had approved between NZ$4 billion and NZ$5 billion of lending over the past six to nine months, this didn't really show up as growth on the balance sheet because of deleveraging and balance sheet repayment, which was "happening across the board."
"I think that will continue to happen until we see some real confidence return to the consumers and customers about the economy," said Park.
Over the second-half of the financial year Park predicted systems wide credit growth would remain weak with ASB economists picking about 2% annual growth.
"We have seen in recent times some uplift in business enquiry, (but) the rural and personal (housing) enquiry is still quite subdued," said Park.
"We would see the economy slowly recovering but it is fragile and it certainly won't be a strong recovery in the first-half (of calendar year 2011), that's for sure."
'We only want to lend money when it suits the customer'
Asked to elaborate on a line in ASB's half-year results press release that said consumers of credit were "justifiably cautious," Park said although ASB wanted to lend money, it wanted to lend money to suit individual customers' needs in terms of what they required money for and how it would meet their long-term goals.
"But we're equally happy to take their deposits so whilst it may well appear that we want to increase our lending, we only want to increase it from the perspective that it suits the customer and it meets their needs."
Meanwhile, Park said the ASB board's search for a permanent replacement for Charles Pink, its CEO of less than two years who surprisingly departed last November, was well under way. However, he couldn't say when a permanent CEO would be named and wouldn't comment on whether he was seeking the role. Park, ASB's former retail head, stepped in as acting CEO when Pink left.
ASB's half-year results came as part of parent Commonwealth Bank of Australia's. CBA, led by former ASB CEO Ralph Norris, reported a 13% rise in cash net profit after tax to A$3.3 billion.
Park said given Norris had a "strong affiliation" with ASB, he liked to see it perform strongly.
"So we get the necessary encouragement," said Park.