George Kerr's PGC takeover bid could be derailed by credit rating downgrades of the big Aussie banks and Heartland NZ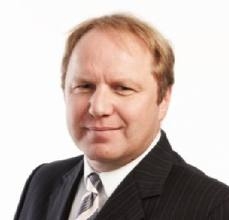 By Gareth Vaughan
The takeover offer for Pyne Gould Corporation (PGC) from a private equity vehicle controlled by PGC director and significant shareholder George Kerr could be curtailed by a credit rating downgrade to any of the big four Australian banks or building society Heartland New Zealand, whose BBB- rating Standard & Poor's (S&P) has on negative outlook.
The media shy Kerr, whose mobile phone when called yesterday said "please don't leave a message on this phone" and "sorry you can't leave a message," holds 80% of bidder Australasian Private Equity Partners Fund No 1 LP, with the other 20% held by US hedge fund Baker Street Capital, which is also PGC's biggest shareholder with a 19.78% stake. Kerr's Pyne Holdings has 13.2% of PGC and the combined stakes, plus commitments from some other shareholders including Accident Compensation Corporation's 4.53%, already give Australasian Private Equity Partners 37.51% of PGC's shares via lockup agreements. Kerr ultimately wants to secure 100%.
A spokesman for Kerr said, despite bidding for control of a publicly listed company, Kerr, wasn't giving interviews. And in an email Kerr himself said: "Tried to be as clear as possible in the letter (with the takeover offer). Can't comment any further sorry."
Among other things, interest.co.nz wanted to ask Kerr if a suggestion he's interested in buying an 83.3% stake in Dairy Holdings, Fonterra's biggest supplier, that's on the block is true. The Dairy Holdings stake includes the 33.6% put up for sale by South Canterbury Finance's receiver. In his takeover offer for PGC Kerr says shareholders may need to contribute more capital as new investment opportunities emerge.
Listed amid the offer's conditions in Kerr's PGC takeover offer document is there being no downgrading of any rating assigned by any of the S&P, Moody's or Fitch rating agencies to Westpac Banking Corporation, ANZ Banking Group, National Australia Bank, Commonwealth Bank of Australia or Heartland NZ.
S&P reviewing bank rating methodology; Could lead to downgrades
S&P is currently reviewing the methodology it uses to rate banks in a move that could see its ratings on Australian and New Zealand banks cut. The results of this review are due any day, with S&P saying they'll be released during the fourth quarter of the 2011 calendar year. Peter Sikora, S&P's analytical manager for financial institutions in the Pacific, told interest.co.nz earlier in the year the new ratings methodology will place a bigger emphasis on banks' operating environments.
S&P currently has AA ratings on all of ANZ, CBA, NAB and Westpac and their New Zealand subsidiaries ANZ NZ, ASB, BNZ, and Westpac NZ. Sikora said: "The universe of banking systems (ratings) is somewhere between A and B-. So that would then tell you that probably the AA and higher banks may potentially come under significant review."
Meanwhile, S&P  affirmed its BBB- credit rating on Heartland NZ in August, but lowered its outlook to "negative" from "stable" saying the building society's asset quality and earnings profile aren't consistent with the current rating and are weaker compared with other similarly rated peers. Heartland NZ was created in January when PGC spun off subsidiary Marac Finance into a merger with CBS Canterbury and Southern Cross Building Society.
The reason why the banks potentially being downgraded is included as a condition of Kerr's takeover bid could be because they are providing loans to help fund the deal and there's a clause in the agreement allowing for repricing of the loans if their ratings are cut. CEO Jeff Greenslade told interest.co.nz that Heartland NZ hadn't loaned Kerr any money. Lending to Kerr's takeover vehicle was "not our cup of tea," Greenslade said. Heartland NZ, which wants to obtain a banking licence from the Reserve Bank, is concentrating on lending to the small and medium sized business market, farmers and households.
Greenslade suggested the reason a Heartland NZ downgrade was given as a condition in the PGC takeover offer might be because of PGC's 6% stake in Heartland NZ. And he said it was possible potential bank downgrades were included as a proxy for market conditions.
Dud Marac property loans still with PGC
PGC now consists of impaired property loans from Marac that weren't wanted in Heartland NZ with NZ$175 million worth taken off Marac's books in September 2009 and a further NZ$147 million worth transferred out of Marac at the behest of CBS Canterbury and Southern Cross Building Society prior to Heartland NZ's creation. PGC also has a 9.5% stake in PGG Wrightson, the 6% Heartland NZ stake, Torchlight Investment Group, Perpetual Group which includes Perpetual Trust, and the management contract for Equity Partners Infrastructure Company No. 1 Ltd.
The Kerr led bid, at 33 cents per share, is only just over half PGC's June 30 net tangible asset (NTA) value of 60 cents per share and values PGC at about NZ$71.5 million compared with the NTA valuation of NZ$120 million. However, the company's shares were trading at just 27c ahead of the takeover offer, and rose 5c, or 18.5%, after it was made yesterday to 32c.
In the letter with the bidder's statement Kerr says PGC has been regarded as a dividend stock for many years for its long-term shareholders but this is no longer the case.
"PGC is now a company more likely to reinvest its earnings in its assets with a patient seven years and beyond investment horizon. In order to optimise growth in asset values over that period, PGC may also require shareholders to contribute more capital as new investment opportunities in existing of new businesses present themselves," writes Kerr.
A PGC newsletter from August 2009 notes Kerr's favourite quote from the 1532 book The Prince, by Niccolò Machiavelli, is "very relevant" in today's market. It is: "Entrepreneurs are simply those who understand that there is little difference between obstacle and opportunity and are able to turn both to their advantage." In 2009 Kerr helped organise a NZ$272.5 million capital raising to rescue PGC after Marac's risky property lending dug the group into a hole.
PGC recently posted a June year loss after tax of NZ$141.1 million and chairman Bryan Mogridge said the Board was finalising a strategic plan to return the company to profitability, with this to be presented at the Annual General Meeting on November 1. Directors expect PGC to make a "modest trading profit" in the June 2012 year.
This article was first published in our email for paid subscribers this morning. See here for more details and to subscribe.