Bank leverage remains elevated, and the risk in this enables them to earn very high returns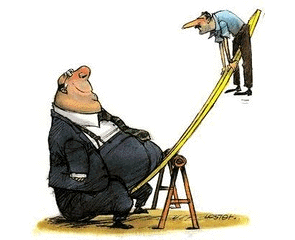 Retail banks in New Zealand still have elevated leverage and there is no sign it is reducing.
This story updates our earlier analysis of bank leverage with results from the third quarter of 2011 from the latest Disclosure Statements to September 30, 2011.
Bank assets rose sharply to $352.5 billion at September 30, 2011, an increase of $13.6 billion from the quarter to June. This is the second highest level they have ever been, only eclipsed by the $357.4 billion at December 2008.
Total assets (which includes bank loans and advances) rose $3.4 billion at ANZ-National, were up by $3.8 billion at Westpac, rose by $4.6 billion at BNZ, but hardly changed at ASB (up by just $200 million).
Shareholder investment ("Shareholder Funds") however grew much more modestly, although they did rise to a record level of $25.4 billion for all retail banks.
This was up $472 million, and in the year to September 30, 2011 these retail banks collectively earned an 11.6% return after tax on this investment.
This is the highest return we have seen since March 2009 when they collectively earned 12.4% after tax, and they were then coming off a long series of declining returns from very high levels.
Total after-tax profit for all retail banks in New Zealand over the four quarters to September 2011 was $2.888 billion.
In the quarter to September 2011, BNZ raised its shareholder investment the most (mainly through retaining excellent earnings), increasing them by $317 million.
Over the whole year to September, BNZ earned 16.4% after tax on its NZ investment, the highest of all the retail banks. ANZ-National earned 10.3% after tax, Westpac 10.1% after tax, and ASB 13.8% after tax.
At the other end of the scale, Kiwibank was the lowest earner, its shareholders achieving a 4.9% after-tax return.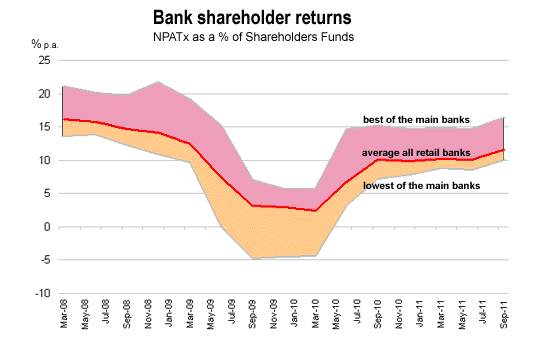 The broad relationship between total assets employed in the bank and the level of shareholder investment is termed "leverage".
Retail banks were leveraged 13.9 times at September 2011 - that is, they had 13.9 times more assets employed than shareholder investment.
This is high and represents high-risk business and funding strategies being employed.
Excessive leverage enables those very high rates of return to be achieved, but it also exposes them to high risks that seem very inappropriate in a financially uncertain world. (In our opinion, we think appropriate leverage should be at about half these levels at this time of the business cycle. You can read more of our opinion here.)
The lowest retail bank leverage is by ANZ-National (11.0 times) and Rabobank (11.8 times) as at September 2011. BNZ has the highest of the main banks at 17.0 times. Of all the retail banks, Kiwibank is the highest at 23.4 times.
Despite the very uncertain global situation which directly affects bank funding ability, there is absolutely no evidence New Zealand banks are making any efforts to reduce leverage. The main banks and Kiwibank all operate with an implicit "to-big-to-fail" taxpayer back-up even with the RBNZ's Open Bank Resolution policy - certainly customers and depositors continue to assume they will get bailed out in some way if there is a collapse by one or more retail banks. Average leverage of almost 14 times assets certainly appears high-risk.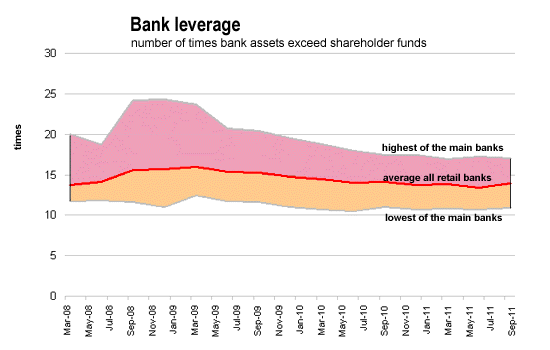 And the high returns the shareholders are earning* reflect that high risk. At the current 11.6% after-tax per annum, shareholders get their investment back in about nine years. Said another way, nine years of after-tax returns will net them $25 billion at the current rate. (Having said that, however, the last nine years have not returned them that much because of the GFC impact, and the overturning of their aggressive tax positions.)
You can see a useful summary of this data here. It is updated as soon as each bank reports its results.
-----------------------
* Banks pay significant tax on these earnings. In fact ANZ-National is the single biggest taxpayer in the country, paying almost $0.5 billion in tax annually. Together, the four main banks paid more than $1 billion in income tax in the past year.