Big advertising spender ANZ overshadows 'official and exclusive bank' ASB in the bank Olympics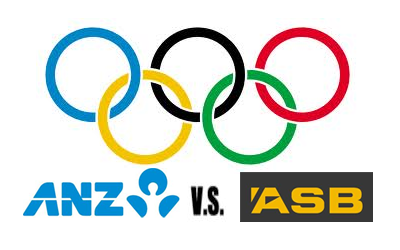 By Gareth Vaughan
ASB may be the "official and exclusive bank" of the New Zealand Olympic Team but it's ANZ that seems to be making the running through a sponsorship association with the London Olympic Games.
ANZ is certainly more visible on TV, touting itself as "official insurance services provider of the New Zealand Olympic Team" and as an "official partner of the New Zealand Olympic team."
The dual ASB and ANZ associations with the Olympics seems a tad confusing and perhaps isn't thrilling ASB, which presumably shelled out a decent sum for its "official and exclusive bank" status.
Via a spokesman Linley Wood, ASB's executive general manager for culture & community, said her bank's deal - with the NZ Olympic Committee took effect in July 2010 and makes ASB "official and exclusive bank of the New Zealand Olympic Committee and the New Zealand Olympic Team."
"In addition, the Bank supports the grassroots promotion of the Olympic values among children through naming rights and support of the ASB Olympic Schools programme," said Wood.
ANZ announced its Olympic sponsorship at a glitzy Auckland party, complete with fireworks display, in May. See a video of it here.  An ANZ New Zealand spokesman said his bank has a three year agreement with the NZ Olympic Committee to be an Official Partner of the New Zealand Olympic and Commonwealth Games Teams. ANZ is also the official insurance services provider of the New Zealand Olympic Team with insurance coming via its wealth division.
ANZ outspends ASB on advertising
It's probably no surprise that ANZ has the more visible TV Olympic presence. According to Nielsen AIS figures, ANZ New Zealand splashed out NZ$15.4 million advertising its ANZ brand in the first six months of the year (compared with a mere NZ$3.5 million spent on its National Bank brand). The ANZ figure is more than twice the NZ$7.1 million ASB spent on advertising over the same period. On TV advertising alone, ANZ spent NZ$7.7 million between January and June, nearly double ASB's NZ$4.1 million.
ASB has been using its official bank status as a promotional tool for mortgages, launching "Olympic Special" home loan interest rates with four and five year offers so far.
Meanwhile, the ANZ sponsorship deal also covers the 2013 Australian Youth Olympic Festival, 2014 Commonwealth Games, 2014 Sochi Winter Olympic Games and the 2014 Youth Olympic Games. The bank is also sponsoring gold medal favourite pairs rowers Hamish Bond and Eric Murray, their fellow rower Emma Twigg, plus cyclists Natasha Hansen and Sam Webster.
Last year ANZ sponsored the Rugby World Cup in a deal that made it the tournament's "official bank". ANZ NZ's head of marketing Mike Cunnington told interest.co.nz the rugby deal was the biggest sponsorship deal the ANZ Banking Group had ever undertaken and it had helped boost customer numbers.
Neither ASB nor ANZ would comment on how much they'd paid for their respective Olympic sponsorship deals, although Wood said ASB's sponsorship and marketing programme associated with the London Olympics was "significant."
Asked whether ASB was concerned about confusion among the public given the dual bank Olympic sponsorship roles Wood noted it was a global event with hundreds of sponsors.
"Any query with respect to ANZ's sponsorship should be referred to the NZ Olympic Committee," Wood said.
Interest.co.nz did contact several representatives of the NZ Olympic Committee. However, most of them are currently in London and none have yet responded to our requests for comment. The Committee's full list of partners is published here. Aside from ASB and ANZ, others from the financial services sector include GE and Visa. There are 33 in total.
The Committee says given the "limited" government funding it gets, it's dependent on the generosity and commitment of "our family of partners" to fund itself and send national teams away. The Committee is funded principally through corporate sponsorship, trusts, Sport & Recreation New Zealand (SPARC) and the International Olympic Committee.
This article was first published in our email for paid subscribers this morning. See here for more details and to subscribe.