Is our economy heading into a new series of job losses, or is that just part of the transitioning of our economy? We are collecting the evidence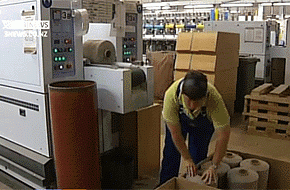 Today we reported that consumer confidence is at a 32 month high, and that banks have lowered interest rates again close to record low levels.
Clearly real estate markets are rising, and the price rises are spreading out from the main centers.
Even todays PMI (Performance of Manufacturing Index) came in at a level that was its highest since May 2012.
We also seem to be on the brink of reporting a record post-float high for the exchange rate TWI - at about 3pm today we almost nudged that high. (Update: Actually, we did overnight.)
We also received a press release from the Labour Party with the "shocking indictment" that "400 jobs go in four days, 200 in 28 hours".
The Opposition parties have been running a parliamentary jobs inquiry supported by one manufacturer and exporter trade association who clearly want to see a change of policy to support export manufacturers and the jobs in that industry.
Clearly there are two trends developing. The traditional sectors are finding it tough, the new parts of the economy seem to be driving the positive indicators.
Not everyone is convinced we have the problem others claim to see.
So we are restarting our job loss tally.
(We ran a similar tally in the heart of the GFC, starting in late 2008 through 2009. You can see that older list here » )
This new list of jobs lost is here »
So far for 2013 we have more than 700 jobs losses on the list that we are aware of.
We are asking readers to help us keep the list up-to-date. Please add the information you have either to the comments section of this story, or the comments section on the Tally, and we will include them.
However, what is interesting about this new short list is that only the Oamaru wool spinner jobs lost are from the tradeables sector - the rest are in the non-tradeables sector, an outcome that is a little surprising.
Time will tell, however. Lets come back to this list and see what the pattern is in a month or so.