Brief opportunities for lower mortgage rates still available; important for those who see higher rates in 2014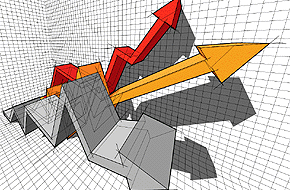 (UPDATED: At 4:17pm today, ANZ raised its rates, eliminating some of the rate advantages mentioned in this story. See those details here. The SBS advantage still applies however.)
New higher wholesale swap rates have largely worked their way through fixed rate mortgage pricing.
Our table below shows where banks currently stand, and in fact swap rate increases have largely ended for now, settling at the new higher level.
Demand for new mortgages may also be softening. Not only is there a seasonal effect from now till the start of the spring selling season in October, but new regulatory pressures are building.
Banks have been 'given the message' and have already started to restrict their high LVR lending in anticipation of expected 'speed limits' from the RBNZ.
Those wholesale rate rises essentially steepened the rate curve. Mortgages with fixed terms of three years or greater are now far less attractive on a repayments basis. Most borrowers are judging that the extra repayment spend does not justify the risk of rising future rates.
It is not clear whether this is a good judgement or not, but markets are clearly signalling higher rates come 2014. Those who choose to go short now will be paying more when they roll over, say the markets.
If they are right, payment pain is in store for huge numbers of borrowers.
As is usual during rate adjustments, not every bank moves in lock step. And there are still some clear rate options at the lower levels than most. However, you will need to be quick - these variations probably won't last long.
It is especially interesting that ANZ has not yet moved its rates up to the full levels their main rivals have adopted.
ANZ and Kiwibank still have lower one year rates than others, with about a 30 bps advantage.
For two years ANZ and Kiwibank hold a 15 bps advantage, and ANZ still have these 15 bps advantages all the way through five years.
The lower interest rate advantages are even greater for second tier banks. In fact significantly lower rates are still available from SBS and sister brand HBS.
It is clear however that the best rates are available to borrowers who have much better than 80% LVR. These low LVR customers are becoming the new targets.
See all advertised mortgage rates here.
| | | | | | |
| --- | --- | --- | --- | --- | --- |
|   | 1 yr | 2 yrs | 3 yrs | 4 yrs | 5 yrs |
|   |   |   |   |   |   |
| | 4.95% | 5.50% | 5.95% | 6.15% | 6.45% |
| | 5.25% | 5.65% | 6.05% | 6.30% | 6.60% |
| BNZ | 5.25% | 5.65% | 5.89% | 6.30% | 6.60% |
| Kiwibank | 4.89% | 5.50% | 6.05% | 6.30% | 6.60% |
| | 5.19% | 5.65% | 6.04% | 6.30% | 6.60% |
|   |   |   |   |   |   |
| Co-op Bank | 4.94% | 5.50% | 5.95% | 6.15% |   |
| HSBC Premier | 4.99% | 565% | 6.05% | 6.30% | 6.60% |
| SBS / HBS | 4.95% | 5.25% | 5.65% |   | 5.99% |
| | 4.88% | 5.50% | 6.05% | 6.30% | 6.60% |
--------------------------------------------------------------
Mortgage choices involve making a significant financial decision so it often pays to get professional advice. A Roost mortgage broker can be contacted by following this link »
--------------------------------------------------------------