Labour proposes new top tax rate of 36% for those on incomes over NZ$150,000 and lift in trust tax rate to 36%; Your view?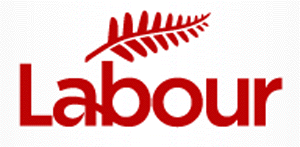 By Bernard Hickey
Labour has released its Budget policy for the September 20 election, including plans for a new 36% tax rate for those on incomes over NZ$150,000 and an increase in the trust tax rate to 36% from 33%.
Labour said the tax changes, along with its already announced plan for a capital gains tax on assets other than the family home, would allow a Labour-led Government to run surpluses and repay Government debt by the end of its second term.

"Everything is paid for, plus we are in surplus," Labour Finance Spokesman David Parker said in releasing Labour's full fiscal plan. See the full Labour document here.
"Labour will set aside money to ensure service levels in health and education are maintained to meet inflation and population growth. Any new policies we announce for these sectors will be clearly and transparently funded by new spending," Parker said.
"Labour will also clamp down on tax avoidance by multi-national corporations because we believe that everyone should pay their fair share," he said.
The plan commits Labour to balancing the budget, running surpluses and repaying debt faster than the current Government. Labour said it also created "fiscal headroom to allow the option of income tax reductions in the second term."
Other details of the plan include:
Reducing the Government's net core crown debt (including the New Zealand Superannuation Fund) to 3% of GDP by 2020/21.
Limiting new operating spending to less than the Government's operating allowance of NZ$1.5 billion as set out in the May 15 Budget "plus the net increase in revenue resulting new policies."
Restore contributions to the New Zealand Superannuation Fund with payments of NZ$750 million in 2015/16 and NZ$1.5 billion in 2016/17, before returning to full contributions from 2017/18.
Raising NZ$1.5 billion working capital for Labour's plan to build 100,000 homes in 10 years.
Allowing enough fiscal headroom to allow for tax cuts, improved services or faster debt repayment in the second term.
'Faster debt repayment'
Labour said its net debt track would run 0.3% of GDP above the Budget 2014 projection as it borrowed NZ$1.5 billion to fund Kiwibuild.
"From 2018/19, Labour reduces net debt more quickly than the Budget 2014 forecast as Labour's net new spending is less than the new operating spending allowance in Budget 2014. In 2020/21, net debt reaches 3.0% under Labour's policies, which is less than the 3.7% projected in Budget 2014," it said.
"This commitment to restrained net spending means Labour will be able to pay down debt faster than National, and our new policies won't put more pressure on inflation," Labour said.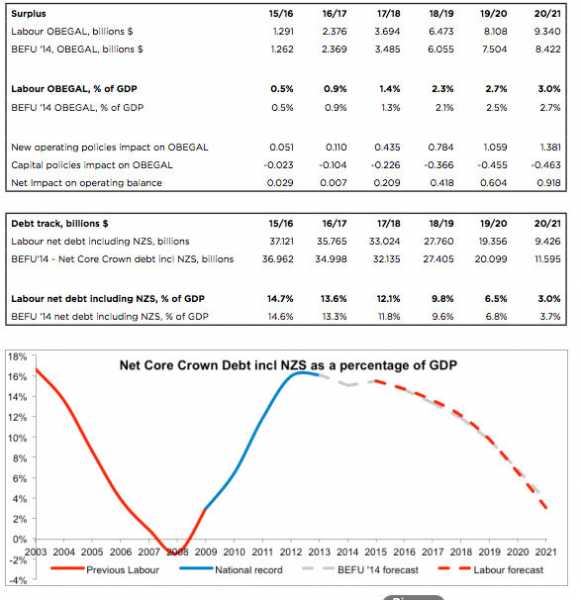 Labour said Budget 2014 allowed for NZ$1.5 billion of new operating spending each year (rising with inflation).
"In 2015/16 new operating expenditure is $191 million above the allowance but this is more than offset by new revenue. In subsequent years, new operating expenditure is the same or less than the allowance," it said.
"In 2015/16 Labour's additional spending totals NZ$1.691 billion, offset by NZ$241 million in additional revenue for a net figure of NZ$1.450 billion, against the new operating allowance for that year in Budget 2014 of NZ$1.500 billion," Labour said.
"By 2020/21, additional spending is $1.673 billion, partially offset by $274 million in additional revenue that year for net new spending of NZ$1.400 billion, against the new operating allowance for that year of NZ$1.656 billion in Budget 2014."
'Tax avoidance crack-down'
Labour said tax avoidance reduced government revenue by up to NZ$7 billion a year. It said it would target a NZ$20 million reduction in tax avoidance in 2015/16, rising to NZ$200 million by 2018/19.
"A special commissioner for tax avoidance will be created within the IRD who will be adequately resourced to target all forms of tax avoidance, particularly the actions of multi-national corporations," it said.
"A corporate tax unit will 'embed' IRD auditors in corporations that have a history of tax avoidance in New Zealand or abroad, with a particular focus on multi-nationals and their subsidiaries, to review 'line-ball' decisions before avoidance occurs. This policy is not directed at banks, which are now subject to a high level of scrutiny through their Reserve Bank disclosure obligations."
Labour reaffirmed its policy to remove the ability of landlords to avoid paying tax by offsetting rental property losses against their personal income.
"This measure targets negatively geared rental properties and means that losses may only be offset against future rental profits. This is expected to raise NZ$135 million a year once it is fully in place," it said.
Labour said it would update its alternative Budget after Treasury released its Pre-Election Fiscal Update on August 19.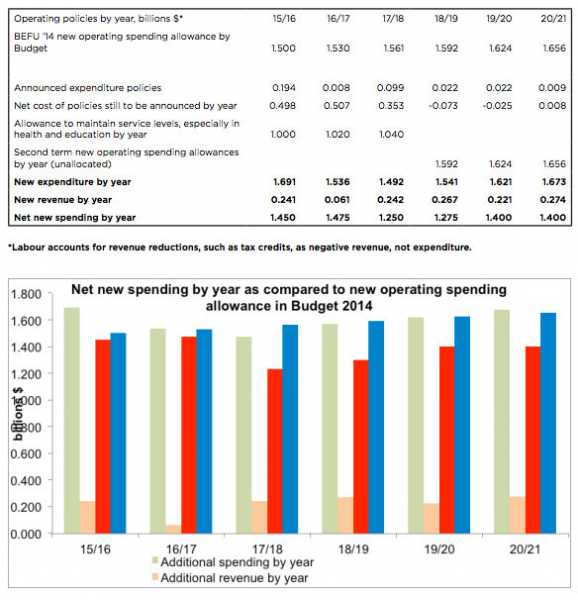 Reaction
Finance Minister Bill English described the plan as the "same old tax and spend" from Labour.
"After nearly six years in Opposition, all Labour can come up with is a re-hash of its failed old recipe of taxing more and spending more. No one will be surprised – or impressed – by that," English said.
"Labour want to increase taxes so they can spend more without any focus on better results. They are out of touch with New Zealanders' expectations that the measure of good government is better results, not more spending," he said.
"Labour's complex capital gains tax would be full of holes, slap a new tax on 2.3 million KiwiSavers and on every New Zealand farm and business without addressing the real issues around housing affordability. As for the proposed new top tax rate, it's just the politics of envy. It wouldn't actually raise much money, it would encourage those who could do so to shelter money in companies and it would ignore the fact that these taxpayers already pay 22 per cent of income tax - even though they are just 2 per cent of taxpayers."
Business New Zealand said it welcomed Labour's comments on fiscal discipline, but was concerned about the proposals for higher tax.
"Labour's proposal for a firm approach to tax avoidance by multinational companies is sensible in the interim while international measures to harmonise international tax law are being worked through," Business NZ CEO Phil O'Reilly said.
"But the centrepiece of the alternative budget – an increase in the top personal tax rate and trust rate to 36 percent – would not aid competitiveness and would penalise those who tended to invest most," he said.
"Higher income and trust tax along with a new capital gains tax are not good signals for anyone wanting to invest in New Zealand's growth." 
(Updated with more detail, table, charts, reaction)