Key trips up Cunliffe over whether Capital Gains Tax applies to the family home in a trust; Key hints at tax cut of up to NZ$30/wk; CERA shift planned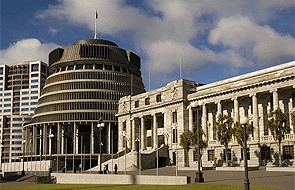 By Bernard Hickey
With less than three weeks to go until the September 20 election, here's my daily round-up of political news on Wednesday September 3, including Prime Minister John Key causing David Cunliffe to stumble over Labour's Capital Gains Tax policy in last night's leaders debate hosted by The Press in Christchurch and National launching its Water policy. There's also two fresh poll results.
Roy Morgan published its poll taken over the two weeks to last Sunday, finding support for National fell 3% to 45%, while support for the Green Party rose 4.5% to 16%, its highest level since April 2012. Labour fell 1.5% to 26%, while New Zealand First fell 0.5% to 6%.
Maori fell 0.5% to 0.5%, Act rose 0.5% to 1% and Internet-Mana fell 1.5% to 1%. Support for Conservative rose 2.5% to a record high 3.5% in the Roy Morgan survey. It polled 762 voters by mobile and landline phone and 3.5% (down 3%) did not name a party vote preference.
If these results were repeated on election day, National would likely require a confidence and supply agreement with New Zealand First to govern comfortably.
However, a 3 News Reid Research poll published on Wednesday evening found John Key's support as preferred Prime Minister rose almost 4% to 45%. Support for National in the poll taken from August 26 and September 1 rose 1.4% to 46.4%.  The previous poll was taken from August 19-25.
Labour fell 0.5% to 25.9%, Green fell 0.9% to 12.6%, New Zealand First fell 0.5% to 5.8%.
Nats would buy farm land
On the campaign trail, Prime Minister John Key, Environment spokeswoman Amy Adams and Primary Industries spokesman Nathan Guy announced National's water policy at an event at the Waituna lagoon in Southland.
The policy included a plan to spend NZ$100 million over 10 years to buy and retire farmland next to important waterways and to regulate the exclusion of all dairy cattle from waterways by July 2017.
National would also work with industry to exclude other cattle from waterways over time on intensively farmed lowland properties. National also included its already announced NZ$400 million fund for Government investments in irrigation schemes in the policy.
"This fund will give councils another option to help manage freshwater by enabling these sensitive areas to be retired for environmental purposes," Adams said.
Green Co-Leader Russel Norman described the policy as an "election band-aid."
"Fencing dairy cows out of streams is a token gesture if you stop at that. We need to put a halt on dairy conversions in regions where there are already too many cows, and too much pollution in our rivers," Norman said, saying that the NZ$10 million spent per year on excluding cows from adjacent land equated to 777 fewer cows per year.
"Two new conversions and that's gone," Norman said.
Irrigation NZ said it applauded National's "pragmatic" policy.
"With the new freshwater fund and fencing requirements, plus objectives set by the National Policy Statement for freshwater, communities now have the tools to actively and collectively solve freshwater problems," said Irrigation NZ Chairwoman Nicky Hyslop.
Key wins leaders debate
Key was widely viewed to have done much better in the second leaders debate overnight than in the first.
The often rowdy affair before a town hall style audience in Christchurch seemed to suit a more energetic Key better and included one embarrassing moment for Cunliffe that some are comparing to Phil Goff's 'Show me the money' moment from 2011.
Key appeared to trip up David Cunliffe on Labour's Capital Gains Tax policy. Key asked Cunliffe if a family home in a trust would be caught by the tax and a briefly rattled Cunliffe would not answer, preferring to check the policy.
"I think New Zealanders will say that's a shocking revelation they have been told by the Labour Party that the family home will be exempt, but there's hundreds of thousands of New Zealanders who will not be exempt," Key said.
"He doesn't know the answer, but the answer is if you own a family home and you put it in a trust, it will be subject under Labour to a capital gains tax," Key said after the debate.
Cunliffe later told reporters the family home would not be subject to the Capital Gains Tax, regardless of whether it was owned directly or in a trust.
"I've learned to check my facts and John Key got it wrong, a family home does not incur Capital Gains Tax whether its owned by a trust or not. John Key got that wrong," Cunliffe said.
Key said about 300,000 homes would be affected. There are about 215,000 family homes in family trusts.
The verdicts
Writing in the The Press which hosted the debate, Vernon Small declared it a tie , but said it was a more even contest than the first TVNZ leaders debate last week, which was judged a points victory for Cunliffe.
The New Zealand Herald's commentators were less equivocal. John Armstrong, Audrey Young, Toby Manhire and Fran O'Sullivan all declared Key the winner. Armstrong and Young compared Cunliffe's Capital Gains Tax moment to Phil Goff's 'Show Me the Money' in the same debate three years earlier.
3News' Patrick Gower also awarded the debate to Key.
"Some people won't like Key's performance, but he riled Cunliffe and got on top; the capital gains tax blow in particular handing him victory," Gower said.
TVNZ's Corin Dann also said Key had bounced back with a more aggressive showing.
Tax cut carrot
Elsewhere in the debate, Key said National would release its plans for a modest tax cut for low to middle income earners next week, possibly of no more than NZ$30 a week.
"Even if it's a small amount, we want to reward New Zealanders for working hard, whether it's $10 or $20 or $30 bucks (per week), it adds up to $500 or $1000 for an individual or a couple (per year)," Key said.
Dirty politics
Judith Collins gave her first interview since her resignation, telling Fairfax she was confident she would be cleared and was "sick of this nonsense." She rejected Cunliffe's call for her office to be sealed, calling him a "moron."
3News reported from Rawshark that Collins' and Cameron Slater's denial that they had corresponded on Facebook was a lie. Collins and Slater have suggested the Facebook between the two revealed earlier this week was a forgery.
Collins and Key have begun calling 'Rawshark' a 'criminal'.
Winston Peters said a full Royal Commission of Inquiry into 'Dirty Politics' would be a bottom line in any government-forming negotiations. Key would not rule that out in later comments to reporters.
Slim majority want Labour
A Horizon Poll of 1,676 eligible voters from August 29 to September 2 found 71.1% of those planning to vote for New Zealand First would prefer a Labour-led government, while 28.9% would prefer National.
More generally, the poll found 48.7% would prefer a National-led government, while 51.3% preferred a Labour-led one.
CERA shift
Gerry Brownlee announced on Tuesday CERA would be moved into DPMC from February next year and a transition plan would be put in place to hand over its powers to local and other Government authorities as the CER Act approaches its April 2016 expiry.
Key said in the debate that Brownlee would continue to be Earthquake Recovery minister if National was re-elected. Cunliffe said Clayton Cosgrove would be Labour's Minister if elected. Cunliffe also criticised the CERA move into DPMC, saying the "new name plate on the door is not going to kickstart the rebuild. It will just mean more bureaucrats in Wellington."
(Updated with debate verdicts from Corin Dann and Patrick Gower, National's water policy, Roy Morgan poll)
I'll update this regularly through the day.
See all my previous election diaries here.
See the index for Interest.co.nz's special election policy comparison pages here.