National promises to spend up to NZ$210 mln to extend UFB to extra 5% of population; Key and Cunliffe debate CGT; Rawshark's latest Whaledump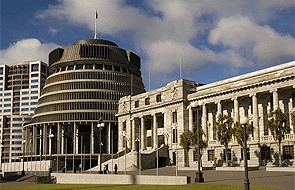 By Bernard Hickey
With just over a fortnight to go until the September 20 election, here's my daily round-up of political news on Thursday September 4, including National's promise to spend up to NZ$210 million from its Future Investment Fund to extend its Ultra Fast Broadband rollout to 80% of the population from 75% previously planned.
"Having completed nearly 40 per cent of the build to more than half a million houses and businesses, we believe it is time to extend UFB to a further 200,000 New Zealanders.  This extension of the project will cost between NZ$152 and NZ$210 million and it will be funded from the Future Investment Fund," National's Communications and Information Technology Minister Amy Adams said in announcing National's ICT policy.
Adams said the additional towns to be covered would decided after a competitive bid process taking into account the costs, strength of demand and other assistance from local governments.
"However, based on the methodology used for the original roll-out, this could see a number of towns be strong contenders for inclusion in the UFB extension, including: Te Puke, Motueka, Morrinsville, Kerikeri, Huntly, Thames, Matamata, Ōtaki, Kawerau, Waitara, Kaitaia, Dannevirke, Alexandra, Stratford, Whitianga, Cromwell, Taumarunui, Picton, Foxton, Kaikohe, Marton, Te Kuiti, Katikati, Temuka, Waihi, Waipukurau, Warkworth, Carterton, Dargaville, Opotiki, Snells Beach, Te Aroha, Wairoa, Paeroa and Westport," Adams asid.
"Today's announcement follows on from our announcement last month that National will contribute a further NZ$150 million to extend the Rural Broadband Initiative, which improves broadband coverage in more sparsely populated rural areas. These two announcements will mean almost every New Zealander will be able to access fast, more reliable internet services," she said.
This would bring the Governments investments in broadband to almost NZ$2 billion.
Pork-barrelling?
Labour ICT spokeswoman Clare Curran described the policy as "blatant pork-barrelling."
"National's polling clearly indicates regional New Zealand has lost patience with the current abysmal connectivity and is scrambling to patch over the cracks," she said.
CGT clash
Labour Leader David Cunliffe appeared to back away from comments yesterday that family homes would have to be sold within a month of the death of parents to avoid having its Capital Gains Tax apply.
He said the specifics of the policy would be decided by an expert panel after the formation of a government.
"We are happy to take expert advice on that," Cunliffe was quoted as saying on the campaign trail.
Key attacked Cunliffe's lack of certainty on the policy.
"It's a complete and utter mess. They've had the policy for four years. In the last 36 hours David Cunliffe has made a number of either mistakes or he's been unable to answer some really basic questions about the family home," he said.
Finance Minister Bill English also targeted Labour's Capital Gains Tax.
"The more David Cunliffe tries to explain his complicated capital gains tax, the more he ties himself in knots and confuses New Zealanders," English said pointing to Cunliffe's comments that it would start applying a month after the death of the last remaining parent.
"In other words, he would force families to rush through the sale of their parents' family home at a distressing time in their lives, or penalise them with a new tax," English said.
Tax cuts irresponsible?
Labour and the Greens attacked Labour National's plans for tax cuts, given the latest news of further falls in dairy prices. They also contrasted their own release of fiscal plans targeting surprluses while the Government had yet to release its own plan.
"Falling dairy prices are putting National's first surplus in doubt, so any talk of tax cuts now is irresponsible and nothing more than a cynical bid to buy their way back into Government," Green Co-Leader Russel Norman said.
"We released our full fiscals a month before the election, costing our election priorities, and demonstrating how we will run stronger surpluses than National and pay down debt faster. Leaving a significant tax cut announcement like this to just days before the general election highlights what a last-minute cynical gamble National is taking," Norman said.
I'll update this regularly through the day.
Fresh Whaledump
Meanwhile, the hacker known as Rawshark released fresh email and other messages taken from Cameron Slater's accounts to show Slater's connections with Judith Collins, Auckland PR man Carrick Graham, Wellington Lawyer Jordan Williams and former National MP Katherine Rich, who is now the head of the Food and Grocery Council.
The selected emails released by Rawshark confirm claims made in Nicky Hager's 'Dirty Politics' book that Slater was paid to publish posts attacking the opponents of Food and Grocery Council.
Much of the language revealed in the exchanges is just too distressing to republish.
Rawshark had to open a new Twitter account after Twitter shut down his first one.
(Corrected Labour to National above. (Thanks Gummy))
See all my previous election diaries here.
See the index for Interest.co.nz's special election policy comparison pages here.