David Cunliffe withdraws from Labour leadership race; says supports Andrew Little's candidacy; Race left to Robertson, Little, Parker and possibly Shearer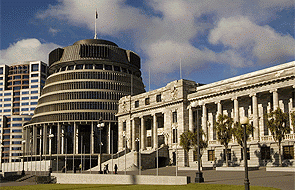 By Bernard Hickey
Former Labour Leader David Cunliffe has withdrawn from the race for the leadership and has thrown his weight behind former union leader and list MP Andrew Little.
Cunliffe made the announcement at a news conference in Auckland. His move followed growing calls from party leaders for him to pull out in the wake of the September 20 election result and his widely criticised decision to initially stay on as leader.
"It has been a hard decision to make but it is one that I believe is in the best interests of the wider Labour Party," Cunliffe said.
"To truly serve New Zealanders we must first win government.  To do that we need a united caucus and party.  I believe that although I retain broad support around the party, the time has come to step aside," he said.
"Which is why, in withdrawing I am throwing my personal support behind Andrew Little's bid for the leadership.  I have enormous respect for Andrew and his integrity. I believe he is the right man for the job."
Little announced his candidacy for the Labour leadership on Friday. He called for a review of all of Labour's policies, in particular its Capital Gains Tax, extended NZ Superannuation age and NZ Power policies. See our story here from Friday.
Cunliffe said he would stay on as the Labour MP for New Lynn.
"I believe Andrew will achieve greater cohesion across the caucus, and get the process of listening to New Zealanders underway quickly - both with voters and those hundreds of thousands who chose not to vote in the September election," he said.
Cunliffe said he made the decision to stand down last week, but had been occupied looking after his mother and brother, who were both seriously ill.
Little was later reported to have said that Cunliffe was unlikely to be his deputy and that he was instead looking at including a woman as his deputy, potentially a Maori or Pacific Island woman.
Little said he had made no arrangements with Cunliffe for any other role.
Parker in too
After previously saying he would not seek the Labour leadership, David Parker threw his hat into the ring on Sunday.
"I genuinely did not intend to seek the leadership, preferring to let the process play itself out and to take on the role of moderator, along with Annette (King), to keep the contest seemly. However, over the past 10 days I have been approached by many people from all walks of life, across the spectrum, asking me to stand," Parker said.
"Without a broadly-based, social democratic party, with wide support, we effectively face the prospect of a 'one party parliament' propped up by crony satellite micro-parties. Labour cannot be a subset of a subset of a subset in the political arena. If we're not aiming for more than 50 per cent, then we're going to lose," Parker said.
"Leadership is also about being brave. And that includes accepting that some of our policies are unwanted. Voters make up their mind on a mixture of people, policies and presentation – and they didn't choose us. We can have the best thought out, the best researched, the best costed policies on the planet, but unless we can get the public on side it's meaningless, because they will never be implemented," he said.
Parker said all of Labour's policies should be up for review, including its tax policy, its NZ Power policy and its policy to extend the age of eligibility for New Zealand Superannuation.
"We lost badly and I get the message," he said.
Voters had rejected Labour's tax policies and its solutions for growing electricity and Superannuation costs, he said.
"Our tax policy scared some people," he said.
Parker said he would not have Cunliffe as his deputy.
Grant Robertson formally filed his nomination for the leadership on Friday. Nominations close on Tuesday. David Shearer has yet to declare.
(Updated with more detail)
See all my previous election diaries here.
See the index for Interest.co.nz's special election policy comparison pages here.