US jobs data disappoints; NZ dollar almost at mid-rate parity; Greeks print drachmas; China wants housing bank; gold and oil higher; UST 10yr yield 1.9%; NZ$1 = 75.8 US¢, TWI = 80.5
Here's my summary of the key issues from over the long holiday weekend that affect New Zealand, with news of a retreating US dollar on risk fears.
First up, there was a very disappointing American non-farm payrolls report out on Saturday morning.
That saw the US dollar fall and the NZ dollar rise. But is was the rise in our currency against the Aussie dollar that drew special attention.
We reached 99.75 AUc just before markets closed in New York on Saturday morning, a whisker shy of technical parity.
As you know, we have already reached parity on the bank Buy rate. Mid-rate parity will get other media making a noise but the plain fact is no trading goes on at the Mid-rate.
The next real event will be parity on bank Sell rates (and before that, parity on Sell rates for the competitive non-bank currency transaction houses). It is all entirely feasible because the RBA may well cut its policy rate in its review at 4:30pm today, and that may push things along faster - if markets don't price in the moves before then.
The other big news is the teetering situation in Greece. The Greek government came out late last night saying all is well and they will make all their loan payments on schedule. But credibility is low. No analyst can see how that can be possible.
In fact, there is a sizeable bank run going on right now and the Greek government is actively preparing to reissue drachmas again. Everyone involved with the Greeks is frustrated, both creditors, and international investors in the country. New Greek ministers are threatening nationalisations everywhere.
And no-one thinks the Russians will ride to Athens rescue.
But markets are basically ignoring the Greek risks to the euro.
In China, an official there has called for a "national housing bank" to prop up their property markets. They must be worried.
And by the way, if you are a saver, be thankful you have a term deposit in New Zealand. 
In New York, the UST 10yr yield slipped on Friday to 1.83% but is back up to 1.90% this morning. 
The US oil price is up to US$52/barrel and Brent crude is at $58 a barrel. The gold price also jumped and is now at US$1,220/oz. Both moves are as a result of a falling US dollar. Meanwhile New Zealand is working on practical steps to release an enormous natural gas resource - "world class in quality and quantity".
The New Zealand dollar will start today higher at 75.8 US¢, still very high against the Aussie at 99.4 AU¢, and the TWI is over 80 again at 80.5.
All the main bank Buy rates opened today at better than parity. There are their offer rates at 8:36 am today: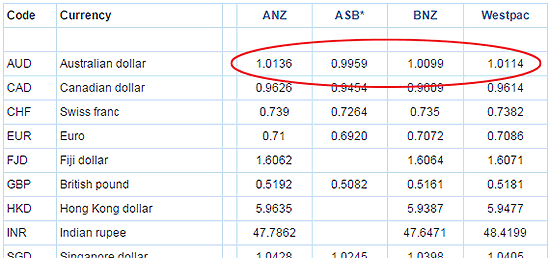 And here is the bank Sell rates at the same time: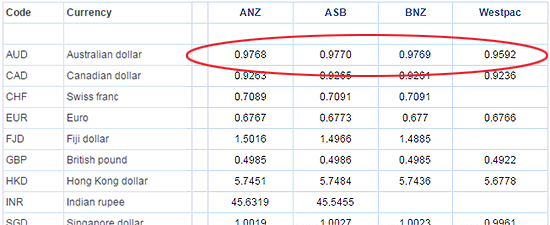 If you want to catch up with all the local changes on Thursday, we have an update here.
The easiest place to stay up with event risk is by following our Economic Calendar here »