English launches 'blue skies' Productivity Commission review into Resource Management, Local Government and Land Transport Management Acts to transform urban planning and tackle housing affordability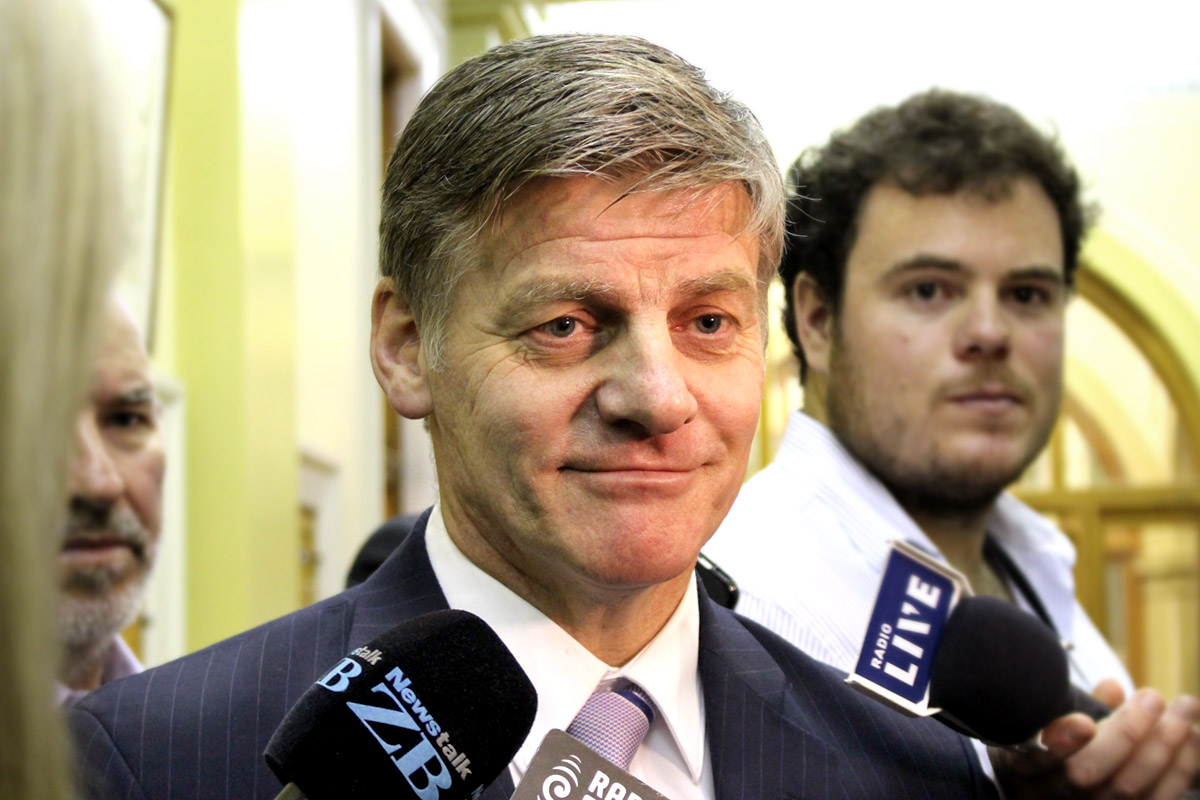 By Bernard Hickey
Finance Minister Bill English has launched a year-long review of New Zealand's major legislation governing the way cities develop in an effort to transform the way transport and other infrastructure is developed to underpin economic development and housing affordability.
English used an interview with Corin Dann on TVNZ's Q+A to announce he had asked the Productivity Commission to carry out a 'Blue Skies' review of the planning laws.
"I think everyone, local government, planners, developers, certainly politicians, are getting to the end of their tether around further minor adjustments to the planning rules," English said.
"We've developed a planning process that's become expensive and long-winded, and one of the bad effects– it's had some good effects, but one of the bad effects is housing affordability is a problem," he said.
English signalled the review last month.
"After a drought of about 30 years, you'll be getting a bit of a burst of sensible analysis of the planning system, and we are likely to sign off the next inquiry for the Productivity Commission, having looked at land use, on how would you reshape the planning framework in the light of that," he told me.
English said the Commission's work had helped shift Councils and the public to think about the wider economic impacts of planning decisions.
"And the second thing is I think it's starting to build up an intellectual environment where people are thinking 'what would the world look like post-RMA?," he said.
"So that's: 'Are there other tools we could use to determine the broad planning constraint?"
'Fourth term project'
English said the new Inquiry would take a first principles look at planning in a post-RMA world, bringing in the Local Government Act and the Land Transport Act.
"Without us taking a clear political stance, we are starting to get people thinking, let's just take a first principles look at this. Because the RMA has proven to be good for some things, but not good for urban planning in a growing economy," he said.
"It would be how the RMA, the LGA and LTA work, saying if that's the planning system, are there better ways of looking at it," he said.
"But it would be blue sky stuff rather than highly specific policy. Something for a re-elected National Government to do in 2018."
English said in a statement released after Q+A that he had asked the Commission to identify the most appropriate system for land use allocation given urban planning underpinned housing affordability and productivity in the wider economy.
"Many parts of the regime are out-dated and unwieldy, having been developed over the years in a piecemeal fashion," he said.
The Productivity Commission would undertake a first principles review of the urban planning rules that fall under Acts such as the Local Government Act, the Resource Management Act and the Land Transport Management Act, "to ensure they support a responsive housing market."
The review was actually one of the Commission's own recommendations from its report on 'Using land for housing.'
The terms of reference for the review said the Commission should "identify options to align the priorities of actors and institutions within these regimes to improve economic, environmental and community outcomes through urban planning; and to deliver optimal efficiency in the delivery of these outcomes."
This would include "identifying the most effective methods of planning for and providing sufficient urban development capacity including residential, commercial, industrial and place-based amenity uses, supporting infrastructure and linkages with other regions."
"The review should look beyond the current resource management and planning paradigm and legislative arrangements to consider fundamentally alternative ways of delivering improved urban planning, and subsequently, development," the terms of reference said.
'Catering for 'zombie towns'
The terms also made a nod to the 'zombie town' phenomenon of regions where populations were falling and local economies were contracting.
"It should also consider ways to ensure that the regime is responsive to changing demands in the future, how national priorities and the potential for new entrants can be considered alongside existing local priorities and what different arrangements, if any, might need to be put in place for areas of the country seeing economic contraction rather than growth,' the terms of reference said.
"The scope of this review should include, but not be limited to the kinds of interventions and funding/governance frameworks currently delivered through by the Local Government Act, the Resource Management Act, the Land Transport Management Act and the elements of Building Act, Reserves Act and Conservation Act relating to land use (as well as the formal and informal processes, institutions and practices around these pieces of legislation)."
It would also have to consider the interaction of the urban planning system with planning for other regions and "identify those areas where broader system-level change is needed to deliver more efficient urban planning."
It specified the inquiry would cover how environmental and urban development outcomes had changed over the last 20 years, including an explanation of the behaviour and capability of councils, planners, central government, the judiciary and private actors under the regime.
It also said the Inquiry should focus on "the tendency for increasing complexity and scope creep of institutions and regulatory frameworks.
English specified the final report would have to presented to ministers by the end of November 2016.
Commission Chair Murray Sherwin welcomed the inquiry.
"Cities across New Zealand face a range of challenges. Fast growing cities like Auckland are finding it difficult to provide enough capacity to house their rising populations, while others face the problem of maintaining essential services and infrastructure with flat or declining populations," Sherwin said.
"Urban areas need a planning system that can respond effectively and efficiently to these pressures," he said.
"Our inquiry will explore the development of the current planning system in New Zealand, assess its performance compared to other countries, and identify where change is needed. The aim is not to draft new laws ourselves, but set out what a high-performing planning system would look like."
'We'll talk to everyone'
"Many people have an interest in effective urban planning, including residents, businesses, developers, planners, iwi, local authority staff, community representatives and environmentalists. We are interested in hearing from people who are familiar with planning systems here and overseas, so that we can understand the strengths and weaknesses of the current system and identify a future regime that meets New Zealand's needs," Sherwin said.
The commission expected to produce an issues paper by mid-December.
Reaction
The Property Council said it strongly supported the Inquiry.
"Our country's three most powerful planning laws have created a mosh pit of bureaucratic complexities, driving costs at both the supplier and buyer ends, sky high," said Council CEO Connal Townsend.
"The Resource Management Act, the Local Government Act and the Land Transport Management Act suffer from a lack of cohesion, seamless integration and logical connection. Instead of complementing each other, they compete with each other," Townsend said.
"We desperately need to limit the financial and economic risks currently emanating from our urban planning system, and until we do, our cities will suffer from a shortage of skilled workforce, productivity and competitiveness," he said.
Townsend called on the Government to quickly implement a national policy statement for urban development while the review was being done.
"Unresponsive planning rules are causing delays and reducing certainty, which add costs. An OECD report found that regulations add between $32,500 and $60,000 per dwelling in subdivisions and $65,000 and $110,000 per apartment. Too often, these costs bring projects to a grinding halt," he said.
(Updated with Property Council reaction)